HIAWATHA, KS, June 15, 2017 /PRNewswire/ - AgJunction Inc. (TSX: AJX) ("AgJunction" or the "Company"), a leader in automated steering and machine control technology for precision agriculture, has appointed Jeff Morris as vice president and chief marketing officer. In his role, he will have responsibility for leading all marketing initiatives, developing go-to-market strategies and driving the product road map for AgJunction.

Morris brings over 20 years of marketing experience, holding senior positions with Microsoft, Symantec and AutoZone. Most recently, he served as Trimble's senior director of marketing and product management. Morris also founded Pacific Marketing Partners, where for seven years he and his team managed large-scale marketing campaigns for accounts such as Microsoft, Nordstrom, Starbucks, Amazon, Mercedes Benz and Toyota.
"Jeff has extensive experience driving customer-facing solutions in hardware, software and data analytics," said Dave Vaughn, president and CEO of AgJunction. "He brings a unique set of skills that he demonstrated while developing and launching major marketing initiatives, such as Microsoft Office and a project with Ford Motor Company which led to the introduction of Ford SYNC. He also spearheaded the development of AllData Mobile for AutoZone, focusing on vehicle information and diagnostics through mobile devices with Bluetooth.
"While at Trimble, he created and launched Trimble PULSE and secured a partnership with Caterpillar to resell Trimble FSM on-highway telematics. These skills, along with international experience acquired while serving as Microsoft OEM division manager, where he was responsible for Asia Pacific, Africa and India, are exactly what AgJunction needs as the adoption of precision agriculture continues in the direction of the machine builders."
Morris holds a Bachelor of Science degree in Marketing and Computer Science from Seattle Pacific.
About AgJunction
AgJunction (www.agjunction.com) provides innovative hardware and software applications for precision agriculture worldwide. The Company holds more than 140 patents and markets its products and services under leading brand names including Novariant, Outback Guidance® and Satloc®. The Company is headquartered in Hiawatha, Kansas, with facilities in Silicon Valley, Scottsdale, Arizona, Calgary, Winnipeg, and Queensland, Australia. AgJunction is listed on the Toronto Stock Exchange (TSX) under the symbol "AJX." For more information, please go to www.agjunction.com.
Featured Product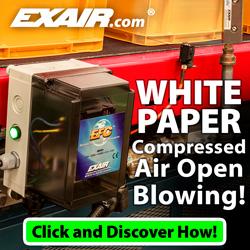 Compressed air is a limited resource that is generated in-house for the benefit of many operations within the manufacturing environment. Learn how to ensure all point of use applications are using your compressed air in the most effective and efficient way possible. Learn how much it costs to produce that compressed air and how Engineered Nozzles can help you use your air more effectively and efficiently.