Investment aligns strategic partners for market opportunity
FARGO, N.D.--(BUSINESS WIRE)--Myriad Mobile (Myriad), a software technology company focused on mobile and web applications, today announced it has raised $1.5 million in a Pre-Series A funding round to launch a new ag-tech product for the grain industry.

With this investment, Myriad has raised a total of $2.3 million, having previously raised $800,000 in seed funding. This round also brings together strategic partners in the agriculture and technology sectors who share Myriads vision and market opportunity for their new product and expertise in the space.
Gen7 Investments, the investment arm of ag media giant Forum Communications, is the lead investor on the round-joined by tech savvy and Sioux Falls-based, Falls Angel Fund; international agribusiness entrepreneur-led, HA Dahl Family LLLP; independent and Fargo-based, Thoreson Steffes Trust Company and global livestock production software company, MetaFarms. The investment will be used to build-out Myriads market strategy, for new product development and expansion of its ag-tech team.
"Myriad has a driven and intuitive team, with strong roots in agriculture," said Bill Marcil, Jr., President, CEO and Publisher of Forum Communications, Agweek and Gen7 Investments. "They have identified a real need in the ag space and have done the hard work to fill it. Were excited to give them the boost they need to leverage this new technology for the grain industry and bring it to market."
Founded in 2011 as a mobile app developer, Myriad has experienced significant growth having deployed more than 350 apps, with the majority of those associated with agriculture and expanded into other areas of software design, platform development and consulting.
"This new product brings a capability that hasnt existed in the grain industry," added Jake Joraanstad, Myriad Mobiles CEO and co-founder. "Our resident 'farm kids want to develop and deploy technologies and solutions to keep the industry thriving and farmers farming."
In 2016, the Myriad was recognized as a top app developer in the Minneapolis region by Clutch.co.; and was named to the Inc. 5000 List of Americas fastest growing companies.
"As weve explored product development and piloted the technology, the response has been overwhelming. We needed additional resources to build out our product and team to serve the ag market. Its really taken off," said Joraanstad.
Myriad will launch its new product for the grain industry later this month, as the investment will also help build-out technology infrastructure as well as marketing and promotion.
"What weve found is what were doing is really unique," said Joraanstad. "Weve seen our work make a positive impact for our clients-saving them time and money-and most importantly strengthening their relationship with their customers."
The company of more than 40 mobile engineers, designers, architects, and business consultants has strategized, designed and deployed more than 350 technology projects for notable national brands American Express, US Bank and ag giants-Cargill, Bobcat, John Deere and Monsanto.
"We believe those who take a technology-first approach in their business strategy will win," added Joraanstad. "This group of investors share that vision and the opportunity for exponential technologies to impact the ag market in a big way."
About Myriad Mobile
Myriad Mobile is an enterprise software development company specializing in ag-tech and headquartered in Fargo, North Dakota with multiple Midwest locations. Founded in 2011, the firm creates custom mobile-first software applications and technology platforms, including Android, iOS, Web, API integrations, virtual and augmented reality, beacons, IoT and wearables.
Myriad partners with its clients to develop a technology-first approach through consulting and projects. Their full service offering includes strategy, design, engineering, quality assurance and support. In 2016, Myriad was named to the Inc. 5000 List of Americas fastest growing companies and was recognized as a top app developer in the Minneapolis region by Clutch.co.
Featured Product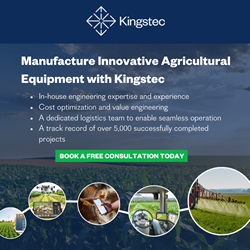 In the rapidly evolving agricultural landscape, leading AgriTech companies are increasingly leveraging the experience and expertise of strategic engineering and manufacturing partners to bring cutting-edge, cost-effective solutions to market. Kingstec is an all-in-one engineering, manufacturing, and logistics partner, with over 40 years of experience and 5,000 successfully completed projects. We can help you bring innovative, cost-optimized farm equipment, sensors, drones, components, and more to market quickly with in-house engineering and manufacturing expertise, a dedicated logistics team, and a network of world-class manufacturing and supply chain partners.