Netafim, In Agreement With DLL, Now Enables Farmers To Grow Their Business With Financing Of Sustainable Drip Irrigation Technologies
FRESNO, Calif.--(BUSINESS WIRE)--Netafim USA, the leader in drip irrigation technology, announced an agreement with DLL, a wholly-owned subsidiary of Rabobank, to provide financial solutions to Netafim growers who are investing in drip irrigation systems*.

Created to expand grower access to the on-farm efficiency and productivity benefits of a drip irrigation system, this program empowers growers with the ability to invest in the future of their farm through simple and straightforward financing options. As the industrys only program that offers end-to-end financing of complete drip irrigation systems - including materials, design, installation and labor costs - Netafim is extending its commitment to agriculture beyond the field and into the business of more profitable farming.
"Faced with rising production costs and increased global competition, today's farmers make decisions about crops, land, and equipment that have far-reaching impacts," said Zeev Barylka, Marketing Director for Netafim USA. "The decision to invest in drip irrigation technology is more than an equipment purchase; it is an investment in the future of a farm. Through this program, more growers will now be able to experience the benefits of drip irrigation first-hand and most importantly, to pay back when they have produced revenue."
DLL features a fast and easy credit application and review process, competitive rates and no additional collateral or mortgage structures** -- meaning no trips to the bank.
"The program raises the bar for the entire industry and in turn, gives growers the ability to invest in turnkey drip irrigation solutions with minimum impact on their cash flow. We are proud to bring this program to market to support US farmers." added Barylka.
This program is exclusively available via a select network of Netafims independent Platinum and Gold Dealers, subject to final approval by Netafim and DLL. For more information on the program, visit netafimusa.com/financialsolutions.
*All financing is subject to credit review and approval and other terms and conditions. All financing is in DLL Finance LLCs sole discretion.
** In most cases
ABOUT NETAFIM USA
Netafim USA, based in Fresno, Calif., develops and manufactures drip irrigation systems for agriculture, landscape & turf, greenhouse & nursery, mining and wastewater. Netafim offers an extensive range of irrigation solutions including driplines, filters, sprinklers, valves, water meters and automation equipment for complete dripline system installations. For more information go to www.netafimusa.com.
Featured Product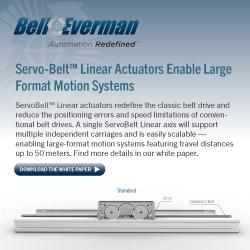 Manufacturing and packaging operations that still depend on manual material or parts handling operations can reap immediate benefits from a type of automation based on long-travel Cartesian robots with custom end-of-arm tooling (EOAT) and advanced sensing capabilities. These robots can support a variety of machines - performing otherwise manual tasks such as machine tending or transferring in-process parts - making long-travel Cartesian transfer robots a major upgrade to processes and operations. Download the White Paper from Bell-Everman