As innovation in agriculture technology continues to accelerate, AgFunder is highlighting twenty companies and three accelerators for their leadership in innovation.
Startup activity in agriculture technology has grown dramatically over the past few years. To ensure the innovators driving the industry forward get the recognition and encouragement they deserve, we launched our first annual AgFunder Innovation Awards.

We're excited to announce the winners of the 2016 AgFunder Innovation Awards in five categories:
1. The 5 Most Innovative U.S. Pre-Series A Startups:
Biome Makers (San Francisco, CA)
IntelinAir (San Jose, CA)
n.io (Broomfield, CO)
Abundant Robotics (Hayward, CA)
Produce Pay (Los Angeles, CA)
2. The 5 Most Innovative U.S. Startups at Series A and Beyond:
AgBiome (Raleigh, NC)
Benson Hill Biosystems (Durham, NC)
Blue River Technologies (Sunnyvale, CA)
Descartes Labs (Los Alamos, NM)
Farmers Business Network (San Carlos, CA)
3. The 5 Most Innovative International Pre-Series A Startups:
AgriWebb (Windsor, Australia)
Connecterra (Amsterdam, Holland)
SunCulture (Nairobi, Kenya)
Taranis (Tel Aviv, Israel)
The Yield (Sydney, Australia)
4. The 5 Most Innovative International Startups at Series A and Beyond:
Engender Technologies (Auckland, New Zealand)
Farmers Edge (Winnipeg, Canada)
Gamaya (Lausanne, Switzerland)
Prospera Technologies (Tel Aviv, Israel)
Ynsect (Évry, France)
5. The 3 Highest Ranked Agritech Accelerator Programs:
IndieBio, (San Francisco, CA and Cork, Ireland)
The Yield Lab (St Louis, MO and Galway, Ireland)
Village Capital (Louisville, KY)
The AgFunder Innovation Awards are peer selected awards based on nominations from our industry network of over 25,000 members and subscribers spanning over 150 countries.
"It's time we recognize some of the leaders in the agri tech industry," said Michael Dean, Cofounder & Chief Investment Officer at AgFunder. "Startups are pushing the industry forward and filling the gaps where traditional ag players have been slower to innovate."
For more information about the awards and the recipients, visit https://agfundernews.com/agfunder-releases-winners-inaugural-agfunder-innovation-awards.html
About AgFunder
AgFunder is an online investment platform for agriculture and agritech opportunities. We enable accredited investors to invest directly, or through a managed fund, in developing technologies transforming the agriculture industry. Visit http://agfunder.com.
Featured Product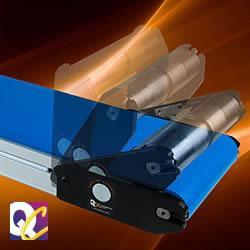 AS40 Conveyors are designed for ease of use and simple integration with robotic applications. Built on a rigid aluminum frame, they feature tee slots for rapid accessory mounting and a tail that flips up at the push of a button for easy under-belt cleaning and belt changes. Nosebar tails are available for transferring small parts between conveyors. All conveyors include a 10 Year Warranty and most are available with a fast five day lead time.