As innovation in agriculture technology continues to accelerate, AgFunder is highlighting twenty companies and three accelerators for their leadership in innovation.
Startup activity in agriculture technology has grown dramatically over the past few years. To ensure the innovators driving the industry forward get the recognition and encouragement they deserve, we launched our first annual AgFunder Innovation Awards.

Were excited to announce the winners of the 2016 AgFunder Innovation Awards in five categories:
1. The 5 Most Innovative U.S. Pre-Series A Startups:
Biome Makers (San Francisco, CA)
IntelinAir (San Jose, CA)
n.io (Broomfield, CO)
Abundant Robotics (Hayward, CA)
Produce Pay (Los Angeles, CA)
2. The 5 Most Innovative U.S. Startups at Series A and Beyond:
AgBiome (Raleigh, NC)
Benson Hill Biosystems (Durham, NC)
Blue River Technologies (Sunnyvale, CA)
Descartes Labs (Los Alamos, NM)
Farmers Business Network (San Carlos, CA)
3. The 5 Most Innovative International Pre-Series A Startups:
AgriWebb (Windsor, Australia)
Connecterra (Amsterdam, Holland)
SunCulture (Nairobi, Kenya)
Taranis (Tel Aviv, Israel)
The Yield (Sydney, Australia)
4. The 5 Most Innovative International Startups at Series A and Beyond:
Engender Technologies (Auckland, New Zealand)
Farmers Edge (Winnipeg, Canada)
Gamaya (Lausanne, Switzerland)
Prospera Technologies (Tel Aviv, Israel)
Ynsect (Évry, France)
5. The 3 Highest Ranked Agritech Accelerator Programs:
IndieBio, (San Francisco, CA and Cork, Ireland)
The Yield Lab (St Louis, MO and Galway, Ireland)
Village Capital (Louisville, KY)
The AgFunder Innovation Awards are peer selected awards based on nominations from our industry network of over 25,000 members and subscribers spanning over 150 countries.
"Its time we recognize some of the leaders in the agri tech industry," said Michael Dean, Cofounder & Chief Investment Officer at AgFunder. "Startups are pushing the industry forward and filling the gaps where traditional ag players have been slower to innovate."
For more information about the awards and the recipients, visit https://agfundernews.com/agfunder-releases-winners-inaugural-agfunder-innovation-awards.html
About AgFunder
AgFunder is an online investment platform for agriculture and agritech opportunities. We enable accredited investors to invest directly, or through a managed fund, in developing technologies transforming the agriculture industry. Visit http://agfunder.com.
Featured Product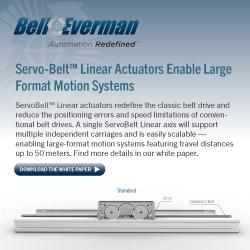 Manufacturing and packaging operations that still depend on manual material or parts handling operations can reap immediate benefits from a type of automation based on long-travel Cartesian robots with custom end-of-arm tooling (EOAT) and advanced sensing capabilities. These robots can support a variety of machines - performing otherwise manual tasks such as machine tending or transferring in-process parts - making long-travel Cartesian transfer robots a major upgrade to processes and operations. Download the White Paper from Bell-Everman