Oregon UAS FutureFarm hosts the first Ag Drone Rodeo in Pendleton 8/18-19, with crop flight demos & data analysis.
PENDLETON, Ore.--(BUSINESS WIRE)--The Oregon UAS FutureFarm will host the first Ag Drone Rodeo in Pendleton, Oregon on August 18 & 19. The two days will feature real-world Unmanned Aerial System (UAS) crop survey flight demos and post-flight data analysis presentations from leading companies in digital agriculture.

Orchard growers, vineyard growers, as well as irrigated and dry land crop farmers will be able to see what the latest UAS technology can do for their farms, especially when combined with satellite and ground sensors. Agriculture UAS will connect with other data points such as soil sensors and imaging satellites, giving growers accurate and even predictive crop information. This multi-layer sensing technology has never before been showcased.
On Day One, leading companies like MicaSense, ATI, Yamaha, Digital Harvest, SenseFly, HoneyComb and RDO will demonstrate unmanned aircraft systems featuring advanced crop sensors and precision spot spraying technologies at a local potato farm. Day Two will be held at the Oregon Army National Guard Armory at the Pendleton Airport, to review and interpret the data collected, followed by a Q & A session.
The free event is sponsored by the City of Pendleton, the Pendleton UAS Range, and SOAR Oregon, the non-profit dedicated to promoting the UAS industry in Oregon. Attendees can register to attend here.
With the new simplified FAA rules for commercial use of UAS, it is now much easier for growers, agronomists, and crop scouts to start using unmanned aerial systems in the fields. This event will be a tremendous opportunity to visualize what technology has in store for the agriculture industrys future.
About Oregon Future Farm
The Oregon UAS FutureFarm is a project of the City of Pendleton, funded by a grant from SOAR Oregon. It is a real world proving ground designed to help Digital Agriculture Pioneers accelerate product development, cycles, and market growth. The Oregon UAS FutureFarm™ features a network of "research friendly" farmers growing a large variety of irrigated and dry-land crops in both traditional and modern farming infrastructures. Additional strategic partners include: Digital Harvest, Duke Joseph Agency, Blue Mountain Community College, Oregon State University and USDA Columbia Basin Agricultural Research Center.
Featured Product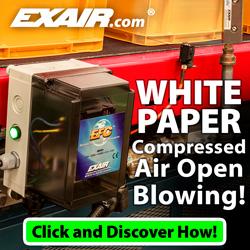 Compressed air is a limited resource that is generated in-house for the benefit of many operations within the manufacturing environment. Learn how to ensure all point of use applications are using your compressed air in the most effective and efficient way possible. Learn how much it costs to produce that compressed air and how Engineered Nozzles can help you use your air more effectively and efficiently.