Becomes Strategic Partner of Forbes Reinventing America: The AgTech Summit
SALINAS, Calif. (April 22, 2015) - Western Growers and Silicon Valley Global Partners (SVG Partners) are entering into an exclusive strategic alliance agreement to find, accelerate, advance and invest in innovative solutions intended to solve critical challenges to production agriculture through technology and produce more with less water, labor and inputs. The two companies will collaborate on Innovation Centers in Salinas and the Silicon Valley. In addition, Western Growers will become a strategic partner of Forbes Reinventing America: The AgTech Summit to be held in Salinas on July 8-9, 2015. SVG Partners is a co-host of the Summit. Other mutual efforts will include participation and collaboration in the SVG Thrive Accelerator program and the SVG Technology Growth Fund.

"With population growth reaching nine billion in 2050 the only way to feed the world will be through technology," said Tom Nassif, president and CEO of Western Growers. "We are also in an era of diminishing natural resources especially in California where water is a serious concern because of an ongoing four-year drought. In order to create a sustainable food chain, technologies and innovation must be developed and promoted. The purpose of this partnership is to accomplish just that. We will be creating an Innovation Center in the Salinas Valley which will be utilized for all commodities in the many regions where our members operate. This venue, in addition to other forms of communication and collaboration, will be provided for entrepreneurs and innovators so they may be mentored by Western Growers members who produce approximately half the fresh produce in the country."
"We are delighted to partner with Western Growers to invest and accelerate technology in agriculture and we welcome their strategic involvement with Forbes Reinventing America: The AgTech Summit," said John Hartnett, CEO of SVG Partners. "The intersection of technology and agriculture will pave the way to solve the exploding food production challenge, as well as deliver an incredible investment opportunity in the twenty-first century."
"Forbes AgTech Summit promises to be the definitive gathering for leaders at the intersection of technology and agriculture," said Mike Federle, Forbes Media Chief Operating Officer. "We welcome Western Growers strategic support of this event."
The Thrive Accelerator is a selective mentorship and investment program intended to connect technology-enabled startups with leading agricultural companies. Other sponsors of the program include Taylor Farms, JV Smith Companies, Chiquita, Dole, Manns and Rocket Farms. Currently, ten start-ups have been selected for incubation. Award winners and results from this initiative will be featured at Forbes Reinventing America: The AgTech Summit.
Innovation centers are physical locations intended to provide office space and support for technology-enabled startups. One is located in the Silicon Valley, another will be opened by Western Growers in Salinas.
The SVG Technology Growth Fund is a venture capital fund organized to invest in agricultural technology companies with strong leadership, high utility to industry and strong return potential for investors. The fund is separately led by an independent investment group which includes Western Growers as a strategic investor.
"Farmers today know they need to increase the quantity and quality of crops using less water, labor and inputs," said Nassif. "This increased efficiency demands greater precision which could be facilitated by new and better technology. Western Growers is taking the initiative to shape the future of the fresh produce industry by partnering with a respected and experienced Silicon Valley technology innovation firm," said Nassif. "Our mutual aim is to advance technology innovation in the fresh produce industry thereby improving the ability of our members to produce more food in more efficient ways."
About Western Growers:
Founded in 1926, Western Growers represents local and regional family farmers growing fresh produce in Arizona, California and Colorado. Our members and their workers provide half the nations fresh fruits, vegetables and tree nuts, and nearly half of Americas fresh organic produce. For generations we have provided variety and healthy choices to consumers.
About SVG Partners is an investment and advisory firm that partners with public and private organizations on strategy, innovation and global expansion. Our investment focus is on early stage companies with disruptive technologies. Our team consists of accomplished technology leaders who want to apply their experience and passion to help portfolio companies succeed. We also leverage our vast global network allowing us to connect portfolio companies in meaningful ways to accelerate their success and exit opportunities.
About Forbes Reinventing America: The AgTech Summit. For the past three years, Forbes magazines Reinventing America series has been covering the innovation and disruption taking place in diverse industries across Americas industrial heartland, from logistics and transportation to energy and manufacturing. Following the success of the inaugural "Forbes Reinventing America Summit," which took place in Chicago in March of 2014, Forbes is creating a series of Summits that are bringing the "Reinventing America" conversation to life around key verticals, such as AgTech, Energy, Innovation, Manufacturing and Workforce.
Featured Product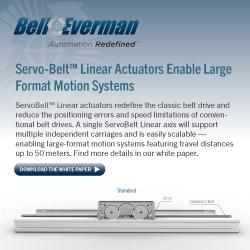 Manufacturing and packaging operations that still depend on manual material or parts handling operations can reap immediate benefits from a type of automation based on long-travel Cartesian robots with custom end-of-arm tooling (EOAT) and advanced sensing capabilities. These robots can support a variety of machines - performing otherwise manual tasks such as machine tending or transferring in-process parts - making long-travel Cartesian transfer robots a major upgrade to processes and operations. Download the White Paper from Bell-Everman