Edmonton-based iClassifier is launching the world's first automated system for classifying dairy cow traits, helping farmers to increase the longevity and productivity of their herds
Edmonton, AB, October 4, 2023 — A picture may soon be worth a thousand words on dairy farms across Canada — in the form of in-depth reports on herd health.

Innovative startup iClassifier, launched in 2021 to bring artificial intelligence (AI) to the farming industry, is enhancing the dairy cow classification process with a first-of-its-kind automated imaging system. Until now, the human-centered process may not be readily available, and can be a costly and inconsistent manual task of measuring physical cow traits considered valuable indicators of health.
Thanks in part to national organization Mitacs — a not-for-profit organization that fosters growth and innovation in Canada — they're now ready to start testing their product after receiving innovation support from an unexpected, yet highly skilled resource: top post-secondary talent.
"We thought if we could automate this practice, we could help farmers perform these assessments more frequently, and provide an accurate, and objective result they can use to improve the longevity and productivity of their herds," said iClassifier CEO Reza Sabbagh, an adjunct assistant professor at University of Alberta who co-founded the company with data scientist Amir Rahvar and animal scientist Ghader Manafiazar, an assistant professor in the Department of Animal Science and Aquaculture at Dalhousie University.
As Manafiazar explained, not only do classified cows live longer and produce more milk, they also yield a net profit of $350 more per cow per year compared to non-classified herds. Yet some farms have discontinued or never used the process due to limited resources.
The company's iClassifier technology offers a more reliable, and consistent alternative by capturing images — either using a camera on a mobile app or a customized stall equipped with special cameras and imaging equipment — and processes them in the cloud using the company's unique AI algorithm. As many as 25 different traits, including udder texture and depth, bone quality, height and rump angle, can be measured and interpreted for each cow, and after thorough analysis, detailed reports with recommendations are provided to farmers.
"Our goal is to increase profits for producers, save the planet through efficiency, and most importantly, take care of animal welfare and animal health," said Manafiazar, noting that the company also plans to use its technology to bring original ideas to the dairy industry, such as defining new cow traits to help lower methane production or predict animal lameness. "Down the road, we suspect there will be many new traits that this technology will be able to quickly adopt and define," he said.
Student talent key to foster innovation
To advance their system, iClassifier is engaging with Mitacs, a national not-for-profit that provides SMEs across Canada with the talent they need to make their innovation projects a success. Mitacs is uniquely positioned to connect Canadian organizations to highly skilled post-secondary students who are experts in their fields. The company also receives support from Alberta Innovates.
University of Alberta Mechanical Engineering Master's student Emran Hamzehnezhadabkenari, supervised by Professor David Nobes and one of three Mitacs interns hired by the company, is currently applying cutting-edge technologies such as deep learning networks, animal pose estimation, and image and signal processing to proactively monitor cattle on a farm and detect lameness in its early stages. Right now, farmers typically detect lame cows after the condition becomes serious.
"Our connection with Mitacs is giving us access to the resources, lab facilities and specialized skill sets we need to prove and scale our technology," said Sabbagh, adding that through Mitacs, the company is also leveraging the equipment and staff available at University of Alberta's Optical Diagnostics Group. "Mitacs really facilitates these relationships in a way that we can rely on. It's not like we submit a proposal and then wait for a long time to get results. We start working with our research partners in a timely manner that fits well with a start-up's schedule."
"SMEs and entrepreneurs in the innovation space have big meaningful ideas, but often they are working with limited resources and financial constraints," said Mitacs CEO John Hepburn. "This is where Mitacs can play an important role in the success of Canada's SMEs. Mitacs will bring the connections, expertise, funding, talent, insights — the whole community — needed to take SME innovation to the next level and drive commercial results and sustainable growth in Canada."
As part of his internship, Hamzehnezhadabkenari collected data at the Edmonton-based Dairy Research and Technology Centre. He is currently analyzing the data in his lab at the university as he works to develop the early warning score for lameness. He calls his internship a "remarkable opportunity to collaborate with passionate individuals who are devoted to animal welfare and contributing to agricultural progress" while also providing invaluable experience to support him in his career.
Paving the way for smart farms of the future
After successfully proving the concept behind their product, iClassifier is ready to test the market, with their first pilot project expected be under way on a Canadian dairy farm by the spring. Early system metrics indicate a less than 2% discrepancy between the classification scores generated by the automated system compared to actual measurements.
The company also has its sights set on the global farm market and will be unveiling its system at the world's largest startup event, Gitex Northstar, this month in Dubai. The future goal is to shift the technology to help with the health and welfare of other livestock, including horses, swine and camels.
"When we surveyed farmers, they showed great interest in having iClassifier's innovative technology on their farms and are even ready to participate in the technology development," added Sabbagh. "Our service not only evaluates traits, but does the analysis for them, giving them the information they need to keep their herds healthy and maximize profits."
About Mitacs
Mitacs is a not-for-profit organization that fosters growth and innovation in Canada by solving business challenges with research solutions from academic institutions. It is funded by the Government of Canada along with the Government of Quebec, the Government of Alberta, the Government of British Columbia, Research Manitoba, the Government of New Brunswick, the Government of Newfoundland and Labrador, the Government of Nova Scotia, the Government of Ontario, Innovation PEI, the Government of Saskatchewan, and the Government of Yukon. For information about Mitacs and its programs, visit mitacs.ca/newsroom.
Featured Product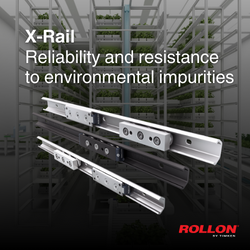 Rollon's X-Rail linear rails are a reliable solution in environments susceptible to impurities. Equipped with rolling elements with shaped and flat raceways, they are available in several versions: galvanized, nitrided or stainless-steel sheet metal. The latter version ensures total corrosion resistance, which is critical for hostile environments such as those found in vertical farming. Particularly innovative is the T + U configuration of the X-Rail linear rails, which can compensate for the parallelism errors of mounting surfaces. This simplifies installation and reduces costs.