Company is one of 20 international food and agriculture startups selected for the 2023 Grow-NY Food and Ag Summit
WEST LAFAYETTE, Ind. - An ag-tech startup launched by a Purdue University researcher-entrepreneur to strengthen worldwide food security could soon win a million dollars and garner international recognition.

LeafSpec LLC has been named one of 20 international startups to compete for $3 million in total prize money during the Grow-NY Food and Ag Summit in mid-November. The company has an exclusive license to manufacture and sell patent-pending, Purdue-developed, handheld plant phenotyping technology. Plant phenotyping is the process of measuring and studying the physical characteristics of plants, including their growth, development and response to environmental factors.
Jian Jin, LeafSpec's president and CEO, developed the technology. He also is an associate professor in Purdue University's Department of Agricultural and Biological Engineering.
"LeafSpec is an accurate, affordable and portable hyperspectral crop leaf scanner," Jin said. "Our handheld device and software can provide accurate and early detection of plant diseases, nutrient deficiencies and stresses from chemical sprays. This is done within seconds without damage to the plant.
"It then relays the measurement results to a farmer's or scientist's smartphone. This information can guide users to make quicker and smarter decisions on fertilizing, spraying and irrigation, saving their cost and improving the yield. The result is improved food security: additional crop resiliency and production that leads to more crops available for harvest and worldwide consumption."
The Grow-NY Food and Ag Summit
The Grow-NY Food and Ag Summit is an annual competition that identifies, supports and funds global agriculture, food and beverage innovations. Awards include a $1 million grand prize, two $500,000 prizes and four $250,000 prizes.
Jin said there are additional benefits to LeafSpec being a Grow-NY finalist.
"Winning the prize money would impact our business, of course, but we will also receive dedicated mentorship from a business advisor and networking introductions and tours with potential partners during Grow-NY," Jin said. "It also will be informative to connect with the other finalists: agriculture, food and beverage entrepreneurs from across the United States, Canada, India and the United Kingdom."
LeafSpec tech
Jin disclosed the imaging software and hardware innovations to the Purdue Innovates Office of Technology Commercialization, which has submitted patent applications on the intellectual property and has already been granted one issued patent. OTC licensed to LeafSpec the exclusive rights to manufacture and sell the technology.
"There have been many large-scale plant phenotyping facilities and systems developed and used by big ag companies and academic institutions within the last 15 years," Jin said. "But we successfully miniaturized the technology at the Department of Agricultural and Biological Engineering at Purdue. With our exclusive license to the Purdue technology, LeafSpec is now delivering the most advanced phenotyping technology with an easy-to-use handheld device. It's gratifying to have built a tool that can impact the lives of growers and scientists around the world."
Most of LeafSpec's current customers are plant scientists and breeders from universities and large companies.
"Our customers' research and field scouting efforts have greatly benefited from LeafSpec's distinctive spatial-spectral resolutions and enhanced signal clarity. This enables them to gather unprecedented quality of hyperspectral leaf images for stress analysis, leading to the discovery of novel plant stress signals and enhanced measurement accuracy," Jin said.
"The ag engineers at Purdue have published exciting new findings on nitrogen stress signals using LeafSpec. Similarly, numerous researchers investigating different diseases, nutrient deficiencies and chemical damages can do the same."
LeafSpec sells multiple models of its device to cover different species such as corn, soybeans, wheat, rice and grapes. Its license also includes AI models for plant traits such as nitrogen content and robotic technologies to operate LeafSpec in the field fully automatically.
Demonstrations of these plant phenotyping robots, such as PhenoBee, can be found at Jin's research website.
LeafSpec sold its first device in 2019. In summer 2023, the company registered sales of nearly $400,000.
"We can only fulfill a very limited portion of the incoming requests," Jin said. "We are working to further strengthen our manufacturing capability and expand the technical support team in order to scale up the business.
"While there is a great potential to expand the business within the research community, we're planning to introduce field scouting services to farmers. Field research over the past four years has demonstrated that LeafSpec can deliver significantly improved accuracy in measuring corn nitrogen content. This aids farmers in making informed fertilization decisions, addressing a market worth over $10 billion in the U.S. LeafSpec and Purdue are currently collaborating with major ag industry companies and fellow land-grant universities to test the technology for this market."
Along with being named a finalist for the 2023 Grow-NY Food and Ag Summit, LeafSpec was one of three recipients of the fourth annual Davidson Prize, awarded by the American Society of Agricultural and Biological Engineers and the Association of Equipment Manufacturers. The Davidson Prize was designed to celebrate breakthrough innovations in areas of agricultural, food and biological systems engineering.
About LeafSpec LLC
Innovated in the ABE Plant Sensor Lab at the Department of Agricultural and Biological Engineering of Purdue University, LeafSpec is the first portable hyperspectral crop leaf imager of its kind in the world that can be easily deployed at any location and generates hyperspectral leaf images.
About the Purdue Innovates Office of Technology Commercialization
The Purdue Innovates Office of Technology Commercialization operates one of the most comprehensive technology transfer programs among leading research universities in the U.S. Services provided by this office support the economic development initiatives of Purdue University and benefit the university's academic activities through commercializing, licensing and protecting Purdue intellectual property. In fiscal year 2022, the office reported 157 deals finalized with 237 technologies signed, 379 disclosures received and 169 issued U.S. patents. The office is managed by the Purdue Research Foundation, which received the 2019 Innovation and Economic Prosperity Universities Award for Place from the Association of Public and Land-grant Universities. In 2020 IPWatchdog Institute ranked Purdue third nationally in startup creation and in the top 20 for patents. The Purdue Research Foundation is a private, nonprofit foundation created to advance the mission of Purdue University. Contact otcip@prf.org for more information.
About Purdue University
Purdue University is a public research institution with excellence at scale. Ranked among top 10 public universities and with two colleges in the top 4 in the United States, Purdue discovers and disseminates knowledge with a quality and at a scale second to none. More than 105,000 students study at Purdue across modalities and locations, with 50,000 in person on the West Lafayette campus. Committed to affordability and accessibility, Purdue's main campus has frozen tuition 12 years in a row. See how Purdue never stops in the persistent pursuit of the next giant leap, including its first comprehensive urban campus in Indianapolis, the new Mitchell E. Daniels, Jr. School of Business, and Purdue Computes, at https://www.purdue.edu/president/strategic-initiatives.
Featured Product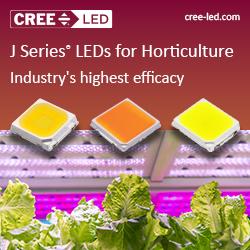 Horticulture and other forms of agricultural lighting require application-tuned ratios of spectral content, high efficacy and long lifetimes. Since these systems are designed to maximize yields for plants and animals, they require different metrics than lighting products designed around the human visual system. Cree LED delivers a wide range of spectral options and products optimized for these applications with leading efficiency and reliability.