Japan's Terra Drone Corporation has announced the launch of a new service, Terra Agri, aimed at sustainable agriculture globally to advance technology-driven precision agriculture from Southeast Asia to the world. Avirtech specializes in providing pesticide spraying and mapping services using drones. And developed the world's first gimbal-based spraying for high precision, accurate within a spray radius of 10 cm.
TOKYO, September 21, 2023 - Terra Drone Corporation, a leading drone and Urban Air Mobility (UAM) technology provider, is expanding into the precision agriculture sector by acquiring the business of Avirtech, a leading startup providing agricultural drone spraying and mapping service in Southeast Asia. Terra Drone establishes a new company Terra Drone Agri in Malaysia. Terra Drone expands its business under the new business brand "Terra Agri" in Malaysia and Indonesia.

As farmers around the world increasingly adopt agricultural drones, governments and regulators are beginning to recognize the many benefits of this technology. By reducing the use of pesticides and delivering growth with a significantly lower carbon footprint, drones empower farmers to become climate smart.
Leading drone research firms such as Drone Industry Insights recognize Japan's Terra Drone as one of the top drone service providers in the world. Terra Drone has successfully completed more than 3,000 surveys and inspection projects in 10 countries to date, while its subsidiary Unifly's the unmanned traffic management (UTM) system has become the most widely adopted in North America, Europe, and Middle East.
Avirtech specializes in providing pesticide spraying and mapping services using drones and artificial intelligence (AI). The company's solutions aid palm oil-focused farmers and plantation companies to minimize crop failures, resulting in a 30% reduction in operating costs. Executing up to 4,000 flights daily, Avirtech has contributed to the scientific cultivation of more than 200,000 hectares of land in Indonesia and Malaysia.
Indonesia and Malaysia are known as major palm oil producers, accounting for around 80% of global production. However, these countries face serious issues including deforestation, ecological impacts, harsh labor conditions, labor shortages, and other environmental problems. Moreover, soaring prices stemming from a shortage of palm oil supply have become a major concern.
Through these businesses, Avirtech has contributed to solving labor shortages, enhancing worker safety, and boosting productivity in the palm oil industry. Also, it is expected to continue to address these issues and support sustainable palm oil production while also providing value from an ESG investment perspective.
The integration of Terra Drone's global UAV (Unmanned Aerial Vehicle) technology leadership with Avirtech's precision farming prowess has led to the expansion of Terra Agri. The primary focus market for this new business is Indonesia and Malaysia.
Toru Tokushige, Founder and CEO at Terra Drone Corporation, says, "Terra Drone is entering the agricultural sector anew with the transfer of business from Avirtech. The integration of our expertise with Avirtech's groundbreaking crop intelligence technologies opens doors to
unprecedented opportunities for enhancing productivity, optimizing resource allocation, and promoting environmental sustainability in farming."
Rendy Ferixsen, CEO at Avirtech, adds, "We are pleased to announce the sale of our business to Terra Drone. This strategic progression not only empowers us to redefine the potential of agricultural drone solutions but also reinforces our unswerving dedication to technological excellence."
Wilson Ong, COO at Avirtech says, "We believe Terra Drone will further elevate our technology to our customers and bring further advancement into Agriculture 4.0."
Featured Product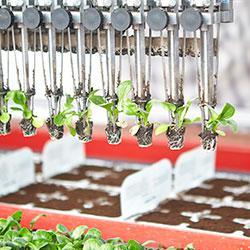 "Smart farming" is an important part of the answer to this existential question: Extremely high efficiency in food production through the targeted use of the latest technology, computer-supported and - where possible - fully automatic. Seeds are individually and precisely placed; fruits carefully picked by mechanical grippers; fertilizers and plant protection products applied in small doses and in a targeted manner. These operations require a large number of small electric motors that are both robust and powerful.