The partnership will give birth to a unique product that combines a full-cycle ERP system for agricultural enterprises and autonomous driving technologies for farm equipment. The first implementations of the joint product are scheduled for 2020.
Digital Agro (a subsidiary of Uralchem), Agrosignal and Cognitive Pilot (an autonomous driving technology joint venture of Sberbank and Cognitive Technologies Group) have formed a strategic partnership to collaborate on a single agricultural ecosystem to accelerate the digitalization of Russian farming. The partnership will give birth to a unique product that combines a full-cycle ERP system for agricultural enterprises and autonomous driving technologies for farm equipment. The first implementations of the joint product are scheduled for 2020.

The solution is a hardware and software suite for autonomous control of machinery and gathering, processing, and transformation of telemetric data, as well as consolidating all the business operations of an enterprise in a single digital environment.
The aggregate volume of products and services developed by the parties will reach up to $300 million USD by 2023. The parties expect to implement their technologies across 30% of agro industrial enterprises with an overall territory of 20 million hectares.
The agricultural ecosystem includes:
• Interface, algorithms for big data analysis and processing, and user mobile apps by Digital Agro.
• The Cognitive Agro Pilot hardware and software suite: an AI-based autonomous driving system for agricultural machinery (grain harvesters, tractors, and crop sprayers).
• The Agrosignal digital platform (currently the core of the Digital Agro ecosystem), which will also integrate the three technologies into a single agricultural ERP system.
With the new ecosystem, agricultural enterprises can benefit from addressing all practical tasks through a single interface and leverage the accumulated agronomic knowledge and modern technologies in soil science, ensure the efficient use of machinery, and strengthen control of agricultural and operational works.
Users will be able to control crop rotation based on historical data and knowledge of the soil and climate in the area of operation through the Digital Agro app installed on a tablet, using the continuously updated array of data from sensors mounted on the agricultural machinery. Digital control of all processes and data makes it possible to set highly specific tasks to operators and monitor their performance in real time.
Furthermore, the machinery will be equipped with technologies for partially autonomous driving, so the operators' job will be limited to controlling the work of the attached equipment.
Nikolay Bobrov, CEO of Digital Agro: "Partnership with the leading market players and the creation of a single agricultural ecosystem is Digital Agro's next step in the development of a digital service system that is open to all players of the agro-industrial complex and has a competitive environment. Importantly, our collaboration will result in a common data processing protocol that can later be used for joint projects with other enterprises of the Digital Agro ecosystem and beyond."
Olga Uskova, CEO and Founder of Cognitive Pilot: "It is our conviction that comprehensive solutions fused into ecosystems are the ones that can deliver the highest value to clients. The partnership has brought together industry leaders to create a breakthrough product that will change the trajectory of development of the entire sector. AI technologies permeate into more and more new industries, propelling them to a conceptually new level of development. We are thrilled to be in the vanguard of these changes together with our new partners."
Vladimir Korshunov, CEO of Agrosignal: "The agroindustrial market features a multitude of digital solutions, but the industry still has immense potential for digitalization. We believe that, to secure leadership in this area, a vendor has to offer the widest possible functionality, a user-friendly format, and the inclusion of all aspects of operation: agronomy, business, and management."
A profound digitalization of processes will help enterprises mitigate risks, enhance potential crop yield when preparing for the farming season, and cut operational costs by decreasing non-production and production losses. Digital Agro services and solutions can also boost efficiency and cut costs by up to 20% through consolidation and real-time management of enterprise data, while Cognitive Agro Pilot technologies can help decrease crop losses by 3% and boost the speed of harvesting by 25%. The cumulative effect of implementing all the ecosystem technologies can help cut direct and collateral costs by an average of another 13%.
By a MarketsandMarkets estimate, the global market of artificial intelligence in agriculture is approximately $1 billion in 2020 and is expected to reach $4 billion by 2026. Meanwhile, PS Market Research forecasts that the AI-in-agriculture market will have surpassed $11.2 billion by 2030.
About the companies
A strategic partner of Uralchem JSC and Uralkali PJSC, Digital Agro is developing an ecosystem for all agricultural sector players to consolidate products and services that are independent but conform to a single logic. The ecosystem is based on an IT platform with an Uber-style competitive environment and offers open access to all agricultural sector players. Connecting to the Digital Agro ecosystem, a user can benefit from the full range of products and services in a single place.
Digital Agro includes the Subsidies and Accounting software suite, the Agroassistance anti-crisis tool for adaptive farming, and Agrosignal, a digital platform for agricultural enterprise management.
As of today, Digital Agro is at the pinnacle of the digital transformation of Russian agriculture. Enterprises operating in 38 constituents of the Russian Federation have implemented Digital Agro solutions. The use of the ecosystem technologies helps to cut costs by up to 15% and increase production profitability by up to 20% to fully unlock the natural fertility potential of the land.
Agrosignal is a comprehensive digital ERP platform for agricultural enterprises included in the Digital Agro service ecosystem. The solution increases productivity and helps to lower losses of material assets and the impact of human factor on any process. The use of Agrosignal boosts profit margin by 25% or more, increases crop yield by 15% or more, and cuts costs by up to 50%.
Employing IoT technologies, the platform records and processes data from a multitude of sensors installed on agricultural machinery and workstations in real time. Obtained insights contribute to more accurate planning of agricultural works, task setting, performance control, and transactional decision-making by managers, production engineers, financiers, agronomists, and lawyers.
Agrosignal is used by over 250 enterprises across 24 Russian constituents, with the platform processing data collected from a territory of over 4 million ha, which accounts for 5% of all Russian farmland.
Cognitive Pilot (cognitivepilot.com) is a leading global vendor of AI technologies for autonomous vehicles. The company was founded in 2019 as a joint venture of Russian IT company Cognitive Technologies and Sberbank PJSC to develop AI technologies for autonomous driving of ground machinery in agriculture, rail transport, and applied logistic systems.
The company's clients in agriculture are Rusagro, Ekoniva, Don Agro, Milman Agro, and many more. At the moment, the company is implementing the world's largest ADS project in agriculture: 242 systems will be installed on RusAgro combines. Other landmark clients of Cognitive Pilot are Hyundai Mobis, the Russian Railways, FITSCO (Shanghai tram manufacturer), and PC TS (Moscow tram manufacturer).
The company possesses unique AI-driven technologies of computer and radar vision for ground transport vehicles.
Cognitive Pilot's head office is located in Moscow. The company operates in Russia, the CIS., the Baltic states, the Netherlands, China, South Korea, Germany, France, the U.S., Singapore, and Brazil.
Featured Product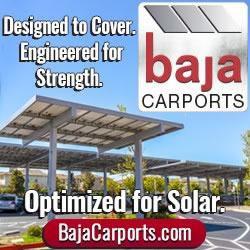 Baja Carports offers an extensive solar support system product line customized to customers' site specifications by in-house engineers, meeting their parking lot coverage, plus optimal PV production needs. Baja's Full Cantilever Tee is often paired with its Semi and Full Cantilever carports to meet live/loads up to 60psf and wind speeds to 160mph. All Baja products are pre-fabricated, bolted connections, pre-galvanized structural steel for fast on-site installation and project aesthetic requirements.