Storage of high yielding seeds and pesticides in containers and drums has led to the growth of the global agriculture packaging market. Also, the demands within the global agriculture packaging market have been rising on account of the rising use of drums and bottles in the agricultural sector.
Due to advancements in the agriculture and horticulture sector, there has been a rising demand for agriculture packaging. The global agriculture packaging market is emerging as a significant sector. The global agriculture packaging market has a lot of opportunities to explore in upcoming years due to the need for convenience and easy packaging. Transporting agricultural produce from rural areas to urban areas is expected to create an ample demand for the agriculture packaging in the global agriculture packaging market.

Sustainability to Propel Growth
Agricultural products are subject to damage due to climatic conditions such as extreme heat, cold, and rain. In such cases, agriculture packaging comes to rescue and saves the product from any damage. The sturdy packaging can sustain any climatic condition and avoid heavy damage to the farming industry. Thus, the global agriculture packaging market is likely to grow at a stellar pace.
Demand for Special Produces to Expand Market
Not all the fruits and vegetables are grown in a particular region due to different climatic conditions, different soil and other facilities needed for the production. Transporting specialty produce of one region to another region is expected to drive the global agriculture market.
For instance:- In India, Apples are cultivated in Himachal Pradesh due to the climatic conditions needed for their growth. However, apples are liked by consumers globally. In such cases, demand for apples from other regions creates a market for agriculture packaging. So, the global agriculture market has good opportunities for growth in the upcoming years. Moreover, export and import market to generate demand for agriculture packaging to ease shipment across the globe, which again will boost the global agriculture packaging market.
Surplus production to Push Market
Often there is a surplus production of grains and pulses. After the demand is met, the excess produce is supposed to be stored and managed to avoid the decay of the same. Such a surplus is managed in cold storage houses. This increases the demand for packaging, owing to the global agriculture packaging market to scale up during the upcoming years.
Pesticides and Fertilizers to Increase Demand
Pesticides and fertilizers come in packagings such as drums and plastic bottles. Agriculture crops need to be saved from pests and rodents. Storing them in a safe place calls for the need for good packaging. These usually need bigger storage like drums and sturdy plastic cans and bottles. There seems to be a wide scope provided by pesticides and fertilizer sector. This drives the global agriculture packaging market during the forthcoming years. Agrochemicals are a critical sector in the agricultural industry. And it is expected to provide a huge market by adopting new strategies in packaging which in turn will boost the global agriculture packaging market.
Lifestyle to Boost Market
With rising awareness and increasing urbanization, people are opting for terrace garden or kitchen garden. Aware consumers try their hands on growing day to day veggies in their terraces or backyard. To grow these crops in a limited space, there's a need for plastic, wooden crates, owing to the expansion of the global agriculture packaging market. In such cases, compost is made to ensure the availability of manure derived from kitchen waste. To convert kitchen waste into manure, there has to be proper filtration and management to avoid the smell and other issues. Such activities in urban areas create a need for agriculture packaging, thereby promoting the global agriculture packaging market.
Even to pack and transport seeds from nurseries to farms, there's a demand for small pouches, bags, and green bags. Thus, the global agriculture packaging market is anticipated to strengthen during years coming ahead.
Featured Product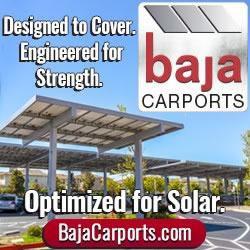 Baja Carports offers an extensive solar support system product line customized to customers' site specifications by in-house engineers, meeting their parking lot coverage, plus optimal PV production needs. Baja's Full Cantilever Tee is often paired with its Semi and Full Cantilever carports to meet live/loads up to 60psf and wind speeds to 160mph. All Baja products are pre-fabricated, bolted connections, pre-galvanized structural steel for fast on-site installation and project aesthetic requirements.