Manufacturing

Marketing Partner
---

EDF Renewable Services
EDF Renewable Energy, a subsidiary of EDF Energies Nouvelles, is a leading U.S. independent power producer boasting over 30 years of experience across a broad spectrum of services. Our core competencies in Project Development, Operations and Maintenance, and Asset Management enable us to ensure each project we touch performs at the highest level possible.
---
Mailing Address:
15445 Innovation Drive,
San Diego, CA 92128
United States of America
Tel: 8585213406
Fax: 8585213406
Email: Valerie.Mason@edf-re.com
Website: https://www.edf-re.com/
Company Category: Processing & Supply Chain
Geographic Region:
Company Sector: Manufacturing
Keywords: Renewable Energy, Project Development, Wind, Solar, maintena
Partner Status: Marketing Partner
---
Products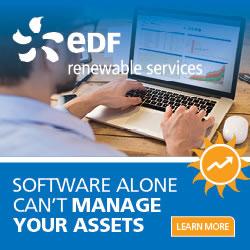 EDF Renewable Services offers the same innovative solutions that maximize the performance of our own 5.2 GW of installed projects. Because we're not an equipment manufacturer, our recommendations are transparent and data-driven. We cover the entire project lifecycle: from pre-commissioning support, through warranty and post warranty operation, to late stage and decommissioning.
---
Articles
This Company does not currently have any Articles
---
White Papers
This Company does not currently have any White Papers
---
Press Releases
This Company does not currently have any Press Releases
---