The two Freight Farms at Auburn University are a part of the college's horticulture program. They live in the Transformation Garden, an open-air classroom that is a beautiful spot on campus for all students to enjoy and learn.
Auburn University Department of Horticulture's Freight Farming Program
Case Study from | Freight Farms
At Auburn University, the Department of Horticulture partners with Campus Dining to offer students hands-on learning experiences and the campus community fresh produce. The trailblazing sustainable college campus implements two Greenery™ farms to provide lettuce for campus dining, with students in the horticulture program doing the work of growing the produce in the vertical farms, gaining valuable hands-on learning opportunities in the process.
The Department of Horticulture's Farming Program
The two Freight Farms at Auburn University are a part of the college's horticulture program. They live in the Transformation Garden, an open-air classroom that is a beautiful spot on campus for all students to enjoy and learn. In a juxtaposition of old and new, the two Greenerys are just next to a field of traditional row crops.
The progressive Department of Horticulture conducts research and lessons — centered not just around traditional farming, but also exploring new technologies such as aquaponics, controlled environment agriculture, hydroponics, and vertical farming. Two Freight Farms fit right into their programming, allowing students to explore alternative agriculture while producing literal tons of food for the dining hall to serve.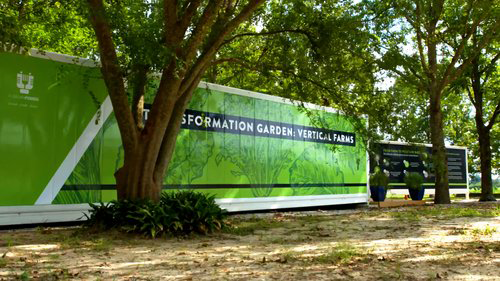 Hands-On Learning in Auburn's Freight Farms
"The way we're utilizing [the Freight Farms] is we're having a student-run project. That's really important to us. We have undergraduate students…getting this hands-on experience, every day, working these farms," explains Daniel E. Wells, Associate Professor in the Department of Horticulture.
Though the farms are operated by the Department of Horticulture, Auburn has found that their learning use is not limited to horticulture and agriculture students. The Freight Farms are also a practical, hands-on learning platform for students pursuing research, environmental science, sustainability, biological technology, economics, accounting, business, horticulture therapy, and even social work (to name a few). As students learn the Freight Farms technology, experiment with different crops, and facilitate the department-dining hall relationship, they're gaining hard and soft skills to utilize in their future careers.
Wells continues, "We're always looking to engage students with new technologies. This really excites students, and we want them to be prepared to enter the workforce."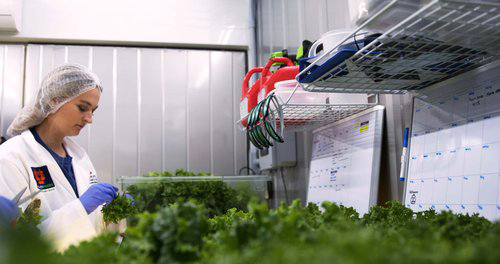 Campus Farm to Campus Dining
The Freight Farms offer a great experience not only for the students growing the lettuce, but also for those eating it: In addition to the crop experiments and learning in the Freight Farms, a bustling enterprise is a keystone of the campus farm. The campus Freight Farmers are running a small business, negotiating prices and quantities with their customer.
Hydroponic lettuce grown by students in the Greenerys is sold to the Edge, the campus' new dining hall. Auburn University has found that its students are really interested in knowing the origins of their food…and lettuce from the Greenerys is about as local as it gets. All of the lettuce from the campus vertical farms is branded "Auburn Foods," to shout loud and clear that it was grown locally. As a college dining hall that serves local food, the Edge sets Auburn apart as a progressive, sustainable campus.
Freight Farms' Value Beyond Farming
A valuable asset for the Department of Horticulture, the Freight Farms have helped to attract diverse students to the program, as well as Auburn University as a whole.
There are not many other land-grant universities with a vertical farm; having two of them (which round out a suite of state-of-the-art farming technologies like hydroponics and aquaponics in addition to opportunities for learning traditional agricultural practices), Auburn is proud to be a trailblazer of this controlled environment agriculture technology among the agriculture-focused universities in the United States.
"This is a real selling point for us," said Dr. Desmond R. Layne, Professor and Head of the Department of Horticulture. "For students that are coming to visit our campus to learn more about what we're doing here at Auburn, it's very exciting. We can attract students that might not be a traditional horticulture student — they may be more interested in sustainability or food insecurity or food deserts, and by seeing the technology and learning what other students are doing, they're becoming really interested. I think it's going to help us to grow our enrollment and the number and diversity of people that are interested in growing food. That's an exciting part for us."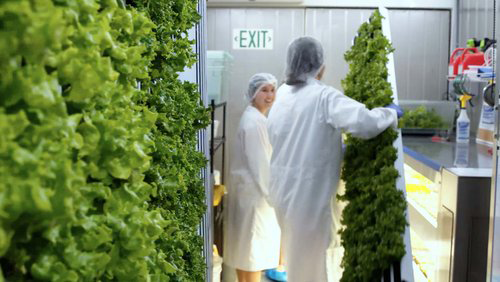 Farming for the Future
Beyond the hands-on learning experience and the joy of eating super fresh greens right in the campus dining hall, Auburn University has found that nontraditional agriculture has important implications for the future.
Said student Freight Farmer Mackenzie Pennington, "I chose to study with the Freight Farms because it is environmentally and agriculturally sound with feeding the planet and water efficiency and it's going to be very important for the future of agriculture."
As we grapple with supply chain crises, food production sustainability, pandemics, and food insecurity, vertical farms like Freight Farms allow for year-round, efficient, and consistent local food production. Teaching horticulture and agriculture through hydroponic farming methods paves the way for future farmers in Alabama and farther afield.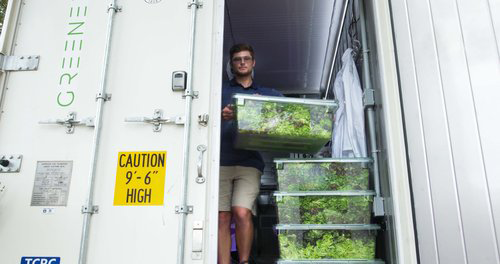 The content & opinions in this article are the author's and do not necessarily represent the views of AgriTechTomorrow
---
Comments (0)
This post does not have any comments. Be the first to leave a comment below.
---
Post A Comment
You must be logged in before you can post a comment. Login now.
Featured Product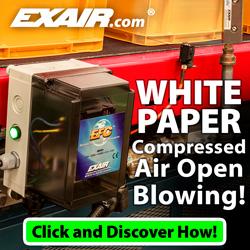 Compressed air is a limited resource that is generated in-house for the benefit of many operations within the manufacturing environment. Learn how to ensure all point of use applications are using your compressed air in the most effective and efficient way possible. Learn how much it costs to produce that compressed air and how Engineered Nozzles can help you use your air more effectively and efficiently.