The scale and complex nature of the agri-food supply chain creates numerous vulnerabilities across all stages in the face of modern challenges.
Technology Solutions Are Needed More Than Ever to Address Growing Agri-food Supply Chain Issues
Stephen Christie, CEO, | Agxio
Despite recent negotiations on restarting grain exports from Ukraine, problems around disruption to the agri-food supply chain still loom large. Coming atop the issues of climate change, soil degradation, rising production costs, raw material scarcity and prices, increasing distribution costs, and a growing global population, agri-food supply chain challenges have been brought into sharp focus by the conflict.
The need to apply innovative technologies to mitigate or resolve these issues and help ensure food security is more urgent than ever. The scale and complex nature of the agri-food supply chain creates numerous vulnerabilities across all stages in the face of modern challenges. Fortunately, a variety of technologies are available that improve traditional farming methods, deliver actionable insights, and optimise indoor farming solutions to help address agri-food supply chain issues.
Hardware and data
Farming can be a rich source of data that can dramatically enhance production across the entire food supply chain. Using sensors, IoT devices, satellites, drones, cameras, and analytics, it is possible to collect, interpret and utilise data to aid decision making and enable actions to improve crop yields, disease risk management, profitability and sustainability, policy, and supply chain optimisation.
For example, farmers traditionally spend much time crop scouting. This walking the fields to monitor crops and conditions is inefficient and adds to soil compaction issues. The use of drones, multispectral cameras, and intelligent platform systems to capture and process data enables the autonomous analysis of a vast array of crop conditions that are not evident to the eye.
Digital real-time crop scouting permits the monitoring of fields, emergence of crops and identification of environmental land issues to be directed from the farm office miles away without stepping onto the land, with advanced intelligent analytics also able to make predictions and create solutions to challenging problems.
Closed Environment Agriculture (CEA)
Indoor and vertical farming methods are increasingly being employed and bring multiple supply chain benefits. With growing units able to be located close to sources of demand, including in dense urban areas, the distribution distances from production to table are cut dramatically. The localisation of crops both in terms of type and timing is also enabled, making strawberries, for example, available all year round.
The CEA model enables optimum growing conditions, with minimal use of resources such as water and fertiliser due to the highly accurate delivery and optimum amounts of nutrients required using sensor analytics, precision delivery and real time intelligent insights to ensure ideal growing conditions are maintained. This ensures no waste and generates higher yields. The use of chemicals can be targeted at individual plant level and there is also significantly lower disease risk. As well as reducing the amounts of required inputs, indoor hydroponic CEA systems also enable the recycling of fertilisers, such as phosphorous.

Artificial Intelligence (AI) and Machine Learning (ML)
AI and ML can radically improve processes and outcomes at all stages of CEA and traditional agriculture and bolster the agri-food supply chain. Platforms able to ingest data in real time can provide insightful solutions to improve animal and crop health and apply monitoring and analytics to create intelligent solutions within minutes to solve farm-scale issues in land and livestock management, sustainability, and business efficiency and to optimise CEA growing environments.
Applying ML to analyse vast amounts of data that are beyond human scale and identify patterns provides food producers with deep insights, from disease identification to growing conditions and soil health analysed by field sensors, with the ML also generating innovative solutions for improved yields.

Macro insights
Insights available from AI and ML are not restricted to field-level and precision agriculture. Cutting-edge platforms deliver access to data on supply and demand at a global level, enabling current and predicted commodity profiling in real time. Our Apollo platform, for example, which automates the building of machine learning solutions, enables practitioners to harness insights from ground to global without the need to become specialists in data science or machine learning.
By monitoring production at an international level, policymakers and farmers can see whether major producers can meet only domestic demand or have enough for surplus trade, how this might change the economic strategy of other countries reliant on imports and macroeconomic trade and adapt their production strategies to improve trading and better match demand throughout the year.

Combatting climate change
The increasing frequency of floods, droughts, heatwaves and storms impacts field-based crops and food prices. But the agri-food sector is both impacted by climate change and a major contributor to it, responsible for 26% of total greenhouse gas (GHG) emissions and expected to rise by 40-50% as food demand surges.
Deforestation, fertilisers, and livestock contribute to the build-up of toxic gases in the atmosphere and the leaching of agrichemicals causes significant damage to ecosystems. All the above solutions contribute to mitigating the threat to the agri-food supply chain from climate change and pollution by reducing the environmental impact of agriculture and aiding effective responses to changing weather patterns through innovation, intelligence and efficiencies.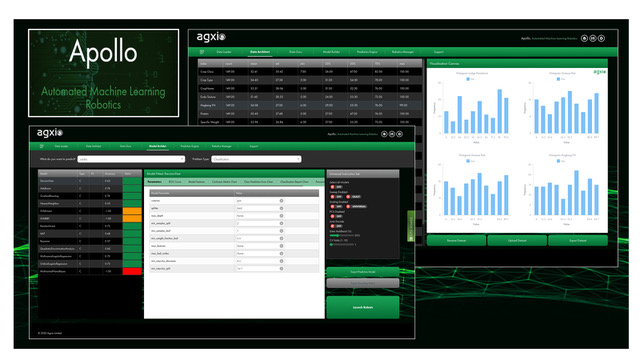 The farmer of the future will be enabled with all the skills of an agronomist, data scientist, engineer, commodity analyst, AI technologist, and an eco-warrior. With these technology-enabled skills, they will be better equipped to help secure the agri-food supply chain. At Agxio, we are highly motivated in our contribution to building Agriculture 4.0, empowering the digital farmer of the future with intelligent command centre systems and user-friendly dashboards, and helping to secure the agri-food chain supply system.
The content & opinions in this article are the author's and do not necessarily represent the views of AgriTechTomorrow
---
Comments (0)
This post does not have any comments. Be the first to leave a comment below.
---
Post A Comment
You must be logged in before you can post a comment. Login now.
Featured Product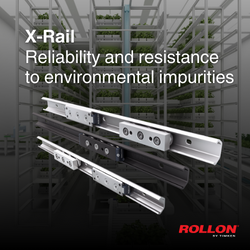 Rollon's X-Rail linear rails are a reliable solution in environments susceptible to impurities. Equipped with rolling elements with shaped and flat raceways, they are available in several versions: galvanized, nitrided or stainless-steel sheet metal. The latter version ensures total corrosion resistance, which is critical for hostile environments such as those found in vertical farming. Particularly innovative is the T + U configuration of the X-Rail linear rails, which can compensate for the parallelism errors of mounting surfaces. This simplifies installation and reduces costs.