In the grow, 16 ft. towers holding layers of hydroponic beds maximize their growing space and minimize waste production to as low as 5%, and with a reliance on hydropower, no excess C02 is released into the atmosphere.
Lighting the Way to Sustainable Agriculture
Case Study from | TSR Grow
The AquaVerti Story
In the frigid Canadian climate, growing a year-round supply of fresh fruits and vegetables is out of the question, leaving most of Canada's produce supply in the hands of foreign imports. In Canada's more remote areas, access to fresh food is even scarcer as transportation costs keep produce prices high. But in Montreal, the innovators at AquaVerti Urban Farms are "looking to change the world of agriculture" by growing fresh produce indoors in Canada and beyond.
Seeking to fulfill Canada's need for sustainably grown, high-quality vegetables, George Aczam and Stephen Moss began their venture into hydroponic lettuce growing two and a half years ago. After visiting farms throughout the US, George and Stephen were inspired to take the existing model for hydroponic growing to the next level. The duo jumped into designing their first vertical farm, pulling certain strategies from farms they liked and combining them with new methods and technologies. Their introduction to the TSRgrow™ team came at the perfect time. "We knew that lights were a very, very critical part of the equation. We began by getting sample lights from quite a number of different companies. We started testing all of those lights, to see which light would ultimately serve our purposes," remarks Stephen. After careful testing, they decided to fully outfit their grow with TSRgrow™ TG-30HVR LED grow lights.
Sustainably Grown
Designed for sustainability and efficiency, the AquaVerti building prioritizes low waste while producing premium quality produce. In the grow, 16 ft. towers holding layers of hydroponic beds maximize their growing space and minimize waste production to as low as 5%, and with a reliance on hydropower, no excess C02 is released into the atmosphere. "As opposed to traditional farming, we use much less resources, ...a fraction of the water... and a fraction of the land to get a premium product," says Stephen.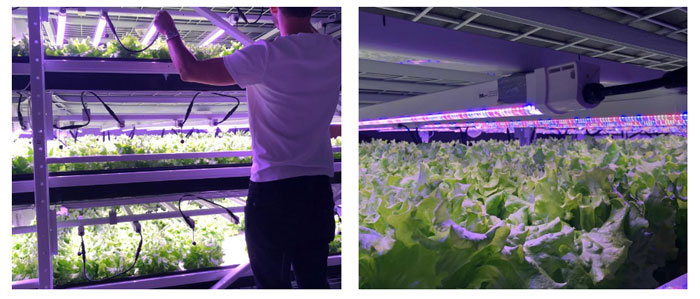 Above the grow beds, rows of energy-efficient TSRgrow LED light bars provide the perfect spectrum for growing lettuce with maximized yields. Looking to create a finely-tuned environment, they found TSRgrow's TG-30 the ideal lighting solution for their vertical grow. Waterproof for their hydroponic setup and daisy chainable, the light bars deliver a spectrum specially designed for growing lettuce. "We are able to create the absolute perfect environment for a specific plant…[and] the design of [the] lights is doing a really good job for our lettuce," said Stephen.
Dialed in for optimal lettuce growth, the TG-30's spectrum is proven to encourage maximum growth and quality in the plant while keeping energy costs low. At AquaVerti Farms, the team noticed "a really nice quality of plant" growing underneath the TSRgrow LED lights and achieved great results when harvesting.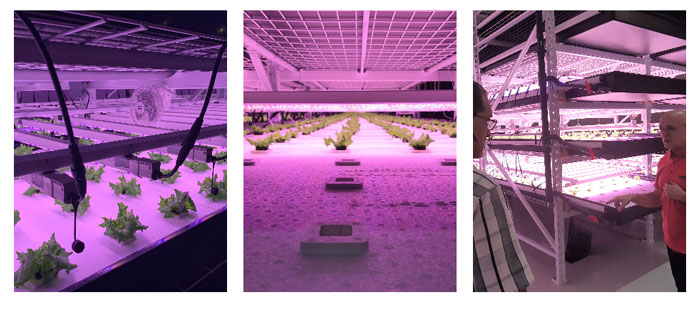 Incorporating LED lighting was essential to maintain AquaVerti's low carbon footprint, but they also needed a light that would produce the fresh, high-quality produce that Canada was missing. "The light needed to have a few different qualities," said Stephen, "... the right spectrum... [and] the power usage -- energy cost is one of our biggest costs...a difference in a few watts per light is a big deal...so we like the fact that [TSRgrow™] was a strong light but in terms of wattage...it was very reasonable."
Landing on TSRgrow™ lighting solutions, AquaVerti was impressed, not only by the TG-30's lighting capabilities, but by the knowledge, expertise and support demonstrated by the TSRgrow™ team. "It's been a very healthy relationship...communication has been excellent, idea-sharing has been excellent, and even knowledge-sharing has been excellent!" said George Aczam.
As AquaVerti continues in their growth, they are excited for what comes next. With plans to expand facilities, they hope to become a force in wholesale distribution and achieve their goal of bringing fresh, high-quality produce to Canada. As one of the leading companies paving the way of sustainable agriculture, TSRgrow™ is excited to help them succeed, with solutions customized to their goals.
The content & opinions in this article are the author's and do not necessarily represent the views of AgriTechTomorrow
---
Comments (0)
This post does not have any comments. Be the first to leave a comment below.
---
Post A Comment
You must be logged in before you can post a comment. Login now.
Featured Product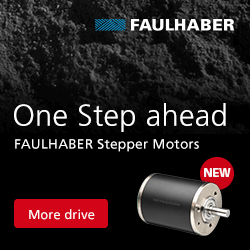 The FAULHABER stepper motor AM3248 raises the bar in terms of performance and dimensions. Offering up to 10,000 rpm, it achieves five times the speed of comparable stepper motors. Combined with a gearhead reduction of 100:1, it supplies a torque of 5 Nm. With a diameter of just 32 mm, it is suited for a wide range of applications in areas such as aerospace, laboratory automation, the semiconductor industry, robotics and 3D printing. Learn more!