The twin pressures of a relentless increase in the demand for larger volumes and higher quality fruits and vegetables together with pressures on growers for more sustainable farming will drive the need for higher yields at the plant level.
2022 Top Article - AI and Custom Imaging Hardware to Address the Challenges of Growing High-quality Crops
Q&A with Mark DeSantis, CEO | Bloomfield Robotics
Tell us about Bloomfield Robotics and your role with the company – can you explain your technology and the impact it has on crop growth?
Growers need to ensure well-timed harvests and successful yields, and thus, constantly attend to their farms - inspecting their crops to predict yield size and quality, as well to protect them from pests and disease. The main inspection method available today to growers, whether of row crops (like wheat, corn, or rice), or specialty crops (like grapes, apples, and flowers), is human visual inspection, sometimes augmented by drone imaging. This approach has significant limitations. Human inspection is not scalable and can be highly subjective and often unreliable. Where used, drones cannot see below the canopy, which is problematic for specialty crops - where the fruits, leaves, shoots, etc. must be observed directly.
Bloomfield cost-effectively overcomes the limitations of both these methods and provides direct line-of-site pixel-level inspection using RGB imaging and AI to automatically assess the health and performance of every plant in a grow, regardless of plant type, location or number. The result is more predictable, higher-quality yields and an enhanced growth management experience for the grower.
I joined Bloomfield about 3 years ago as adviser and within a few weeks the founders asked me to sign on as CEO. So I guess you could say I'm a 'near' founder! Since then, I've focused on fundraising, recruitment and business development.
What kind of broader issues does crop imaging solve?
The quality, quantity, and reliability of fruits and vegetables will improve as everyone in the food supply chain – from growers to retailers like Whole Foods and Safeway – have accurate, precise, continuous, and digitally traceable knowledge of the condition and performance of every tree, bush or vine; without added costs such as increased labor or resource consumption. In fact, this is what Bloomfield believes is the emerging phenomenon of 'digitalized crops' - where fruit and vegetable producing plants become living, dynamic digital artifacts which serve as the basis for monitoring and managing each plant. These digital artifacts will, in turn, allow everyone in the supply chain to know the condition, quality, and precise quantity of what is in the supply chain rather than rely on guesses and random subjective judgments.
Obviously more healthy crops is a good thing, but how is this impacting farmers' bottom line at a time of rising environmental pressures, demographic shifts, production costs and supply chain issues?
The world population is dramatically increasing - by 40 percent in the coming decades. This burgeoning population will need to be fed. We are also quickly discovering that there is no more readily accessible arable land, and the tools that most farmers rely on to improve yields will be less and less available. This presents an opportunity for Bloomfield to help get more performance out of each plant. That is the mission of the company - we like to say that every plant matters, and we mean that in a literal sense. For us, knowledge of the productivity of every plant helps everyone get the most out of it.
What's next for Bloomfield?
We rely on portable cameras to move past the plants in the field (or in a greenhouse). Therefore, we typically hitch a ride on vehicles, such as tractors, ATVs, and UTVs, that are already on the farm to move the cameras around. Sometimes the data is collected passively. That is, the camera is switched on when the vehicle is doing other work. Other times, the customer is actively gathering data systematically. Our current focus is to embed this camera capability into moving vehicles so that collection is automatic, continuous, and, importantly, effortless.
Are there new crops you're planning on testing your technology on, new regions you plan on expanding to and/or new technologies you plan to introduce?
We currently have wine, table, and juice grape customers across the U.S., France, and Italy. We also have a large blueberry grower in Peru. We will be substantially expanding the volume and variety of specialty crops like strawberries, apples, citrus, and tomatoes - both through our existing customers, like Oppy, as well as through new customers.
As far as new technologies, we just won a challenge put on by Akamai that earned us access to $1 million worth of their edge, cloud computing and cybersecurity products and services. That's going to help us scale our business right away. We're also looking at how we can use edge computing to pre-process and deliver the imaging data generated by our cameras much faster from customer locations to the data center. Security is also becoming more important, so we're keen to bolster our existing security capabilities to protect our customers, data and business as a whole.
What's the biggest challenge you see facing farmers and crop production over the next five years?
In specialty crops, the biggest challenge we see is the ability to get even more production per plant. The twin pressures of a relentless increase in the demand for larger volumes and higher quality fruits and vegetables together with pressures on growers for more sustainable farming will drive the need for higher yields at the plant level. Fortunately, there is a growing array of powerful tools to help growers get there. We should also not forget emerging labor market trends, and the challenges current food and equipment supply chains are posing. This will only mean that the farmer of tomorrow will need to be digitally adaptive and agile, utilizing every piece of data made available to optimize their labor and field operations to get the most out of limited resources.
What's one piece of advice you'd give to other crop technology startups?
We've learned that growers are eminently practical. I was previously part of a deep tech company that developed tools for the US military. Growers and soldiers have a lot in common when it comes to looking at tools of their trade: (1) does it get the job done, (2) is it ridiculously easy to use, and (3) is it rugged and reliable.
At the same time, it is important to not be the proverbial hammer looking for nails. I teach entrepreneurship part-time at Carnegie Mellon University and many of my graduate students come to the class with incredible, even 'fantastical' technologies, all looking for ways to make the world a better place. Yet, my advice is to start with the problem first and work back into a solution. In effect, get a Ph.D. in the problem and you can get away with a Bachelor's degree in the solution.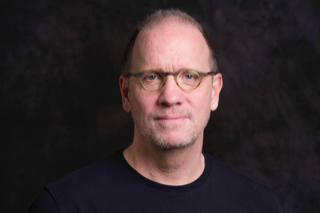 About Mark F. DeSantis
Mark is the CEO of Bloomfield, a venture-backed AI company in agriculture. He was previously cofounder and CEO of RoadBotics, a venture-backed AI company assessing roadway infrastructure. He was also previously cofounder and Chairman of kWantix, a quant energy hedge fund, and cofounder and CEO of kWantera, a venture-backed energy trading company. Previously, he was CEO of Think Through Learning, a venture-backed online tutoring company and US Managing Director of ANGLE Technology, PLC, a UK-based venture capital firm and consultancy.
The content & opinions in this article are the author's and do not necessarily represent the views of AgriTechTomorrow
---
Comments (0)
This post does not have any comments. Be the first to leave a comment below.
---
Post A Comment
You must be logged in before you can post a comment. Login now.
Featured Product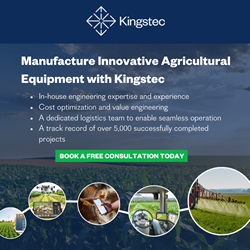 In the rapidly evolving agricultural landscape, leading AgriTech companies are increasingly leveraging the experience and expertise of strategic engineering and manufacturing partners to bring cutting-edge, cost-effective solutions to market. Kingstec is an all-in-one engineering, manufacturing, and logistics partner, with over 40 years of experience and 5,000 successfully completed projects. We can help you bring innovative, cost-optimized farm equipment, sensors, drones, components, and more to market quickly with in-house engineering and manufacturing expertise, a dedicated logistics team, and a network of world-class manufacturing and supply chain partners.