At Warren Farms, Mack and his father explored more innovative approaches to maximizing their yields. They started by upgrading their equipment for specific areas as well as flat-rating higher amounts of fertilizer.
Smart VR – The Recipe for Higher Yields, Lower Input Costs
Case Study from | Farmers Edge
About
Mackenzie Warren is a third-generation farmer who runs a 4,000-acre farm with his father in Saskatchewan. Warren Farms produces crops ranging from durum wheat, peas, and canola, to greenfeed/grains such as oats and barley to support their cattle operation.
Farmers Edge Technologies
Smart VR (includes on-farm weather stations, mixed-fleet telematics devices, grain cart weighing devices, high-frequency, high-resolution satellite imagery, access to all FarmCommand features, zone soil sampling, and unlimited Variable Rate prescriptions)
Duration: Four years
Location: Ogema, Saskatchewan; Canada
Usage Case: Maximize yields to keep pace with other regions
Challenge
Farming in Saskatchewan has always been challenging. In recent years, the perpetually unpredictable weather has taken more severe turns, with growers battling rain, wind, hail, drought, and other extremes. According to Mackenzie "Mack" Warren, drought is the number one challenge he and other farmers in the region face. While Mack believes that farmers in SK have invariably had to adapt to weather and changing market conditions, they haven't realized the yields of other regions or attempted to grow certain crops because of the inclement weather and environmental restrictions. This model is changing as more next-generation growers turn to technology and other new processes. At Warren Farms, Mack and his father explored more innovative approaches to maximizing their yields. They started by upgrading their equipment for specific areas as well as flat-rating higher amounts of fertilizer.
"Despite doing some limited soil testing, before Farmers Edge, our plans essentially amounted to throwing darts at a dartboard with the lights turned off," stated Mack. "I wasn't aware there was a third-party who could put everything together for you, including the data and stats for your particular fields as well as tell you how to do things better year after year."
Solution
With this mindset, Mack and a few other growers in his region initiated a trial with Farmers Edge in 2017. While Mack investigated other precision agriculture solutions on the market, he was wary of going with a product that failed to offer soil testing.
"Soil testing is what matters the most," he explained. "You really need to know what's going on in the dirt. Topographical images or NDVI images that show you the most productive areas aren't enough. Farmers Edge was one of the few businesses that brought in their trucks to complete the testing in our fields with our data."
Mack described the deployment process as "very easy for the user," as Farmers Edge physically mapped the fields, created the soil zones, and performed the soil sampling as promised.
"All we had to do was tell them what we wanted to grow, then they typed in the yields and sent us reports of the projected outcomes; we would sign off on each of the stages. As we got into the growing season, we provided more input on the depths at which we seeded and the varieties chosen, but the process continued to be very user-friendly."
The first indicator of success was the realization that the farm was using less fertilizer to grow larger crops.
"That was a real eye-opener for us," Mack noted. "My uncle was still farming with us and grew a field of durum wheat right beside my father's field of durum wheat, but the two were managed completely differently. One was just the standard rate of fertilizer applied, while the other utilized a variable rate map from Farmers Edge. The Farmers Edge field outperformed the other field, which had more fertilizer on it in total. When that happened, we went 'wow.' We realized we could use our inputs more precisely to increase yields while applying less fertilizer."
Ultimately, the Warrens are seeing a 10–15% better yield on every crop and attribute their results to focusing on "the best of things" by optimizing the data in the Farmers Edge platform.
"The platform and the intelligence behind it are the closest things you can get to having an onsite agronomist," stated Mack. He also credits Farmers Edge with helping to redefine their yield ceilings.
"They gave us a recipe to grow these really high yields that other producers were growing that we couldn't seem to achieve. We've been at 40 bushels of durum per acre consistently, which originally was unheard of. Now we're targeting 50."
"The soil test is the end-all-be-all in agriculture. Farmers Edge has given us a benchmark so we can grow big crops while still ensuring the soil is healthy. That value alone gives us more long-term success than just focusing on pulling off the biggest yield every year."
– Mack Warren, Warren Farms
The content & opinions in this article are the author's and do not necessarily represent the views of AgriTechTomorrow
---
Comments (0)
This post does not have any comments. Be the first to leave a comment below.
---
Post A Comment
You must be logged in before you can post a comment. Login now.
Featured Product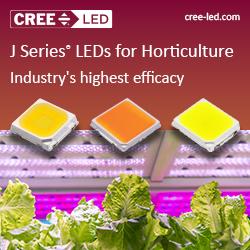 Horticulture and other forms of agricultural lighting require application-tuned ratios of spectral content, high efficacy and long lifetimes. Since these systems are designed to maximize yields for plants and animals, they require different metrics than lighting products designed around the human visual system. Cree LED delivers a wide range of spectral options and products optimized for these applications with leading efficiency and reliability.