One of the biggest obstacles to profitability in the agriculture industry is knowing how much fertilizer to use. If farmers don't use enough, yields will be low, and profitability will suffer.
Improve Profitability by Optimizing the Use of Fertilizer
Case Study from | FarmersEdge
About: Agropecuária Canoa Mirim S/A is an agricultural company whose main activities include cultivating rice, soybeans, and cattle. Founded in 2000, they currently own 25,000 hectares of land in Brazil and are committed to promoting agribusiness in a sustainable and innovative way to produce food and satisfactory results for all involved. Agropecuária Canoa Mirim focuses on growing together with its partners, always seeking to conduct business that benefits all parties.
Location: Santa Vitória do Palmar, Rio Grande do Sul, Brazil
Farmers Edge Technologies: Smart VR (includes on-farm weather stations, mixed-fleet telematics devices, high-frequency, high-resolution satellite imagery, access to all FarmCommand features, zone soil sampling, and unlimited Variable Rate prescriptions)
Usage Case: Improve profitability and productivity by optimizing the use of fertilizer based on soil and weather conditions
Duration: Two years
Challenge:
One of the biggest obstacles to profitability in the agriculture industry is knowing how much fertilizer to use. If farmers don't use enough, yields will be low, and profitability will suffer. Using too much fertilizer can also have negative consequences and add extra costs to agricultural operations. Agropecuária Canoa Mirim S/A needed a way to determine the right amount of fertilizer to optimize outcomes, both in the field and on the balance sheet.
"We have more than 25,000 hectares of land, and conditions between fields vary widely," says Lauro Soares Ribeiro at Agropecuária Canoa Mirim S/A. "We needed a tool that would allow us to determine the perfect amount of fertilizer to use and be flexible enough to vary the amount we need depending on local conditions. For example, areas with better topsoil may need less fertilizer, while areas with conditions that aren't as good need more. Our company reviewed a number of options before selecting Farmers Edge because its Variable Rate Technology offered exactly what we were looking for and had a proven track record that we could trust."
Solution:
Agropecuária Canoa Mirim S/A is a values-driven company with a deep commitment to producing food to feed the world, with ethics and responsibility to both people and the environment. As part of this approach, the company wants to have a strong "green footprint" that promotes ecological stewardship. A major cause of environmental degradation caused by the agriculture industry is over-fertilization, so the company needed a way to only use as much fertilizer as is necessary to produce crops and promote the growth of livestock. Not only is this approach good for the earth, but it drives efficiency and profitability by eliminating unnecessary spending on excess fertilizer.
"There is a misconception that more is better when it comes to fertilizer," Ribeiro says. "The consequences of not using enough fertilizer are devastating to agriculture businesses, so there has always been a tendency to over-fertilize. While this may seem like a good idea on the surface, it is actually bad for the environment and ultimately bad for the producer. The Farmers Edge Variable Rate Technology removed the guesswork for us by providing data based on soil samples and other environmental data so that we could optimize the use of nitrogen-based fertilizers in the fields. And in only a few short months, we saw incredible results."
Wade Barnes, CEO of Farmers Edge, says, "Our Variable Rate Technology uses multiple sources of field-centric data to create management zones in the field. From there, we rank those management zones by productivity, and then our Precision Soil Sampling Technicians go out and soil sample each zone individually. After soil analysis is completed, our Precision Agronomists create an advanced agronomic plan that matches zone productivity to zone yield targets and product requirements. A completed prescription map is then sent to the farmer's equipment."
"It is really a win for us in every way," Ribeiro says. "Everything is completely automated, so there isn't a steep learning curve for workers in the field. All they need to do is use the equipment they've always used, and the Farmers Edge technology takes care of every step of the process. As a result, we have a higher yield, a lower environmental impact, and a lower cost of fertilizer."
"We chose Farmers Edge based on trust. We talked with farmers in other countries who had used Variable Rate Technology, and their experiences were so positive that it really made our decision easy. And so far, it has performed exactly as advertised."
The content & opinions in this article are the author's and do not necessarily represent the views of AgriTechTomorrow
---
Comments (0)
This post does not have any comments. Be the first to leave a comment below.
---
Post A Comment
You must be logged in before you can post a comment. Login now.
Featured Product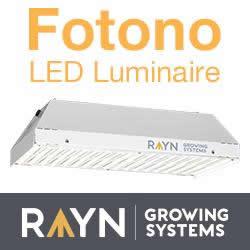 Fotono is a full spectrum LED horticultural luminaire designed to directly replace HPS lights in greenhouses. At 12 pounds, 20 inches long, and 5 inches high, Fotono's compact size makes installation simple while minimizing structural burden on greenhouses. This compact fixture packs energy-saving and yield-improving features, such as a high output, stepless dimming, advanced spectral capabilities, and more.