Global warming and climate uncertainty are making traditional farming increasingly unpredictable. But there is a solution – hedging against climate uncertainty with Controlled Environment Agriculture (CEA), from traditional greenhouses to vertical farming.
Hedging Against Climate Uncertainty with Controlled Growth Environments
Article from | Heliospectra
Last year, social distancing restrictions and border closures created harvest and supply chain issues for growers. While we all expected this year to be better, 2021 has begun with continued Covid-19 restrictions. At the same time, wildly unpredictable global weather has wreaked havoc on food production and distribution.
Looking at Europe, as the year dawned winter cold fronts in Italy and Spain caused greenhouse and field vegetable shortages and skyrocketing prices. Then Storm Filomena brought unseasonably cold weather and heavy rains to parts of Portugal and Spain, while Madrid saw its heaviest snowfall in 50 years. Amidst this chaos, the price of tomatoes alone rose by 60%, with fewer crops available to sell.
Europe's uncommonly harsh weather not only caused fruit and vegetable shortfalls in the Southwest, but snow and rain disrupted transportation routes northward. The Netherlands, parts of the UK and Northern Germany faced cold and more snow than they had seen in at least a decade, thanks to storm Darcy, which interrupted transport into those regions. Meanwhile, Southeastern Europe and Turkey were experiencing higher than usual temperatures and droughts.
What does all of this mean to the food supply? Global warming and climate uncertainty are making traditional farming increasingly unpredictable. But there is a solution – hedging against climate uncertainty with Controlled Environment Agriculture (CEA), from traditional greenhouses to vertical farming.
CEA methods can produce high-yield, top-quality, nutritious and delicious food in all seasons – and do it much closer to home. To fight the effects of global warming, the agriculture industry needs to start moving in a direction that reduces its carbon footprint, uses less energy and water, and makes crops less vulnerable to climate change and supply chain interruptions. Controlled growing environments and energy-efficient technologies could be the answer.
Real-world examples: LEDs and intelligent controls drive positive change
LED grow lights and advances in intelligent lighting control technology enable indoor farmers and greenhouse growers to maximize crop yields, optimize crop quality and standardize production year-round – and do it all sustainably.
When interviewed by Forbes, Matt Barnard who is Co-Founder and CEO of Plenty, one of America's leading indoor farming companies, noted that farming leafy greens vertically uses 1% of the land and 5% of the water that traditional farms use. Along with reducing water and land requirements, Plenty eliminates the need for pesticides using LED lights "synced with the crop's growth."
In our own webinar with Plenty, the company's Co-Founder and Chief Science Officer Dr. Nate Storey commented, "At Plenty, the primary tech inputs are LEDs and semiconductor technologies. As the cost of LEDs goes down and the efficiencies go up, we reap the benefits with very little investment on our part." In fact, the company has "improved yield to the same unit of energy by 12X."
In Sweden, Ljusgårda AB built a thriving modern farm in what was once a factory. They did this by "replacing the tractor with lights and the shovel with an iPad," commented Andreas Wihelmsson, Ljusgårda Partner and CEO. The company used intelligent LEDs and light control strategies to reduce their arugula production time by 19%. In our webinar Wihelmsson noted, "For us, light control is very important to our production. If we look at our collaboration with Heliospectra, we chose to go with ELIXIALEDs because we needed maximum flexibility. The other reason was their positive effect on reducing power consumption."
When it comes to greenhouse growing, Bridge Farm Group, the largest commercial producers and suppliers of plants in the UK, also achieved significant energy savings with LEDs while lighting twice as much production area as they could with HPS. Using Heliospectra's high-efficacy, high-intensity MITRA LED lighting solution they saw marked improvements in year-round crop quality. Andrew Fuller, the company's Technical Director, commented, "Supplemental LED lighting allows us to provide the freshest and most flavorful herbs on the market 365 days a year despite seasonal changes." He continued, "If you want to put lights on your crop, you want to put it on the most efficient way possible. And today, I think that's LED."
Using LED lighting technologies in controlled growing environments, these companies were able to:
Accelerate production cycles
Put superior products on store shelves
Ensure continuous yields all year round
Control inventory and time to market
Produce plants that ship better and last longer
Control costs and increase revenues
They found they could consistently achieve their crop goals, while saving resources and making a smaller impact on the environment. Developments in LEDs and lighting controls mean the quantity, quality, duration and distribution of light that each plant receives can be optimized to produce more quality food with less. This is very good news, since by 2050 it's predicted that the world will have 9.7 billion mouths to feed. To keep pace, food production will need to increase by 70% in just 30 years. With so much climate uncertainty, perhaps we need to grow our food closer to where we live and bring it safely inside where we can control the environment. By providing the light spectra that plants need and a predictable environment in which they flourish year-round, indoor and greenhouse farming with LEDs can provide a sustainable and resilient way to feed the world, no matter the weather forecast.
The content & opinions in this article are the author's and do not necessarily represent the views of AgriTechTomorrow
---
Comments (0)
This post does not have any comments. Be the first to leave a comment below.
---
Post A Comment
You must be logged in before you can post a comment. Login now.
Featured Product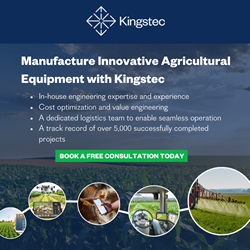 In the rapidly evolving agricultural landscape, leading AgriTech companies are increasingly leveraging the experience and expertise of strategic engineering and manufacturing partners to bring cutting-edge, cost-effective solutions to market. Kingstec is an all-in-one engineering, manufacturing, and logistics partner, with over 40 years of experience and 5,000 successfully completed projects. We can help you bring innovative, cost-optimized farm equipment, sensors, drones, components, and more to market quickly with in-house engineering and manufacturing expertise, a dedicated logistics team, and a network of world-class manufacturing and supply chain partners.