When deploying standalone solutions, the challenge comes later on when they won't be able to aggregate data and will be forced to manage multiple systems with functionalities that overlap, therefore losing the power of an interoperable system.
Building a True IoT Ecosystem for Smart Farming
Q&A with Lucas Funes, CEO | Webee
Tell us about yourself and your role with Webee.
I'm Lucas Funes, CEO at Webee, and I founded Webee to give organizations the tools to easily combine data and insights in a new way and provide a real-time, 360-degree view of their operations.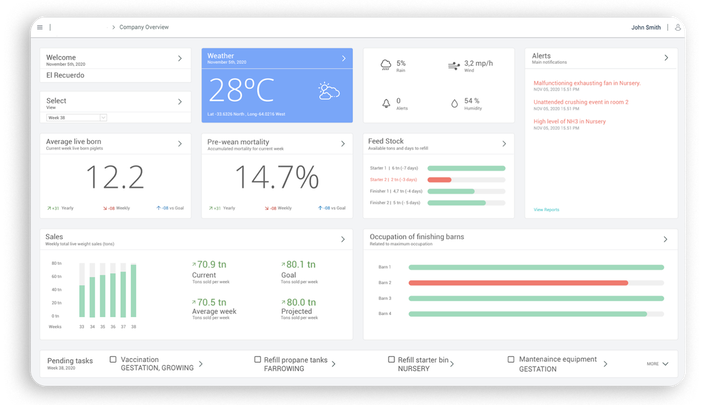 Give us a quick summary on Webee solutions and how they are utilized in farming.
At Webee we enable access to the most advanced smart farming technology available today. Many different kinds of agricultural producers approach us with specific indoor, outdoor and in-transit problems that can be addressed with connected solutions. Our customers experience around a 20% increase in operational efficiency or more.
We have multiple solutions for the agricultural sector focused on crops, grains, and livestock. Our no-code platform allows farmers to deploy solutions at a fraction of the cost without the need for specialized engineering. The modules are pre-built to address some of the most common challenges such as soil condition monitoring for crops, moisture, wind direction, etc. This helps prevent diseases and improve production. They can also access data from machines, mills, and storage to reduce spoilage, and control vital signs and other critical processes involving livestock.
One of our real-world customer use cases involves boosting egg hatchling results by improving egg hatchling birth rates for poultry producers. The sensors monitoring the industrial egg incubators capture real-time information about factors such as temperature, humidity and ventilation, which is then displayed on a scalable and secure dashboard that can be accessed anytime, from anywhere.
What are the most common applications/use cases associated with Smart Farming solutions?
There are multiple areas where Smart Farming solutions can be of help but the most common applications are around the following goals:
Capturing data for real-time information: The use of multiple types of sensors allows farmers to capture information about soil quality, cattle health, swine production, and more. The data capture can help farmers track the progress of their production in real-time, correct deviations, and prevent infections and other issues that can damage the production. They can also understand better the performance of machines and reduce inefficiencies.
Reducing losses and waste: By having more control over the production processes, they can detect anomalies, prevent damages to crops or livestock and therefore improve productivity. Real-time data lets them mitigate the risks of losing production.
Optimizing existing processes and functions: These types of technologies let farmers optimize their current infrastructure such as irrigation systems where they can accurately measure humidity and improve water usage, detect crash events in swine production and improve maternity processes, and detect anomalies that can prevent losing all the yield, such as identifying an early fungus infection.
Why is it important to build a true IoT ecosystem vs deploying solutions that are not interconnected? (interoperability)
Most of the solutions in the market are standalone connectivity products that just add one layer of data and information and most farmers agree that is all they need at the moment, just that additional piece of information. The real benefit of this information system is when data starts working together, for example combining weather station information with sensor data and farm management system data. This not only facilitates a comprehensive view to better manage the production, but the use of artificial intelligence (AI) it can add a whole new level of intelligence to the farm. When deploying standalone solutions, the challenge comes later on when they won't be able to aggregate data and will be forced to manage multiple systems with functionalities that overlap, therefore losing the power of an interoperable system, which is critical for building a smart ecosystem.
Is it really too expensive to deploy these types of solutions?
It can be, but it doesn't have to. It depends on how they look at the technology. Our approach helps farmers measure ROI from the beginning. With Webee they build solutions that adjust to one specific issue, but the technology has a robust infrastructure that can scale the system as they see fit. How is that specific solution going to reduce losses and improve efficiency? Users need to measure the losses associated with poor control or blind spots in production and correlate that to the benefits of implementing Webee's technology. That's when the technology investment really pays for itself.
For example, one of our customers is a renowned coffee company that uses leaf wetness sensors to capture the temperature, humidity in the air, and the luminosity of the coffee plants. This data is combined with other environmental information and then accessed, processed, and analyzed in real-time by Webee. This enables them to improve the accuracy of their coffee planting strategy and get ahead of potentially severe problems early on.
How should farmers calculate the ROI?
It depends on the specific case but they have to start by measuring their losses and the potential risks associated with sudden changes in production that may lead to added complications. Whether technology will help reduce costs, eliminate inefficiencies, or improve productivity, the investment has to be measured against the tangible benefits that it delivers. That is why a bottom-up approach, where the scope and goals of the investment are tangible and simple to measure, is an effective way to get started with technology implementations.
Is 5G really the only way solutions will truly take off?
5G will definitely expand the horizons and possibilities of IoT adoption, but they already exist robust technologies that accelerate and facilitate deployments even in places with scarce connectivity. Technologies like LoRaWAN feature low power consumption which extends sensor life and improves performance. This technology connects devices up to 30 miles apart in rural areas and penetrates dense urban and deep indoor environments. In addition, the ability to run the intelligence at the edge allows farmers to create much more efficient systems, reducing data transmission and giving the system the ability to work locally.
About Lucas Funes, CEO & Founder
As Electronic Engineer, Master in Innovation Lucas firmly believes in technology and the endless possibilities it brings to create transcendental things for humanity.
Entrepreneurial by nature with more than 20 years of experience, he created innovative cutting-edge enterprise technology products and solutions in different industry verticals, and lead successful high-impact engineering teams. Lucas is a Stanford Latino Entrepreneur and specializes in disruptive technologies.
The content & opinions in this article are the author's and do not necessarily represent the views of AgriTechTomorrow
---
Comments (0)
This post does not have any comments. Be the first to leave a comment below.
---
Post A Comment
You must be logged in before you can post a comment. Login now.
Featured Product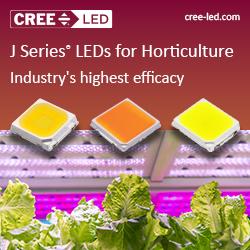 Horticulture and other forms of agricultural lighting require application-tuned ratios of spectral content, high efficacy and long lifetimes. Since these systems are designed to maximize yields for plants and animals, they require different metrics than lighting products designed around the human visual system. Cree LED delivers a wide range of spectral options and products optimized for these applications with leading efficiency and reliability.