Dual-purpose solar is the strategic co-locating and land management for both solar power development, ecosystem services and agricultural production. This method can reduce electricity costs, preserve soil health for traditional land use after decommissioning.
Creating Sustainable Renewable Energy Projects and Solar Farms
Q&A with Marcus Krembs, Head of Sustainability | Enel Green Power
Tell us about Enel and your role with the company.
I am Head of Sustainability at Enel North America, where I oversee Enel's approach to operational sustainability and community engagement through various sustainability initiatives in the Enel Green Power and Enel X business lines. I established and have led Enel's sustainability department since 2015. During this time, I have guided the company towards a strategy focused on creating shared value through all parts of our value chain and operations, while seeking to create positive, long-term impact in the communities in which Enel lives and works.
What is dual-purpose solar and why has Enel adopted this model for solar development and operations?
Dual-purpose solar is the strategic co-locating and land management for both solar power development, ecosystem services and agricultural production. This method of low-impact, beneficial land use can reduce electricity costs, preserve soil health for traditional land use after decommissioning, and overall enhance the ecosystems around solar projects. Co-managing these activities, which have sometimes been construed as competing priorities, offers value for renewable energy developers, landowners and the environment.
Enel Green Power is pursuing an ambitious growth strategy of around 1 GW of new wind and solar capacity per year across the US and Canada. As a company committed to empowering sustainable progress, Enel Green Power believes strongly in developing and implementing innovative practices at solar plants that benefit all stakeholders in the communities we operate in. Accordingly, dual-purpose solar comports with the Creating Shared Value model that informs our approach to community relations.
To what extent is dual-purpose solar already common? Have renewable energy and agriculture been developed symbiotically in the past?
The concept of dual-purpose solar is relatively new and although renewable companies of all sizes have been exploring the benefits of co-managing solar power and agriculture, exciting research and development is still underway. Enel Green Power has implemented this concept in North America and has started adopting dual-purpose solar practices at select solar farms where rainfall and land conditions allow. The company is currently working with a few key industry partners to bring these practices to scale to ensure that the development of clean energy can be even more sustainable. We intend to continue using these practices across our solar portfolio.
The land use of solar arrays is an important consideration in solar leasing and long-term community acceptance. The future of solar through a dual-use model creates opportunities for shared value for both landowners and solar operators, enabling long-term environmental and economic benefits for the surrounding community.
Can you outline the most significant benefits of dual-purpose solar for the local community, landowners, ecosystem and the company?
One dual-purpose solar strategy that benefits the surrounding land is planting native and other deep-rooted vegetation, often friendly to monarch butterflies, bees and other pollinator insects, thus building and preserving habitats for pollinator species essential for food production.
For example, we work with Bare Honey, a solar based beekeeping company in Minnesota that operates at one of Enel's Aurora solar sites. This is one example of how Enel prioritizes the sustainability of its solar development, engaging with local partners to ensure long-term stewardship of our project land and generating value and productivity for community stakeholders.
Enel Green Power is also exploring agrivoltaic practices – an approach that incorporates crop cultivation under and around solar panels. Agrivoltaic activity enriches the quality of the soil by retaining water, sequestering carbon and improving the health and productivity of the land.
Can you share with us an example of a dual-purpose site you are involved in and any metrics from that site?
The Aurora solar project in Minnesota is Enel Green Power's flagship dual-purpose solar demonstration. Aurora will deliver long-term value to the area's environmental and soil quality and increase pollinator species habitat to combat native bee population decline, while also improving overall solar performance.
We have also developed a conservation grazing plan at Aurora where sheep are used in place of traditional mechanical lawnmowers. Not only does this mitigate the safety risk of operating heavy machinery and damaging solar equipment, but as sheep move and graze under the operating solar panels, they enhance vegetation by aerating the soil and spreading seeds from plants around the landscape. At Aurora, over 2,000 sheep graze the land across the 13 out of 16 sites of the project, spanning nearly 1,000 acres of the 1,200-acre site.
The most valuable performance indicators from Aurora are still to come. Enel has hosted researchers with the National Renewable Energy Laboratory (NREL) working on InSPIRE – a project to study the development of pollinator habitats at solar facilities. Research is concluding on the three-year project, and results are still forthcoming – however, early indications point to the potential for increased solar efficiency due to reduced panel temperatures from vegetation.
What is next for Enel in this space? Is the company tracking towards any specific goals?
Enel Green Power is planning to extend its research partnership with the NREL InSPIRE project and it currently working with Arup, a firm of designers, planners, engineers, architects, consultants and technical specialists, to co-develop guidelines for renewable energy developers for dual-use solar practices. By adopting a programmatic approach, we plan to develop scalable solutions across the value chain that can be implemented with greater efficiency and higher impact at each Enel Green Power solar project.
The content & opinions in this article are the author's and do not necessarily represent the views of AgriTechTomorrow
---
Comments (0)
This post does not have any comments. Be the first to leave a comment below.
---
Post A Comment
You must be logged in before you can post a comment. Login now.
Featured Product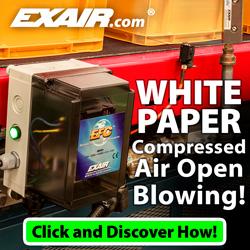 Compressed air is a limited resource that is generated in-house for the benefit of many operations within the manufacturing environment. Learn how to ensure all point of use applications are using your compressed air in the most effective and efficient way possible. Learn how much it costs to produce that compressed air and how Engineered Nozzles can help you use your air more effectively and efficiently.