In 2015, the Government of India had inaugurated the Digital India Movement to transition India's public service sector into the digital front. Farming is a colossal work vertical with a GDP portion of 14% and holds a vital spot in this mission for digitization.
Digital Farming in Organic Agriculture
Mr. Sanjay Borkar CEO & Co-Founder | FarmERP
In 2015, the Government of India had inaugurated the Digital India Movement to transition India's public service sector into the digital front. Farming is a colossal work vertical with a GDP portion of 14% and holds a vital spot in this mission for digitization.
Throughout the long term, India has seen a generous expansion in crop yields and variety because of mechanization and information circulation projects. Nonetheless, the steeping consumption due to populace blasts and rising pay has been a consistent test despite the advancement in the agricultural sector. The Government of India has set up a few projects to accomplish the dual solution of mechanization and digitization.
When applied to farming and agriculture, innovation can upgrade worldwide food security and improve farmers' lives, especially in a setting where the worldwide population is assessed to rise to 9 billion by 2050. While from one viewpoint, farmers must create more, they should likewise decrease the natural effect of horticulture. Digital technology, while empowering both these, can add one more critical advantage to this - it can make the agriculture value chain more even-handed.
The primary and most important problem that is being dealt with through the help of technology and digitization is Traceability. Traceability gives total visibility of the produce from the farm to the customer for different value chains. A QR code or scanner tag-based traceability solutions permit buyers to follow the roots of the food to the farmer groups, with the specific area. This is particularly helpful with the new generation of consumers out there who are aware of the ethical and natural cycles associated with the cultivation or production of the produce. Once more, checking and assessing is an answer that proves to be useful for the management of the agricultural cycles.
In this application, information is caught through dynamic tools, utilizing the web or cell phones. Digital technology can likewise be utilized to manage the supply chain of the produce, which gives total visibility of the whole chain consistently. The framework can digitize all farm and farmer activities and record acquisition exchanges. This leads to timely and rightful payment to farmers. Another utilization of digital technology is market linkage, which associates ranchers and purchasers through a typical gateway. This encourages the rancher to take an interest in worldwide business sectors by giving visibility to the purchaser.
It educates farmers regarding the current market costs and item prospects so they can settle at better costs. Advanced innovation in agribusiness likewise finds a spot in monetary administrations, as it can deal with all budgetary administrations in farming from credit and instalments to crop insurance and collections. With a stage that can be incorporated with budgetary establishments, it gives transparency and accuracy to getting credit.
Digitization also helps in Farm Management. Farm Management consists of digitization of farm and farmer profiles. Geo-tagging, geo-referencing, and biometric data are also other fields where digital technology can assist in great lengths. Farmer Advisory Services is an arrangement through which ranchers can get sound and instant messages on the climate estimate, crop schedules, advice on the water system and compost, and on market value, seeds, and sources of information.
Standards regulate production methods, and in some cases, the final output for organic agriculture. These standards may be voluntary or legislated. There are also international guidelines in place for organic certifications. Approximately 60-70% of organic produce is lost due to crop failure, and digitization negates a large chunk of that. Computer and cloud-controlled technology now intersperse the space of organic produce, making it more efficient, reducing uncertainty and reliance on non-concrete data, and increasing productivity along with profitability.
The content & opinions in this article are the author's and do not necessarily represent the views of AgriTechTomorrow
---
Comments (0)
This post does not have any comments. Be the first to leave a comment below.
---
Post A Comment
You must be logged in before you can post a comment. Login now.
Featured Product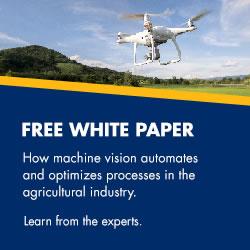 The flexibility and high quality of MVTec software contribute decisively to your sustainable economic success. The software architecture allows fast development of all kind of machine vision applications and thus the development of new automation solutions. This results in cost savings and an improved time to market for you. Find out in our free white paper how you can increase the efficiency of your agricultural value-added processes sustainably. You will learn how the technology works and the specific ways in which its use supports modern agricultural processes. Furthermore, we present you diverse practical application scenarios and dive in advanced agricultural enterprises benefit from the many advantages.