The companies share more than 80 years of combined experience and a common goal of bringing tech to farming. Their integrated platform will be available to growers in more than 40 countries, potentially covering hundreds of thousands of acres.
CropX and Reinke Partner to Advance Irrigation Technology
Article from | Martin Banks
Two leaders in agricultural technology have joined forces as of this August. On August 17, Reinke, an irrigation systems manufacturer, announced their new partnership with CropX, an agricultural analytics and soil sensing company. Through this partnership, the two companies hope to provide customers with the future of farming.
Both Reinke and CropX share a belief that the best farming equipment comes from farmers themselves. As you'd expect with that mindset, farmers and agriculture experts were the founders of both companies. Now their focus lies on providing agriculturists with the technology they need to improve efficiency, yields and profitability.
The companies share more than 80 years of combined experience and a common goal of bringing tech to farming. Their integrated platform will be available to growers in more than 40 countries, potentially covering hundreds of thousands of acres.
Moving Toward Precision Agriculture
The CropX-Reinke partnership enables farmers to dive into precision agriculture, which uses data to grow more with less. By combining CropX's soil sensors with Reinke's irrigation systems, growers can fine-tune their irrigation to match their unique needs. Here's how the integrated system works in practice.
First, farmers install a CropX soil sensor by screwing it into the ground in the area of question. This sensor then gathers data like the water content, electrical conductivity and temperature of the soil, all of which can affect crop growth. With this data, the sensor then provides personalized recommendations to help farmers get the most from their soil.
Once they have these analytics, farmers can adjust their irrigation systems accordingly to match recommendations. Reinke's control system gives them a place to apply what they've learned from the CropX soil sensor. Reinke also offers an additional level of integration with a service called ReinCloud®.
ReinCloud is a web-based irrigation control platform. By itself, it enables farmers to control their irrigation systems remotely and share data. With this new partnership, ReinCloud users can access their CropX data on this platform, giving them a central point of control for all their systems.
Irrigation Technology Up to This Point
Irrigation has been a central part of farming for as long as people have cultivated crops. Despite this long history, irrigation systems haven't seen much advancement through the years, remaining relatively simple. Most modern irrigation consists of an uncomplicated series of pipes and hoses that sprinkle water onto the ground.
Recent movements like precision agriculture are starting to change this, though. Pivot systems — a single pipe on a series of wheels — are still the most common type of irrigation system, but now they feature new tech. Reinke produces center pivots, but as seen in this partnership, they integrate with remote-control and data technologies now.
Most modern shifts in irrigation come from a growing concern about water waste. While uncomplicated machinery can provide crops with enough water, it may give too much. As resources dwindle and climate issues grow, more farmers are using data and advanced technology to reduce water usage.
Other new approaches to watering include drip irrigation, which delivers water slowly and directly into the soil. No matter the specifics, all of these systems aim to allow farmers to use only what they need. This new Reinke-CropX partnership is a continuation of that goal.
The Need for Precision Irrigation
These precision irrigation systems are becoming more and more crucial for farmers today. The most immediately apparent advantage is that they save money since they help farmers reduce the resources they consume. Precision irrigation's benefits go far beyond just assisting agriculturists, though.
Agriculture accounts for roughly 80% of water consumption in the U.S., which is a growing problem. As the population keeps increasing and resources dwindle, people need to conserve as much water as possible. Precision irrigation can help farmers in that endeavor, reducing their impact on resource consumption.
Another issue with rising populations and falling resources is growing enough crops for everyone. To reduce their environmental impact while feeding a growing population, farmers need to produce more with less. That's precisely what precision agriculture enables, so new irrigation systems like this are just shy of being a necessity.
As these issues continue becoming more prevalent, more farms will adopt precision agriculture tools. Reinke and CropX's collaboration is a good idea for the environment and a smart business move. This precision-enabling collab comes at just the right time.
About Reinke and CropX
Reinke is the world's largest privately owned manufacturer of center pivot and lateral move irrigation technologies. In business since 1954, it started as a manufacturer of farm building components like laminated rafters. Since then, Reinke has turned their focus to irrigation, becoming an industry leader in these systems since the 1960s.
Reinke was the first company to introduce GPS guidance to the swing arms on an irrigation system. They then continued their string of firsts by being the first in the industry to offer a touch screen control panel and GPS navigation for lateral systems. Now they're furthering their innovation by collaborating with CropX.
CropX is a newer company, starting in 2015, but shares Reinke's passion for advanced technology. The company set out to give farmers a more precise, predictive view of their operations. Their soil sensor technology was the answer to this problem.
CropX launched their soil sensor and big data platform in 2017. With a team of agriculture and data experts alike, they represent a union of farming and technology that the whole industry is moving toward. This latest joint venture with Reinke further cements their platform's usefulness.
Agriculture Is Changing for the Better
This collaboration is representative of a broader movement in agriculture. A data-driven technological revolution is occurring across all industries, and farming is starting to get in on it. Precision farming technologies like the Reinke-CropX platform will become the norm before long.
Technologies like this help farmers increase their profitability, and they also protect the environment. By adopting a tech-forward approach, farmers can make the most out of their work for everyone's benefit.
The content & opinions in this article are the author's and do not necessarily represent the views of AgriTechTomorrow
---
Comments (0)
This post does not have any comments. Be the first to leave a comment below.
---
Post A Comment
You must be logged in before you can post a comment. Login now.
Featured Product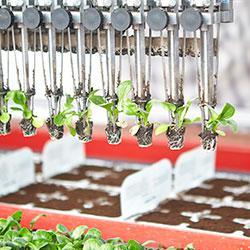 "Smart farming" is an important part of the answer to this existential question: Extremely high efficiency in food production through the targeted use of the latest technology, computer-supported and - where possible - fully automatic. Seeds are individually and precisely placed; fruits carefully picked by mechanical grippers; fertilizers and plant protection products applied in small doses and in a targeted manner. These operations require a large number of small electric motors that are both robust and powerful.