The 2nd Edition of the Autonomous Greenhouse Challenge is underway, drawing 21 teams and over 200 participants in its initial round. Run by Wageningen University & Research and sponsored by Heliospectra the challenge includes multidisciplinary teams from around the globe.
Exploring Ways to Feed the Future in the Autonomous Greenhouse Challenge
News From | Heliospectra
THE CHALLENGE
The challenge is to produce the ultimate crop of cherry tomatoes inside a greenhouse space within 6 months – and do so remotely. The goal is to explore how intelligent technology can produce greenhouse-grown vegetables more sustainably and efficiently, while maintaining high production and resource use standards. Teams are competing against each other and a squad of traditional growers. During the 6-month period, teams are not allowed to enter the greenhouse units and must manage the growth of their crops with IT technology.
The 1st edition of the challenge, which focused on growing cucumbers, concluded in 2018. In that challenge several AI teams performed on par and even better than the human reference group, consisting of a team of Dutch growers. This demonstrated the potential of AI to increase food security in the future and inspired a 2nd edition of the challenge.
In the 2nd edition, following a 24-hour virtual tomato hackathon last September, only 5 teams now remain. These teams are currently engaged in remotely controlled greenhouse tomato growing until the end of May 2020.
THE TECHNOLOGY
Each team has been provided with a greenhouse unit by WUR and can use their own sensors and cameras of choice. The teams are able to extract data from their greenhouses and use their own information & communication technology (ICT) models and machine learning algorithms for the control settings.
Heliospectra has sponsored the event by supplying controllable ELIXIA LED lights, which have joined the existing HPS lights in the greenhouse units. This hybrid lighting system of HPS and LED has given competitors higher control over lighting conditions and has ensured ideal growing conditions for tomato plants over the winter months. With the possibility to dynamically control light intensity and light spectra, the competing teams can design lighting strategies to optimize energy consumption and fine-tune the crop development and growth.
THE TEAMS
The teams, listed below, will be scored by jury members based on the results achieved during the greenhouse experiment, as well as their presentations of the strategies used. The winning team will be announced at Greentech 2020, June 8-10 in Amsterdam.
At Heliospectra, we are both excited and curious to see how our LED technology is utilised by these talented minds, as we ourselves are interested in frontier AI technologies, machine learning and data-driven cultivation. This challenge deeply aligns with our vision for feeding and healing the world – and our own goals of growing high quality, nutritious crops using intelligent technology to increase sustainability and efficiency. Together we can learn better ways to re-define nature's potential and meet the food production needs of the future, while conserving the planet's resources.
ABOUT ELIXIA LED LIGHTS
The result of more than a decade of research and experience, ELIXIA features up to four channels of adjustable wavelengths, variable light intensities and exceptional build quality. The technology enables growers to apply crop-specific lighting strategies to their production cycles and cultivation goals. The addition of our helioCORE™ control system transforms ELIXIA with access to a suite of automation tools, such as our DLI and On Target control modules.
THE AUTONOMOUS GREENHOUSE CHALLENGE TEAMS
The content & opinions in this article are the author's and do not necessarily represent the views of AgriTechTomorrow
---
Comments (0)
This post does not have any comments. Be the first to leave a comment below.
---
Post A Comment
You must be logged in before you can post a comment. Login now.
Featured Product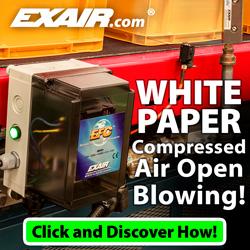 Compressed air is a limited resource that is generated in-house for the benefit of many operations within the manufacturing environment. Learn how to ensure all point of use applications are using your compressed air in the most effective and efficient way possible. Learn how much it costs to produce that compressed air and how Engineered Nozzles can help you use your air more effectively and efficiently.