AI will be key in solving one of the biggest puzzles facing humanity — feeding our growing population in the face of over-population and climate change.
The Future of AI in Agriculture
Sony Gomes | Technavio
The world is producing foods using fewer resources. As we know it, agriculture feeds the world and the industry is going through immense changes. According to market research firm Technavio, the global artificial intelligence (AI) market in the agriculture industry will register a CAGR (compound annual growth rate) of almost 23% by 2021. Globally it's a $3 trillion industry, and by 2050, as world population increases by 2.5 billion people, AI will be key in solving one of the biggest puzzles facing humanity — feeding our growing population in the face of over-population and climate change.
What Exactly is AI?
AI and Machine Learning are solutions for the future., but what exactly is AI? AI stands for Artificial Intelligence. There are two different forms of AI — narrow and general. Narrow AI is software that is written — that sometimes works in conjunction with hardware mechanisms and sensors— to perform linear tasks. In agriculture, an autonomous farm vehicle like a driverless tractor is what you would consider something that uses narrow AI.
The 2nd type of AI is general AI. These are artificial beings that are conscious of themselves and are able to undertake a wide spectrum of tasks. A good example of this is farmers hiring data companies that use AI to monitor their crop fields for things like pest control. Other examples are robots that have human characteristics such as speech recognition and decision making to increase efficiency for farmers. Robots that sow seeds, can manage water, plow the land, pick crops are all examples of AI already being used in the agriculture industry today. The question going forward is where are we headed when it comes to the future of AI in agriculture?
Crop and Soil Monitoring is the Future: The Role for AI Start-ups
How is AI transforming agriculture? Farmers are relying on AI technology in their crop production. A large number of companies are leveraging computer vision and deep learning algorithms to process the data captured by drones and software to monitor the health of crops and soil. We are seeing an increase in manufacturers that cater to the agriculture industry and AI start-ups collaborating in mass to address negative factors affecting crop production like climate change.
Currently, there are 4 major companies pushing the boundaries of technology when it comes to AI's role in agriculture: John Deere, Autonomous Tractor Corporation, Fendt, and Case IH. An example of where we are headed is the agriculture start-up PEAT, a company that developed a deep learning app called Plantix that is designed to identify defects in soil. Plantix's solution is an image recognition app that identifies defects through images captured by the user's camera.
Another example of where we are heading is utilizing machine learning for diagnosing the soil defects we found earlier. Machine learning algorithms are being used to identify the sense of strengths and weaknesses in soil.
Taranis is a perfect example of a start-up that is collaborating with agriculture giant John Deere to test out the efficacy of AI for farmers. Taranis uses sophisticated computer vision, data science, and deep learning algorithms to enable farmers to make smarter decisions. Taranis' platform monitors crops and fields to detect various patterns of crop development; things like the early symptoms of uneven emergence, nutrient deficiencies, infestations, water and equipment damage among many other things. Companies like Taranis is working on technology that will provide new AI solutions for farmers.
Future Role of Drones in AI
An agricultural drone is an unmanned aerial vehicle that's used in farming to help increase crop production and monitor crop growth. Although drones in agriculture have been around for a long time, with AI advancing now we are seeing them play a larger part in the role of AI in agriculture. Crop analysis is a task now being done by AI-centric drone that will do flybys on crops and utilizing advanced deep-learning algorithms to monitor crop health. Everything from identifying the problem and recommending the solutions can be done by AI tech in drones today.
The Future of Analytics in Agriculture
Machine learning algorithms are being used for weather predictions and crop sustainability. Farmers, crop consultants, and even researchers are using this technology to get high-quality weather predictions so that they can better tackle smart decisions regarding crop management. Farmers are leaning on tech start-ups because their data is faster and of better quality, but most importantly available in real-time. None of this would have been possible without the advancement of where AI is now and how much better and more accurate it will get.
AI expands beyond the agriculture industry. According to market research firm Technavio, the global artificial intelligence (AI) market size will grow by USD 75.54 billion during 2019-2023. As the field of AI grows at a rapid rate to address our future problems, expect to see more promising solutions as the future of AI in agriculture can pave the way for growth in other industries as well.
The content & opinions in this article are the author's and do not necessarily represent the views of AgriTechTomorrow
---
Comments (0)
This post does not have any comments. Be the first to leave a comment below.
---
Post A Comment
You must be logged in before you can post a comment. Login now.
Featured Product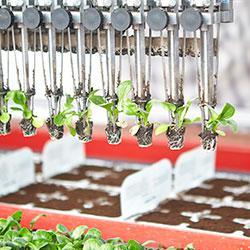 "Smart farming" is an important part of the answer to this existential question: Extremely high efficiency in food production through the targeted use of the latest technology, computer-supported and - where possible - fully automatic. Seeds are individually and precisely placed; fruits carefully picked by mechanical grippers; fertilizers and plant protection products applied in small doses and in a targeted manner. These operations require a large number of small electric motors that are both robust and powerful.