Beyond the improved flavor, aroma, and nutrition enabled by avoiding the supply chain, growing onsite creates a palpable dining experience.
Innovating the Farm-to-Table Experience
Trevor Hudson, Founder | inHouse Produce
Tell us about inHouse Produce and your role with the company.
Hi, I'm Trevor Hudson and I'm the founder of inHouse Produce. inHouse Produce offers a turnkey solution for growing high value produce right in the dining area of restaurants and other foodservice establishments. Using a combination of technology and service, we provide a fresher, more convenient product while growing edible plants in a beautiful living design piece.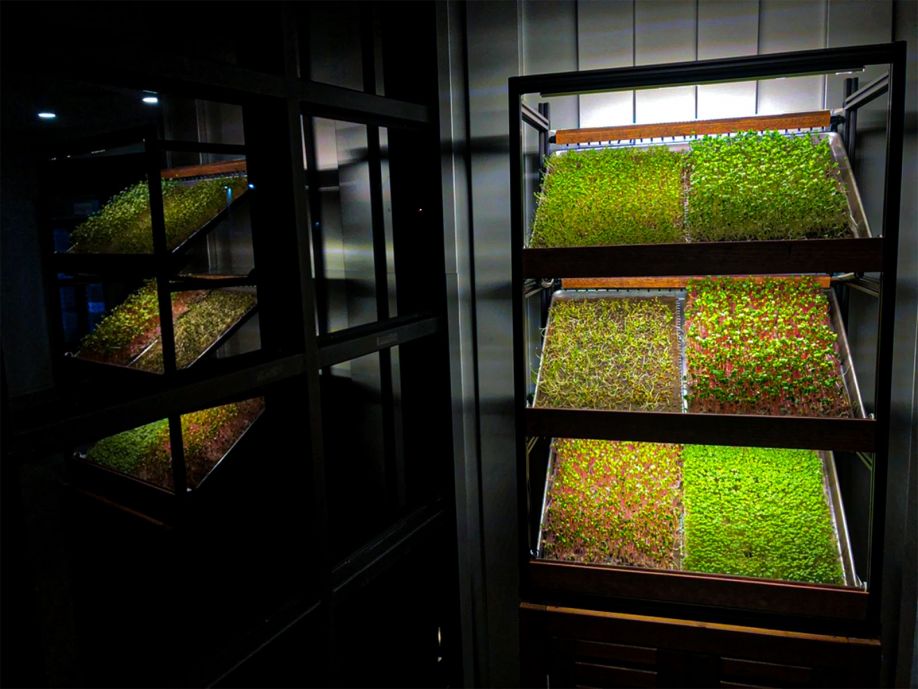 An inHouse Produce urban farm at the Soylent corporate office & Soylent Innovation Lab in downtown LA.
How is inHouse Produce innovating the farm-to-table experience?
Farm-to-table is a phrase everyone knows, but it means something different to each individual. For some, it may mean the farm is 1-mile away, for others it could be 100 or 500+ miles away. For inHouse Produce, we measure food travel in feet, not in miles. This makes for the freshest produce our customers can get.
Beyond the improved flavor, aroma, and nutrition enabled by avoiding the supply chain, growing onsite creates a palpable dining experience. Seeing the lush living wall leads the guests to be curious, it leads them to ask questions about what's growing and what's on the menu.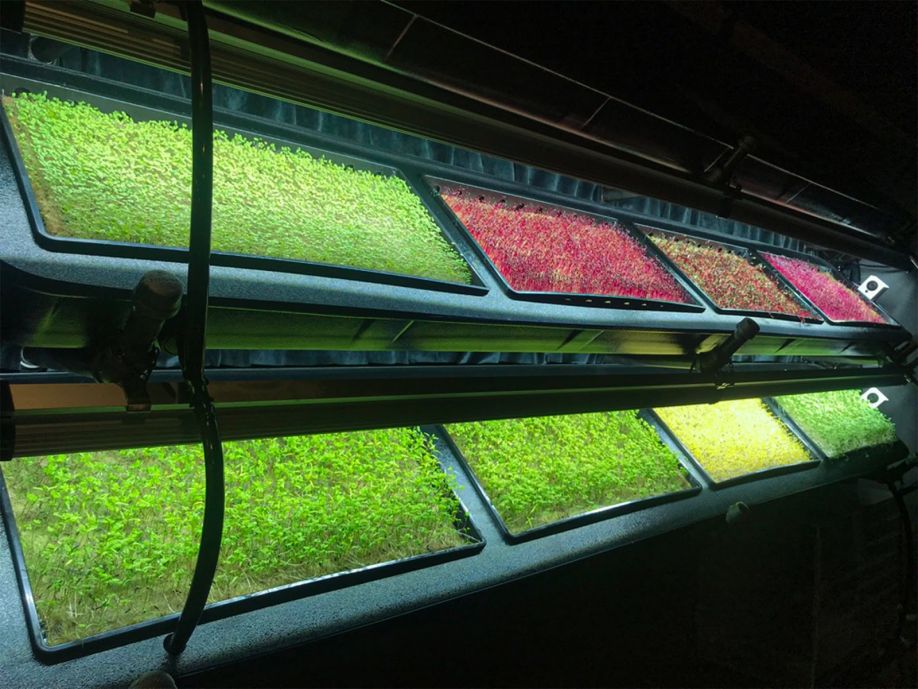 Custom edible living wall installation for Scratch|Bar and Kitchen in Los Angeles.
Give us an idea on the setup process for your micro-farms.
inHouse Produce can work with food service establishments of all types, including restaurants, hotels, corporate dining, stadiums, country clubs, schools, wellness spas and anywhere food is eaten. The process is easy to get started.
It starts with a chef or owner who wants to demonstrate their commitment to good ingredients, alluring design, and a better planet. From there, we hone in on a crop list that fits the menu and an aesthetic that is tailored to the brand. Thereafter, the installation can be completed in just a few hours.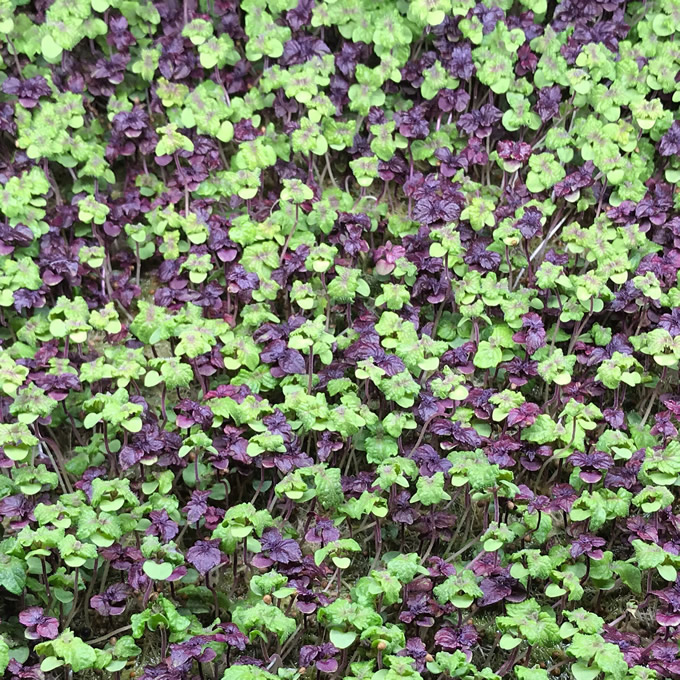 Red and Green Micro-Shiso
SEE THIS 3-MINUTE VIDEO ON INHOUSE PRODUCE

What kind of crops can be grown?
inHouse Produce specifically grows microgreens for three reasons. The first is that microgreens are typically used in small quantities as a garnish, which means we can feasibly grow 100% of the produce demand right onsite. This makes for a more intriguing narrative because every individual customer receives the same experience & quality.
The second reason we primarily grow microgreens is because they are highly perishable. Once harvested, a microgreen will typically go bad in 1-8 days. Since ours are growing instead of decaying, we pretty much avoid spoilage and food-waste issues altogether.
The final reason we grow microgreens is that there are so many varieties that can be grown with similar methods. We can grow over 100 different types of specialty produce, so there is no shortage of flavors! Yet all of the above said, if the chef wants baby or tender greens, we can grow those too.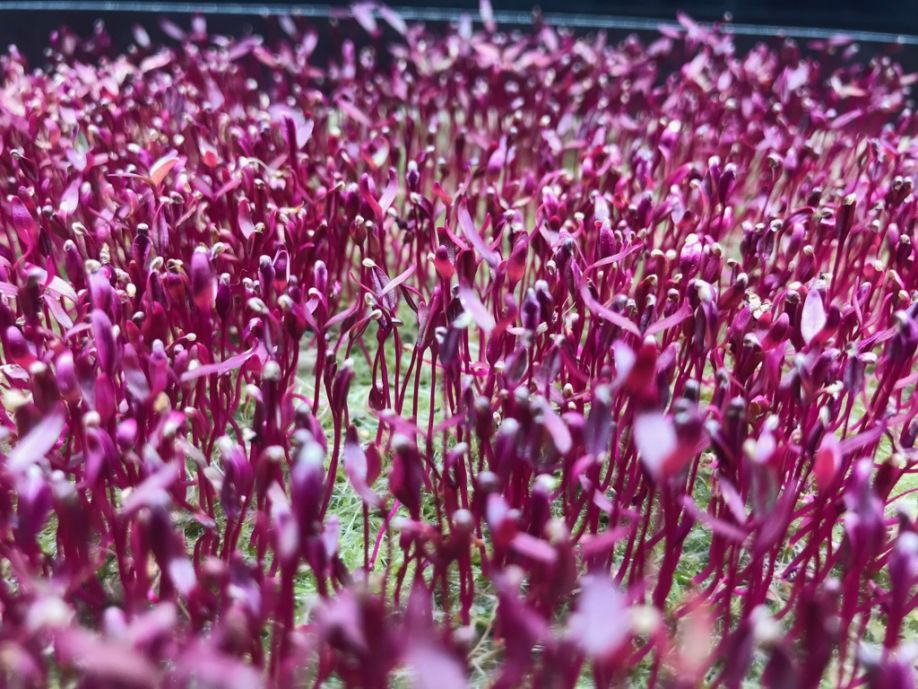 Red garnet amaranth grown using inHouse Produce urban agriculture techniques.

How do you generate a good ROI for your customers?
There are numerous ways we help our client's add to their bottom line. For the sake of brevity, I'll just name 5:
Crop Economics: inHouse Produce service subscriptions are priced at approximately the market rate of the produce we grow.

Customer Loyalty: A restaurant's best customers keep coming back for more, and growing in-house hits on some of the most stable food industry trends this decade. Whether it's a romantic atmosphere or showing your kids where their food comes from, local produce has universal appeal.

Upselling: We encourage our clients to get creative and upsell their in-house microgreens. This also allows them to directly track demand and sales in their POS system.

Attracting Foot Traffic: Growing fresh LED lit greens near the window will attract curious passersby who will want to inspect and taste what they see.

Cocktails & Desserts: Certain crops are ideal for high-margin menu items that customers may or may not purchase such as cocktails & deserts. A fresh bright pink amaranth leaf may be the difference between serving just a meal vs a meal with expensive cocktails.

At inHouse Produce, we like to say our client's ROI is our #2 priority; it would be #1 but we put food safety above all else.

Custom urban farm installation for Scratch|Bar and Kitchen, a Los Angeles-based fine-dining restaurant.
Where are you seeing the biggest demand for your micro-farms?
Chef-driven, farm-to-table, and vegan/vegetarian restaurants have been expressing a lot of interest since those categories have a big emphasis on innovation & freshness. At the same, corporate dining services have shown lots of excitement pertaining to the sustainability aspects of growing produce onsite.
At the end of the day, we just want to grow food where people eat it. We'll be in grocery stores and even homes once our automation is sufficient to offer a totally hands-off solution.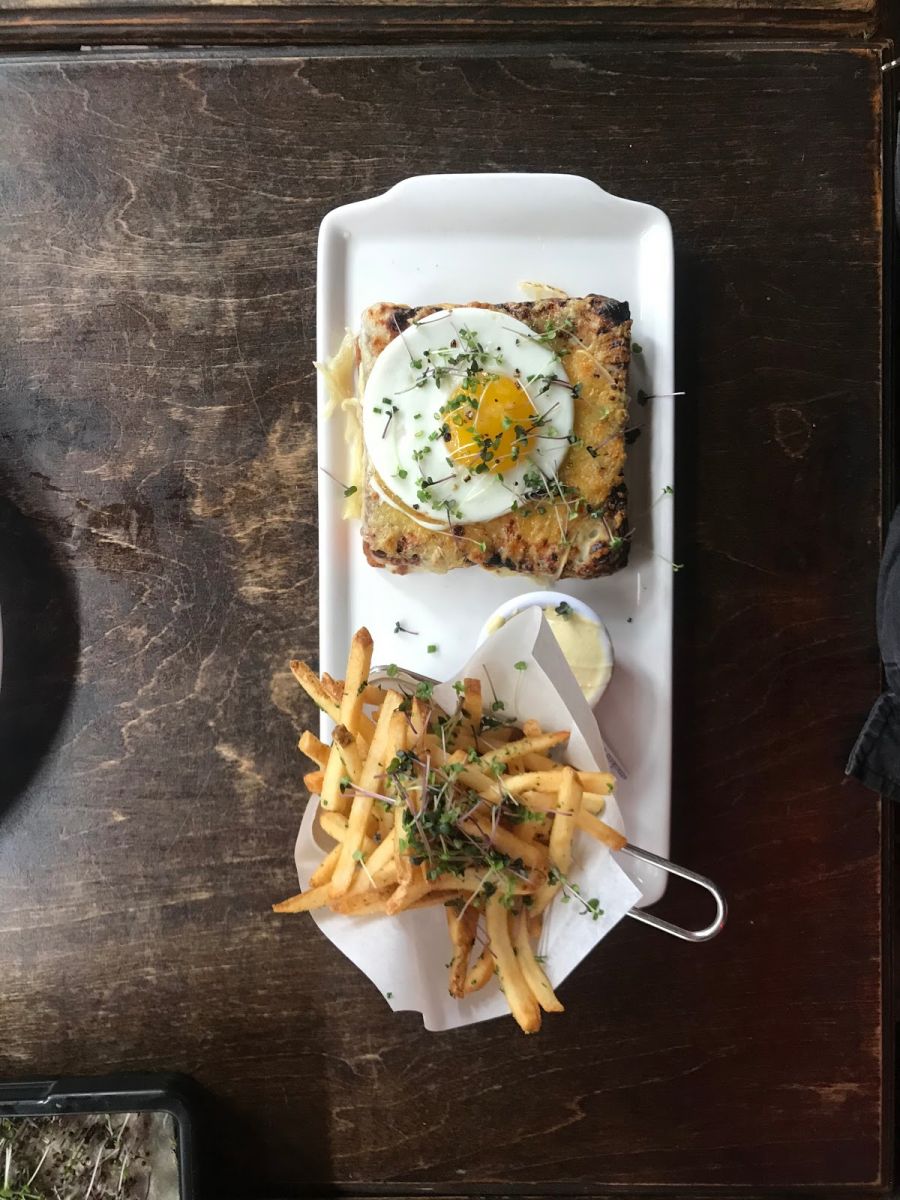 What's next for inHouse Produce? Where do you see the biggest potential for growth?
Right now inHouse Produce just offers our mini-farms for Southern California locations. Next, we'll expand to new markets in the Western US such as Las Vegas, San Francisco, Portland, and Seattle. Beyond going to new markets, I think the biggest potential for growth lies in growing onsite for fast-casual restaurant chains and supermarkets.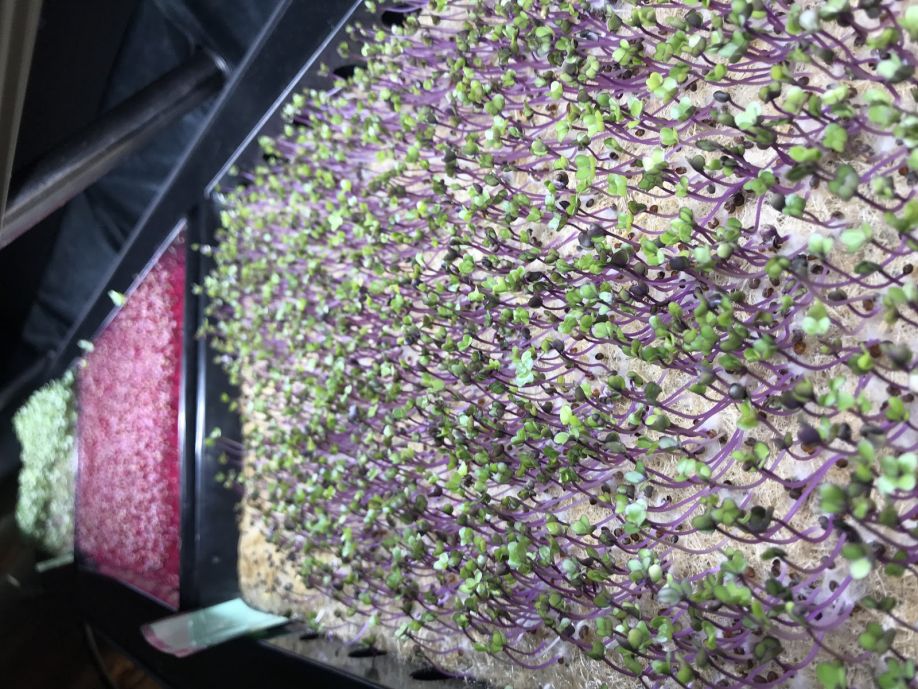 inHouse Produce hydroponic microgreens.
What is the future of vertical farming and what roadblocks lie ahead?
The future of vertical farming is two-fold. On the one hand, you'll have industrial-style vertical farms trying to maximize yields and minimize inputs. These vertical farms will work hard to achieve solid unit economics and reliable growth.
On the other hand, you'll have companies like inHouse Produce that have a more artisanal approach to indoor farming. While our farms will still be high-performing, the focus will be on creating beautiful designs. We will offer unique experiences, flavors, and ideas to re-establish the chef-farmer relationship & redefine farm-to-table.

* All photos used in this article are credited to inHouse Produce. Used with authorization only.
The content & opinions in this article are the author's and do not necessarily represent the views of AgriTechTomorrow
---
Comments (0)
This post does not have any comments. Be the first to leave a comment below.
---
Post A Comment
You must be logged in before you can post a comment. Login now.
Featured Product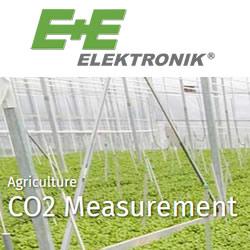 Lowering of energy costs, acceleration of growth and extension of the possible storekeeping duration can be optimised by the precise measurement of humidity, CO2-content and temperature. Optimum basic conditions for animals and plants ensure best agricultural products. As different applications demand various adopted solutions for optimization of agricultural processes, E+E Elektronik provides a broad portfolio of agricultural monitoring products