The increasing demand for improved crop varieties and the growing need to curb pre-harvest crop losses have encouraged the development of advanced breeding techniques.
Plant Breeding and CRISPR Plants Market
Bhagyashree Pathade
The plant breeding market has been evolving for decades; with the growing demand for better-quality crops and high yield, technological advancements have been booming in the market. The benefits associated with plant breeding are the major factors contributing to the growth of this market, globally. The increasing demand for improved crop varieties and the growing need to curb pre-harvest crop losses have encouraged the development of advanced breeding techniques. The application of biotechnological methods in the breeding processes effectively reduces the time taken and also helps in discovering more information about the function of the gene of interest. With the declining cost of genetic services in all industries, the cost of genetic engineering and plant breeding techniques is expected to be lower than the conventional breeding methods. Since the time of the breeding process is reduced significantly, the cost of the breeding procedure is also reduced. The benefits for end-user farmers range from low production cost to higher yield and specific selection for trait improvement to lower post-harvest losses.
Regulations on GM crops and CRISPR editing in Europe have been a major restraining factor for the growth of this market, as the genetic engineering and genome editing methods have become much focused in the Americas. The dearth of prerequisites such as skilled labor and infrastructure in developing countries is also a restraining factor for the growth of biotechnological plant breeding methods.
According to MarketsandMarkets, the global plant breeding and CRISPR plants marketplant breeding and CRISPR plants market is projected to grow from USD 7.57 billion in 2018 to USD 14.55 billion by 2023. The growth of the market is expected to be boosted by the hybrid and molecular breeding methods. According to industry experts, plant breeding techniques are projected to grow by more than 20% in the next five years across developing nations while the CAGR of the plant breeding and CRISPR plants market is projected to be 13.95% from 2018 to 2023.
What opportunities are in store for the plant breeding and CRISPR plants market?
Increasing investments from seed companies
Scientific advances and the cost of research innovation apply equally to the private and public sectors. However, public plant breeding is more likely to get affected by the structure of the market and the organization of the seed industry. Historically, public investment in R&D has driven technological changes in agriculture. The public sector is the key fund provider for research, infrastructure, and commercialization. However, in recent years, most private investments in agricultural R&D are distributed across its five subsectors such as plant biology, plant breeding, and seed production; agrochemicals and biotechnological applications; food processing, storage, and transport; animal and livestock breeding; and agricultural equipment and machinery. According to Eurostat, in 2017, the European Union spent a huge amount of about USD 62.04 billion on agricultural research; of which the UK and Germany received about USD 7.9 billion and USD 8.3 billion, respectively, for R&D in agriculture.
The private sector investment in plant breeding, research, and varietal development has been growing from 2007 to 2017 in Canada. This is due to the high investment by private companies in plant breeding, research, and variety development. Furthermore, several seed companies are investing in growth strategies such as mergers and acquisitions, which would boost the market for plant breeding. The most recent instances in the last 3 years include the merger of Dow AgroSciences (US) and DuPont (US), the acquisition of Monsanto (US) by Bayer (Germany), and the acquisition of Syngenta (Switzerland) by ChemChina (China).
Private sector research investments in canada, 2007–2017 (USD Million)
Supportive regulations for molecular breeding
High prospects in molecular breeding offer a higher growth opportunity to the plant breeding and CRISPR plants market. Over the past three decades, molecular breeding has become the most important part of plant breeding practices. According to industry experts, the adoption of these techniques in developed countries is more than 80%, as these countries have been increasing their pace in the market. Though there are a number of regulatory changes being put forward by national regulatory bodies toward genetic plants, molecular breeding technology is yet untouched across many countries in terms of regulatory affairs. The regulatory authorities of various countries such as India, Australia, and Malaysia are encouraging researchers and producers to adopt the technique of molecular breeding.
CRISPR-Cas is among the genome editing tools; it is expected to bring numerous potential agricultural benefits such as improvements to yield, disease resistance, drought tolerance, as well as improvements to output characteristics and nutritional content that would benefit the end-users. However, owing to the stringent regulations on genetic engineering across multiple nations, the acceptance of CRISPR technology is ambiguous. While Europe raised regulations against CRISPR-edited crops, the US withdrew all its regulations and approved the adoption of this technology for corn. There were multiple advancements that were witnessed in 2017 in favor of CRISPR plants in the US; for instance, in November 2017, Syngenta (Switzerland) obtained a non-exclusive license from the Broad Institute of MIT and Harvard to use CRISPR-Cas9 genome editing technology for application in crops such as corn, soy, wheat, tomato, rice, and sunflower.
Herbicide-tolerance is expected to be the most widely studied trait for plant breeding
Since weeds are a major cause for economic losses in crop management, herbicides are extensively applied to control the losses; however, excessive use of herbicides is detrimental. Herbicide-tolerant crops have special traits, which make them resistant to the effects of herbicides, making the application of herbicides easier. The use of herbicide-tolerant seeds offers farmers a more flexible and simple weed control system. Herbicide-tolerant traits are largely used for soybean crops, followed by cotton and corn. The US Department of Agriculture (USDA) is also in the process of liberalizing some more varieties of crops that are resistant to 2, 4-D and other herbicides.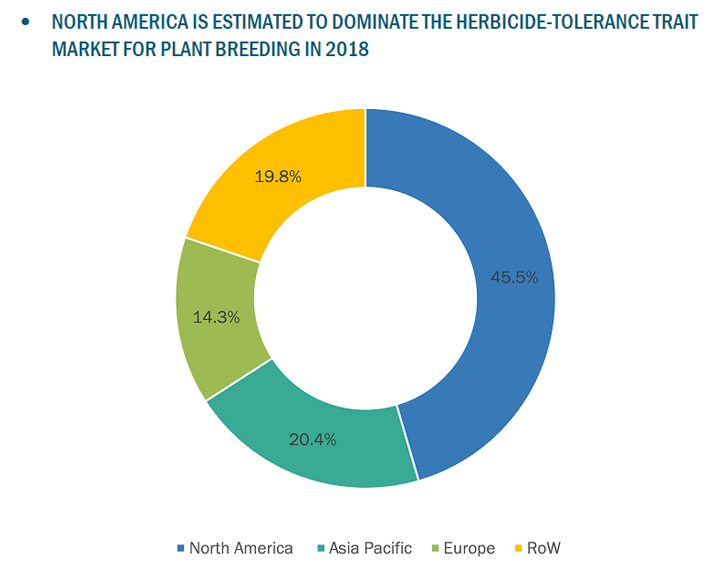 Source: Related Research Publications, Government Publications, Company Press Releases, Company Annual Reports, Company Websites, Company Publications, and MarketsandMarkets Analysis
Based on region, the plant breeding and CRISPR plants market is segmented into North America, Europe, Asia Pacific, and Rest of the World. North America accounted for the largest market share in 2017. This market is projected to grow at a CAGR of 12.41% during the forecast period.
Bayer (Germany), Syngenta (Switzerland), DowDuPont (US), KWS SAAT (Germany), Limagrain (France), and DLF Trifolium (Denmark) are a few key players who occupy a significant share in the global market for plant breeding and CRISPR plants. The presence of these key companies and the strong research base for plant breeding in countries such as the US, France, UK, the Netherlands, and Germany had supported the dominance of North America and Europe in the global market.
The content & opinions in this article are the author's and do not necessarily represent the views of AgriTechTomorrow
---
Comments (0)
This post does not have any comments. Be the first to leave a comment below.
---
Post A Comment
You must be logged in before you can post a comment. Login now.
Featured Product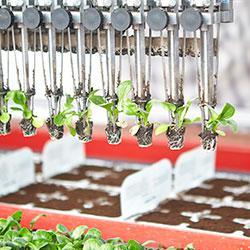 "Smart farming" is an important part of the answer to this existential question: Extremely high efficiency in food production through the targeted use of the latest technology, computer-supported and - where possible - fully automatic. Seeds are individually and precisely placed; fruits carefully picked by mechanical grippers; fertilizers and plant protection products applied in small doses and in a targeted manner. These operations require a large number of small electric motors that are both robust and powerful.