Agriculture drones are the unmanned aerial vehicles (UAVs) used in various agricultural applications, such as precision farming, livestock monitoring, smart greenhouse, precision fish farming, horticulture, and forestry.

Contributed by | MarketsandMarkets™ INC.
The drone technology is quickly revolutionizing the agriculture sector, aided by recent evolutions in both drone technology and the Federal Aviation Administration (FAA) regulations. Due to the FAA regulations drones have now been mainstreamed for farming, and these developments could not be timelier. With the global population projected to reach over 9 billion by 2050, the consumption of agriculture products is expected to increase by 70%; however, this figure might be affected by unpredictable weather patterns and natural disasters.
Agriculture drones are the unmanned aerial vehicles (UAVs) used in various agricultural applications, such as precision farming, livestock monitoring, smart greenhouse, precision fish farming, horticulture, and forestry. These are simple, low-cost aerial camera platforms, equipped with an autopilot using GPS and sensors for collecting relevant data. Agriculture drones with a regular camera can provide some information about plant growth, coverage, etc. Multispectral sensors further expand their applications and allow farmers to see things that cannot be seen in the visible spectrum, such as moisture content in the soil, plant health, stress levels, and growing fruits. These could help overcome the various limitations that hinder agricultural production.
According to MarketsandMarkets the agriculture drone market is expected to grow from USD 1.2 billion by 2019 to USD 4.8 billion by 2024 at a CAGR of 31.4%. A few key factors driving the growth of this market are pressure on global food supply due to growing world population and increase in venture funding for development of agriculture drones. With advancements such as automation and GPS guidance that have already changed the farming industry, drones are now poised to modernize it once again. Here are a few ways in which drones can play a number of roles to assist farmers throughout the crop cycle.
Drones are able to produce precise maps for soil analysis at the beginning of the crop cycle, which helps to direct seed planting patterns. After planting, this data helps determine irrigation and nitrogen-level management. Currently, the low efficiency in crop monitoring resulting from the massive scale of industrial farming, exacerbated by increasingly unstable weather conditions that intensify risk and maintenance costs, is the largest obstacle faced by the agricultural industry. Drones allow real-time monitoring at a far more accurate and cost-effective level than previously used satellite imagery. Drones equipped with hyperspectral, multispectral, or thermal sensors are able to identify areas that require changes in irrigation. Once crops start growing, these sensors calculate their vegetation index, an indicator of health, by measuring the crop's heat signature.
Latest Developments of Agriculture Drones in Precision Farming:
Sony (Japan) has launched a new crop management solution consisting of a newly developed drone-mounted multispectral sensing unit and Fast Field Analyzer image analysis software.

Parrot (France) introduced Parrot Bluegrass Fields, an end-to-end agriculture drone solution, which provides farmers, agronomists, and researchers with the insights they need for boosting the quality of their crops and maximizing yields.

Taranis (Israel), a precision agriculture intelligence platform, announced the closing of a USD 20 million Series B round of financing. With the potential to increase yields by 7.5%, Taranis uses deep-learning technology and agronomic understanding to offer unprecedented insights that create a more sustainable farming ecosystem.
Use Cases of Agriculture Drones:
Use Case1: Corn Test Plots, Chile
For the corn test plots, in Chile, a producer working with major international seed manufacturers is using drone-driven near IR (NIR) imaging and Agribotix (US) data processing tools to assess impacts of different management regimes on corn test plots.
Use Case 2: Scheduling harvests of wine grapes in India
The quality of wine grapes is determined largely by when they're harvested, followed by picking them at the exact time that is perfect for the expected sugar content. Using Agribotix (US) software, a grower in India could schedule harvests for specific plots rather than all at once, achieving higher revenues at a lower cost.
Use Case 3: Early detection of cucumber infestation using drones
A soybean grower spotted a bur cucumber infestation near the perimeter of his field. A local drone service provider using Agribotix (US) data processing and analytics software provided aerial evidence of affected areas deep within the field. Ground survey verified that dark areas on the FarmLens Field Health Report were weeds on the crop canopy. The grower quantified the infestation and responded with a combination of precise mechanical and chemical treatments to eradicate the weed. The grower was able to detect the problem before it is spread, treat it precisely to optimize input costs, and prevent 10–13% crop loss.
Use Case 4: Drones used for optimizing the use of fertilizers
Using PrecisionHawk's (US) drone solution, Stratus Imaging (Australia) could cut fertilizer usage by 7% and boosted yield for clients growing wheat by 14%. The rapid deployment, precision data, and cost-effectiveness of drones made it possible to gain insight into the nitrogen (N) content of crops throughout the growing season.
Use Case 5: Drones used for monitoring sheep and cattle
In countries such as Australia and the US, farmers are using drones to monitor sheep and/or cattle herds. Drones embedded with the thermal cameras can spot animals from miles away and thereby help farmers perform routine herd checks faster. Farmers also use drones to inspect their holdings by checking the fences remotely or checking the feed supplies for their animals, and so on. Substituting traditional helicopters and land vehicles with drones allow farmers to work cost-effectively by saving time and money.
Use Case 6: Wildlife conservation using drones
Drones fitted with high-definition thermal cameras are also used to track, inspect, and monitor livestock remotely. The government of Assam (India) has partnered with TCS (India) to use drones to conduct surveillance, identify unauthorized settlements, and deter poachers in Kaziranga National Park spread over 480 square km. Drones fitted with thermal cameras can identify poachers from their heat signatures, even if they are hiding in thick foliage. This effort has proved beneficial for in the conservation missions for vulnerable one-horned rhino.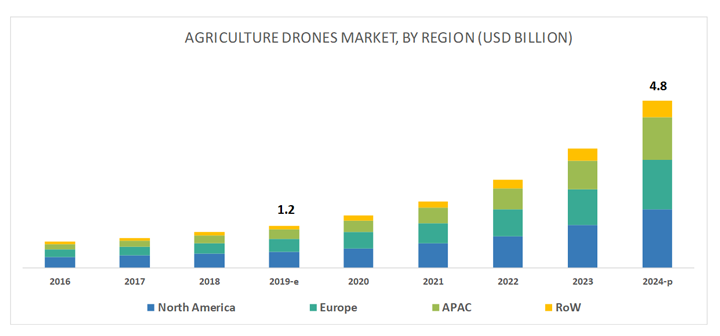 North America is expected to hold the largest share of the agriculture drones market during the forecast period. This growth is attributed to the exemption from the Federal Aviation Administration (FAA) under the part 107 rule which is leading to high adoption of drones in agriculture. This is attracting more investments by venture capitalists in the agriculture drones market.
DJI (China), PrecisionHawk (US), Trimble Inc. (US), Parrot Drones (France), 3DR (US), AeroVironment, Inc. (US), Yamaha Motor Corp. (Japan), DroneDeploy (US), AgEagle Aerial Systems, Inc. (US), and OPTiM Corp. (Japan) are some of the major players in agriculture drones market. Major innovators in this market are senseFLY (Switzerland), Pix4D (Switzerland), Agribotix (US), Sentera Inc. (US), ATMOS UAV (Netherlands), Delair (France), and Nileworks Inc. (Japan).
The Future of Agriculture Drones:
Beyond Visual Line of Sight (BVLOS) Operation of Agriculture Drones:
The ability to fly drones Beyond the Visual Line of Sight (BVLOS) represents the next big opportunity for agriculture drone operators. BVLOS operations can help farmers to collect data in a way that is safer and more cost-efficient than traditional methods. A common component of drone legislation is a safety restriction, limiting maximum operating distances to 500m. BVLOS flying would be a game-changer for the drone industry and that it is safe because of developments in on-board safety technology. Sense-and-avoid systems, remote viewing using imaging devices and pre-programmed return-to-base measures, which are triggered if the drone loses contact, all mean drones can be safely operated in rural areas. Further testing of this technology is taking place with the aim of proving that BVLOS flying could be safe and become a reality in the near future.
Plant Pollination:
Intensive modern farming methods and the unravelling consequences of global climate change have put the future of the common bee under threat. A decline in bee numbers has prompted worldwide concern over the future of plant pollination which underpins horticultural and agricultural production. The scientists at Delft University of Technology in the Netherlands and the researchers in Japan have investigated the use of drone bees to carry out the task. The drone bee has proved it is capable of pollinating flowers without damaging the plant. The research teams are now progressing with an auto-piloted version that could be unleashed by the grower to carry out the work on its own.
Drone Swarms:
Currently, most spraying is carried out using single drone units to either patch, strip or spot spray. Rapidly developing technology within the drone may allow much larger areas to be sprayed in the future. Drones can fly in formation as they are already capable of communicating with each other to avoid collisions. This could allow a string or swarm of drones to apply pesticide across whole fields in the future. While trials are under way, the main obstacle to success could lie in legislation with governments and military officials wary of terrorist threat presented by a swarm of UAVs.
The content & opinions in this article are the author's and do not necessarily represent the views of AgriTechTomorrow
---
Comments (0)
This post does not have any comments. Be the first to leave a comment below.
---
Post A Comment
You must be logged in before you can post a comment. Login now.
Featured Product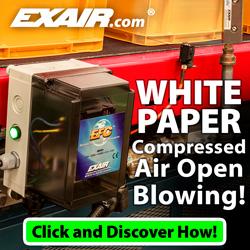 Compressed air is a limited resource that is generated in-house for the benefit of many operations within the manufacturing environment. Learn how to ensure all point of use applications are using your compressed air in the most effective and efficient way possible. Learn how much it costs to produce that compressed air and how Engineered Nozzles can help you use your air more effectively and efficiently.