AI-powered climate control technology serves growing demand for pesticide-free products around the globe.
Seedo Partners With Kibbutz Dan for First-of-its-Kind Fully Automated Indoor and Containerized Commercial-Scale Cannabis Farm
Contributed by | Seedo
Today, Seedo Corp., "Seedo", a high-tech company providing the world's first fully automated and controlled indoor growing machines for the pesticide-free cannabis and agricultural markets, announced today it will be partnering with Kibbutz Dan in Northern Israel to establish the first fully automated, commercial-scale, pesticide-free containerized cannabis farm in Israel. With Israel's recent approval of medical cannabis exports, Seedo is positioned to become a key player in this emerging market as its technology can achieve reliable and uniform production goals to meet pharmaceutical-grade standards. Within 36 months of operation, the project is estimated to produce a minimum of 14 tons of dry cannabis bud, generating an estimated revenue of $24 million dollars.
In legal cannabis markets around the world, new research has brought to light concerns surrounding the prevalence of pesticides, solvents and bacteria present in the current supply chain. This poses a serious threat to consumer safety, especially for patients that are increasingly dependent on medical cannabis for treatment of a variety of illnesses. Seedo's revolutionary technology can control the purity of the crop to meet stringent compositional standards set by pharmaceutical and beverage companies looking to supply clean and consistent products to the market.
"We are entering a new era of growing where demand for pesticide-free products will only continue to increase," said Seedo CEO Zohar Levy. "We're thrilled to partner with Kibbutz Dan to provide a business model with governments that the world can look to. We've built our commercial-scale system to reflect our philosophy that technology can provide precise and reliable results without sacrificing yield."
This Landmark installation includes Seedo's first commercial-scale product to meet growing demand stemming from maturation of the worldwide medical cannabis market. Seedo is now applying its proven technology, originally developed for home-grow devices, towards containers for commercial scale. This new offering will allow Seedo to leverage and adapt its existing and proven AI-powered technology to commercial farming applications, thereby maximizing the quality, yield and reliability of crops regardless of local climate conditions. By taking the guesswork out of the cultivation process, communities will be able to grow both native and non-native products with less labor, energy and water than ever before. The airtight, stackable containers will allow cultivators to optimize land-use and reduce the environmental footprint of their farming operations. Each one of Seedo's containers can provide a minimum quantity of 326 pounds of dry cannabis bud per year.
Seedo will also look to provide its commercial product to agricultural regions in need of healthy and reliable food supplies. Each container features maximum daylight illumination, built-in carbon filters, automated air conditioning, and a smart post-harvest drying system that allows farmers to minimize cultivation costs and provide high-quality food with extended shelf life. As rising temperatures and urban population growth encroach on global food supplies, Seedo's turnkey technology will allow communities to grow their food locally without fear of crop loss from external climate or weather conditions. As its network of systems continues to grow, Seedo will be able to leverage aggregated data to discover the ideal growing conditions for every type of fruit and plant species, even bringing some back from the brink of extinction.
As part of Seedo's recent momentum, the company recently appointed Daniel Birnbaum, CEO of SodaStream, and Dr. Jendayi. Frazer, the former U.S. Assistant Secretary of State for African Affairs, to its board of directors. Mr. Birnbaum's expertise in building global brands and Dr. Frazer's work in international development and governance will inform the development of the commercial product to serve vulnerable communities around the globe.
About Seedo
Seedo is a market leading high-tech company providing the cannabis and agriculture industries with the world's first fully automated and controlled indoor growing machine. Seedo provides growers with the freedom to cut costs while generating high yields of lab-grade, pesticide-free herbs and vegetables. Seedo's AI-powered, turnkey systems enable anyone from average consumers to large-scale producers the ability to grow without prior experience or ample space. Seedo is a publicly traded company backed by a group of international investors including Cannabics Pharmaceuticals and is headquartered in Israel.
The content & opinions in this article are the author's and do not necessarily represent the views of AgriTechTomorrow
---
Comments (0)
This post does not have any comments. Be the first to leave a comment below.
---
Post A Comment
You must be logged in before you can post a comment. Login now.
Featured Product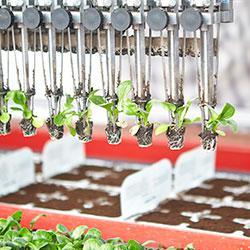 "Smart farming" is an important part of the answer to this existential question: Extremely high efficiency in food production through the targeted use of the latest technology, computer-supported and - where possible - fully automatic. Seeds are individually and precisely placed; fruits carefully picked by mechanical grippers; fertilizers and plant protection products applied in small doses and in a targeted manner. These operations require a large number of small electric motors that are both robust and powerful.