According to the USDA, farmers spend a lot of money in AgInputs including fertilizers, crop protection and stimulant products but many of them do not work as expected, or even if they do, still 20 to 40% of the crop value is wasted because of different biological problems.
What if Your Fertilizer Is Not Working as Expected?
Contributed by | Biome Makers Inc.
The so-called AgTech startups deliver solutions to improve agriculture in different dimensions. These recent technology developments help better understand the effect of the farming practices and assess the real effect of any input or practice developed in the farm. An example of these startups are Fruition Sciences commercializing temperature and water sensors measuring the stress condition for the plant; UAV-IQ Precision Agriculture a company integrating the data coming from drone flying around the field building a detailed map of plants vigor; Agralogics developing a collaborative platform integrating all layers of food and agriculture information; and Biome Makers measuring soil health by mapping the microbes that populate the soil.
Precisely, this biotech startup has had the chance to test different AgInputs from many producers across the USA assessing the real effect of these inputs by using soil microbes as biomarkers. This evaluation consists in profiling the microbes in different moments, before and after the application of the product. "This dynamic community of living beings, the microbes, are the natural biomarkers to measure the effect of a driven change as the use of a specific fertilizer, treatment, or farming practice, independently of its nature -organic or conventional-", Alberto Acedo, CSO of the company, said.
According to the USDA, farmers spend a lot of money in AgInputs including fertilizers, crop protection and stimulant products but many of them do not work as expected, or even if they do, still 20 to 40% of the crop value is wasted because of different biological problems. "Surprisingly, the results of our evaluations suggest that some fertilizers have a slight impact in the nutrition cycle but work great as plant defenders towards some disease threat", Acedo said.
Traditionally, farmers needed to wait a whole season to check if the applied input is working satisfactorily or not. At the end, the only method to measure input performance was through visual and yield measures. Now, they are demanding cleaner products and more transparent information about AgInputs to develop practices that promote the presence and activity of microbial species in the soil, restore the communities that sustain the crops, and therefore, promote production and food security.
"In order to satisfy these needs, it is essential to identify and measure the microbial communities of the soil, to understand their roles and the symbiotic relationships with other parts of the plant", Acedo points out. Biome Makers performs the analysis of a non-treated area in the plot to avoid measuring the impact of environmental changes and provides valuable information about the biodiversity of the crop, its health and its nutrition cycles.
Companies of different scale are making big efforts to offer more efficient and sustainable solutions to farmers. An example of a large corporation is Bayer Crop Science, which is developing new products to increase the Nitrogen fixation of the soil. Indigo Agriculture provides a product to gain water efficiency in cotton fields and promising startups as Boost Biome deliver a biological agent for strawberries to control powdery mildew.
However, researchers have demonstrated that any change in agricultural activity impacts the microbes populating the soils. Other recent studies have shown that fertilizing crops may make them more susceptible to disease and lead to an increase in the population of pathogenic microbes. So how can we know if the applied input is doing its job? Should we start checking the real effects of all the AgInputs available for farmers? Soil microbes have the answer; you just have to check them.

About Biome Makers Inc
Biome Makers Inc is a Smart Microbial Discovery startup based in West Sacramento, CA a propietary digital system decoding soil activity to explain soil and crop needs. We apply advanced DNA sequencing to characterize all the microorganisms and analyze the complex soil microbe network with Artificial Intelligence to make a complete interpretation of the soil-plant interactions, presenting the friendly results in handheld devices. The products include WineSeq®, Gheom® and BeCrop® which allow early disease detection in the soil, while providing an understanding of the terroir influence. The technology enhances farming by prediction of disease threats as early as prior to planting, allowing for targeted prevention methods that enable less reliance on chemical treatments and create an opportunity for more sustainable approaches to disease prevention. We provide comprehensive data related to Biodiversity, Health and Nutrition synthesis pathways for every crop using our growing database of soils from regions worldwide.
The content & opinions in this article are the author's and do not necessarily represent the views of AgriTechTomorrow
---
Comments (0)
This post does not have any comments. Be the first to leave a comment below.
---
Post A Comment
You must be logged in before you can post a comment. Login now.
Featured Product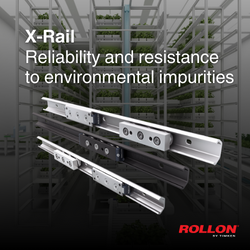 Rollon's X-Rail linear rails are a reliable solution in environments susceptible to impurities. Equipped with rolling elements with shaped and flat raceways, they are available in several versions: galvanized, nitrided or stainless-steel sheet metal. The latter version ensures total corrosion resistance, which is critical for hostile environments such as those found in vertical farming. Particularly innovative is the T + U configuration of the X-Rail linear rails, which can compensate for the parallelism errors of mounting surfaces. This simplifies installation and reduces costs.