Ongoing advances in numerous fields, including LED and sensor technology, cloud computing, artificial intelligence and the Internet of Things, is enabling farm owners and managers to meet the increasing demands on pricing, efficiency and feeding a growing global population.
The Dawn of Digital Farming
Pedro Munoz | Osram Opto Semiconductors
Virtually every industry is demanding more from technology—and the farming industry is no different. The art and science of agriculture is rapidly evolving with new digital and smart technologies.
Ongoing advances in numerous fields, including LED and sensor technology, cloud computing, artificial intelligence and the Internet of Things, is enabling farm owners and managers to meet the increasing demands on pricing, efficiency and feeding a growing global population. Ultimately, digital technologies will allow farmers to improve sustainability, adapt to climate change and increase profitability.
Already, farmers are starting to reap the rewards of digital agriculture. Here's one great example. Agricultural companies are using pocket-size spectrometers, such as SCiO, that enable farmers to analyze the nutritional contents and dry matter in a variety of feed types. With near infrared (NIR) spectroscopy, farmers can determine the distribution of carbohydrates, proteins and fat, as well as water in the feed.
This is important for dairy farmers because what dairy cows eat, and how much of it, is directly related to the quantity and quality of their milk (or meat) production. Dairy cows require a precise intake of dry matter and specific nutrient mix. Not enough dry matter and they produce less milk. Too much or an imbalanced nutrient mix interferes with the cow's digestion, resulting in lower production and wasted feed. Another added benefit is monitoring what livestock eats improves their overall health and well-being, helping them live longer.
Until recently there was really no good, inexpensive way to analyze feed types and ensure that livestock eat precisely what they should. But with handheld and affordable NIR spectroscopy devices, farms can cut costs and increase productivity by accurately measuring and analyzing dry matter in feed. For most farmers, feed makes up some 60 percent of their overall expenses, so the ability to instantly analyze feed can be a game-changer.
Before mobile spectrometers, analyzing feed was highly impractical, not to mention expensive. Alternatives like external lab testing could take days or even weeks. The introduction of the world's first broadband, infrared emitter by OSRAM Opto Semiconductors in 2016 made NIR spectroscopy possible on smaller, less costly devices. The extremely compact Oslon Black Flat SFH 4735 LED emits broadband infrared light in wavelengths ranging from 650 to 1,050 nanometers (nm). Osram expanded its spectroscopy product portfolio in 2018 with the introduction of the compact Synios SFH 4776 that can be integrated into smartphones.

Lighting the way to higher yields
The growing of vegetables and herbs is also evolving with new digital and lighting technologies that help farmers optimize crop yields and even enable farms to sprout in the middle of cities and urban centers.
With a rising population and rapid urbanization, fresh food is in high demand, especially in densely populated cities around the world. In response, vertical farms are springing up in many metros, growing produce in warehouse-like facilities powered by smart lighting, sensor systems and artificial intelligence.
Considering also that approximately 40 percent of food spoils before reaching the supermarket shelf, there is an additional ecological benefit in the smart-farming approach. Because vertical farms are often located near or even within large grocery stores, they enable just-in-time delivery of produce. In addition, smart LED lights with variable wavelengths can be used to control the exact day and time of every harvest. Different combinations of wavelengths can even determine the taste and appearance of crops.
Such high-tech vertical farming facilities can operate anywhere and in any weather, producing fresh, local, high-quality food year-round. In addition to growing healthy and flavorful food, vertical farms reduce the need for long-distance transportation, which saves fuel. They also reduce the need for pesticides, fertilizers and water. In the near future, crops that are enhanced by LED lighting could garner higher prices because of increased vitamin and nutrient content and better taste.
Another example of one of the fastest growing branches is that of pharmaceutical plants. Indoor farms can cut their costs and increase their output by using LED lamps. And due to the high cost of the pharmaceutical produce and the strong regulation for commerce overseas, this seems to be one of the few industries that is migrating from low-income countries to high-wage countries. Digital and LED technologies are enabling us to grow tropical plants in any indoor facility in Northern countries.
Smart LEDs and sensors are also ushering in a new era of harvesting robots that can do much of the dirty work for farmers. We've all heard about autonomous driving. Well, Harper Adams University in England has embraced the notion of autonomous farming. In fact, the school, which focuses on higher education for the agricultural sector, has successfully planted and harvested more than an acre of barley using only autonomous vehicles and drones.
As part of the school's Hands Free Hectare project, all planting and harvesting was completed entirely by robots, without a single human stepping into the field. An autonomous tractor drilled channels in the dirt for barley seeds. Fungicides and fertilizers were automatically sprayed when needed. And an autonomous combine harvested all the barley. A myriad of cameras, lasers and sensors are needed to help these robots efficiently and most importantly safely.
As the global population increases and climate change takes hold, food production will have to adapt to meet many new challenges and opportunities. Digital and smart technologies can help farmers address this more-frequently unforgiving landscape and produce more with less. At Osram, with our dynamic portfolio of LED and sensing applications, we're well-suited to enhance agriculture as its needs continue to change, and we'll always look to develop technology that solves real-world problems.
The content & opinions in this article are the author's and do not necessarily represent the views of AgriTechTomorrow
---
Comments (0)
This post does not have any comments. Be the first to leave a comment below.
---
Post A Comment
You must be logged in before you can post a comment. Login now.
Featured Product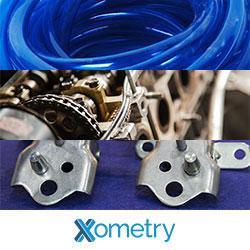 Xometry is your source for custom parts. Now, in addition to getting instant quotes on 3D Printing, CNC Machining, Sheet Metal, and Injection Molding, customers can create and send RFQs for die casting, stamping, and extrusion work to our nationwide network of pre-vetted manufacturers with just a 2D drawing. You will receive and be able to review responses from qualified shops within 7 days on an advanced web-based RFQ management platform. To learn more go directly to our site to issue and RFQ today. Stop wasting time managing RFQs through email and by phone, and start issuing RFQs at scale and in the cloud.