Kenya Veterinary Association partners with RippleNami to capture critical livestock data assets. Launching this programme addresses long standing challenges such as disease control and surveillance and traceability etc.
RippleNami Powers Kenya's First Real-time Livestock Traceability Programme Enabling Trade and Food Safety
Jaye Connolly-Labelle | RippleNami
A strategic partnership between Kenya Veterinary Association (KVA) and RippleNami, Inc. with support from the Directorate of Veterinary Services and a local bank, delivered the country's first real-time, livestock identification and traceability programme, starting in Kenya's arid and semi-arid counties. RippleNami, a leading provider of a blockchain data visualisation platform, is enabling the identification and tracking of individual cattle and its ownership, real-time mapping of livestock diseases and geo-position, along with capturing critical livestock biodata to its web-enabled database.
The Livestock Identification and Traceability System in Kenya is making use of Radio Frequency Identification Device (RFID) technology, integrated with RippleNami's platform. This allows veterinary officers to identify, register and capture the data on animal owners, premises and linking each animal asset from farm to fork. This system aids in disease control and management and curtails illegal livestock movement and the rampant cattle theft in key parts of the country. The system also helps in tracking health records at the point of treatment and monitoring weight gain in targeted animals. A critical advantage of establishing this new marketplace for tagged cattle is that it opens financial and insurance services against these assets. Additionally, this proprietary platform identifies the lineage of each animal and is instrumental in managing breeding programs that improve productivity and are devoid of inbreeding.
Launching this programme addresses long standing challenges such as disease control and surveillance and traceability, drug residues in animals and animal products, insufficient health and food safety hygiene standards and systems, among others. Through this innovative partnership, livestock producers are capturing essential data on husbandry including feeding, vaccinations and treatment. These producers are now empowered to access improved markets, insurance services and credit facilities with their livestock enterprises as the collateral, control livestock movement and husbandry management. With RippleNami's end-to-end solution, banks are now positioned to offer cattle owners micro-lending privileges and sustained financial support.
In less than 60 days, the first phase of this Livestock Identification and Traceability initiative reached its registration objectives of 40,000 cattle, 702 owners and 381 premises.
"The power to geographically visualise the registration of individual animals, farms, holdings, premises and herds now permits us to aid in the enforcement of laws regarding livestock movements, it improves access to local and International markets for livestock and livestock products and improves efficiency of disease control initiatives. This system is one of the key pre-requisites in the commercialization of Kenya's livestock sector as it enters international markets," says Dr. Samuel Kahariri, National Chairman of Kenya Veterinary Association. "This public-private partnership offers powerfully intuitive methods to visualise data and identify patterns that quickly lead to actionable outcomes for us."
"The East African economy is growing, and its pursuit of advanced technology to combat the unique challenges of doing business in this region is at the core of RippleNami's mission," said Jaye Connolly-LaBelle, chairman and chief executive officer of RippleNami. "These new regional partners share in our vision to power social, economic and civic development, beyond imagination."
"We are thrilled to be selected as the trusted partner by innovators like KVA and Directorate of Veterinary Services" stated Phil Gahn, chief business development officer and founder of RippleNami. "Because the RippleNami real-time data capture and visualization application is completely self-service, any organization can capture, visualize and track sensitive data assets within days of installation. By combining the intuitive visualisation of big data with cloud-based, blockchain technology, emerging economies are leveraging RippleNami's proprietary technology to map vital geo-assets, generate new economic transactional exchanges while accessing a uniform data platform for their electronic data infrastructure build out.
KVA and RippleNami implemented this initiative in Laikipia County in conjunction with the State Department for Livestock, Laikipia County Government and other stakeholders. Implementation on the next county begins June 2018.
About RippleNami
RippleNami recognizes that people empowered with real-time and easily accessible information around the world can connect and drive unimaginable change. RippleNami is redefining blockchain and mapping with the first visualization platform that consolidates big data and provides information that matters most to its users. This cost-effective, device agnostic, cloud-based platform delivers millions of actionable data points on an intuitive map that enables critical decision making and enhanced collaboration for enterprises, nonprofits and foreign government agencies. With seamless integration, limitless customization and scalable architecture, RippleNami allows people to chart their own world, streamline communications and improve operational effectiveness. For more information about RippleNami, visit http://www.ripplenami.com.
The content & opinions in this article are the author's and do not necessarily represent the views of AgriTechTomorrow
---
Comments (0)
This post does not have any comments. Be the first to leave a comment below.
---
Post A Comment
You must be logged in before you can post a comment. Login now.
Featured Product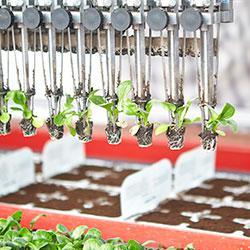 "Smart farming" is an important part of the answer to this existential question: Extremely high efficiency in food production through the targeted use of the latest technology, computer-supported and - where possible - fully automatic. Seeds are individually and precisely placed; fruits carefully picked by mechanical grippers; fertilizers and plant protection products applied in small doses and in a targeted manner. These operations require a large number of small electric motors that are both robust and powerful.