For the agriculture industry, the Internet of Things (IoT) is revolutionizing the ability to improve sustainability in every area, from the field to the data center.
Increasing Agricultural Sustainability
Paul Eberling | KORE
The growing consumer desire to make environmentally friendly buying decisions is placing increased pressure on businesses to increase sustainability initiatives. Beyond consumers, being green – or at least greener – is also expected by shareholders, partners, and any number of key stakeholders.
For the agriculture industry, the Internet of Things (IoT) is revolutionizing the ability to improve sustainability in every area, from the field to the data center. Here are just a few examples of how IoT his making the "green industry" greener:
Smart Irrigation – Through the combination of soil sensors and cloud-based data analytics, farming operations can monitor the moisture in the soil, which allows farmers to determine when – and only when – they should be irrigating. Connected systems automatically start and stop the watering process, which not only conserves valuable resources but prevents overwatering, which can be detrimental to yield.

Drones – Surveying crops by foot to gather data about yield, fertilization needs, water levels and soil conditions is time-consuming and sometimes inaccurate. Many in the farming industry have turned to the use of drones to capture crop images quickly and accurately. This allows farmers to make accurate remediation decisions that prevent small problems from becoming big problems.

Smart Greenhouses – Smart greenhouses remove weather as an obstacle to higher yields and to reduce energy consumption. These greenhouses can be equipped by solar-powered IoT sensors, which can help control the environment and monitor water consumption. Sensors can also preserve energy by monitoring and controlling temperature, humidity, and light levels. Whether activating a mister or controlling the greenhouse's thermostat, IoT is helping to shrink this farming method's carbon footprint.

Data Collection – While IoT applications have real-time benefits that address current needs, perhaps its greatest advantage is the data these sensors are collecting. By gathering and analyzing IoT-captured insight, farmers have the blueprint for spotting inefficiencies they might not have otherwise seen. Armed with that data, they can fine-tune their operations even further to ensure planting and growing decisions to be even more sustainable each year.
These advancements, and many more in nascent stages, are enabled by ubiquitous wireless networks that connect agricultural sensors and servers. The GSMA, a worldwide mobile network operator body, created three key commitments to improve sustainability, and each will have a significant impact on enabling innovation in the agricultural industry.
The GSMA is compelling wireless providers to focus on the following areas:
Improved networks: With a greater reliance on cellular connectivity to power increasingly rich IoT applications, it is critical that networks are able to facilitate with expanding need. As we have seen, networks are in the process of phasing out 2G/3G networks and moving to LTE, which can handle both complex and less data-intensive applications.

More connectivity: Many geographies with the greatest need for sustainability are not as connected as the rest of the world. Mobile network operators are continually pursuing more innovative solutions to bring increased connectivity to rural areas, where farms are often located, while making it more affordable. This is especially important in geographies that do not have equal financial resources.

Doing more with mobile: As more of the world's population become connected, populations are able to access more information than ever. Mobile network operators are striving to meet sustainability development goals for the nearly 2.5 billion social media users worldwide.
For any farming operation – regardless of size –preserving valuable resources is key to maximizing ROI, and it is best for the environment. IoT is assisting the agriculture industry through connected solutions that allow farmers to maximize yield and reduce the use of natural resources. These IoT-based innovations are not only good for increasing profits and the environment, but given the growing population and the need for more food production, they are also helping farmers provide food to reverse the expanding hunger crisis.
Paul Eberling
Paul Eberling, CET, CNA, is based in Winnipeg, Canada and is the Director of Carrier Service Delivery with KORE Wireless, a global IoT/M2M connectivity company with offices in seven countries of the world and powering the global reach of IoT. Paul currently manages all Tier 1 Carrier connectivity to KORE across 24 Carriers and is responsible for the data transport of millions of devices through the KORE Wireless global network. With over 27 years of wireless experience, his career experience spans everything from tower engineering to microwave and broadband wireless networks to managing an FCC Certifi cation lab as well as seven years of representation on the PTCRB Certification Board. Paul completed the Cisco CCNA program (2015), has taken courseware at the University of Missouri-Rolla and is a graduate of Electronic Engineering Technology program at Red River College (1994).
The content & opinions in this article are the author's and do not necessarily represent the views of AgriTechTomorrow
---
Comments (0)
This post does not have any comments. Be the first to leave a comment below.
---
Post A Comment
You must be logged in before you can post a comment. Login now.
Featured Product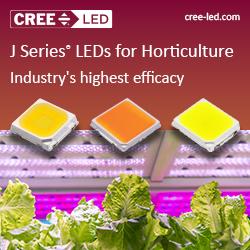 Horticulture and other forms of agricultural lighting require application-tuned ratios of spectral content, high efficacy and long lifetimes. Since these systems are designed to maximize yields for plants and animals, they require different metrics than lighting products designed around the human visual system. Cree LED delivers a wide range of spectral options and products optimized for these applications with leading efficiency and reliability.