The first step is to determine what it is youre looking to get from your irrigation system. For example, if zoned irrigation or rain sensors arent important to you, the cost of a smart sprinkler system may not be worth it in the long run.

Darren Johsnon
We already have smart cars, smart refrigerators, smart televisions, and smart phones. Now, with the common use of smart assistants like Google Home and Amazon Echo, our lives are becoming increasingly influenced by AI technology. But do we really need the rise of the machines to affect our sprinkler system? In other words, is a smart sprinkler really worth all the money?
Before you welcome another robot overlord into your home, consider these pros and cons regarding the cost of smart sprinkler controllers.
What Do You Need from Your Irrigation System?
The first step is to determine what it is you're looking to get from your irrigation system. For example, if zoned irrigation or rain sensors aren't important to you, the cost of a smart sprinkler system may not be worth it in the long run. Most of the time, homeowners base this need on the size of their lawn. A small yard won't need the same level of maintenance as a larger space, so the smart controller won't be as effective.
However, if the functionality and control of a smart sprinkler can help you save money and time in your daily life, the transition will be both cost-effective and useful.
Are You Aware of Monthly or Yearly Fees?
In order to save money on your smart sprinkler system, it's important to avoid ones with additonal service fees. Some may require fees for climate and weather information packages. Others may have communication charges.
Look for systems that don't require these additional fees. This will make the investment into the smart system smarter and avoid excessive costs.
How Easy is it To Use?
No matter how smart a system is, if it is difficult to use you simply won't use it. Evaluating the systems will give you an idea of whether or not it would be a challenge to set up or keep running.
It's always important to understand that a smart sprinkler controller is tech that uses advanced software. But as with any technology, software can exist at a different level of user-friendliness than other similar products. Look at ones that will be easy for you to use and encourages you to interact with it as necessary.

Can You Manage it With Your Smart Phone?
A smart controller should sync with your smart phone to offer you access while you're away from home. You can set it to provide alerts as well as be able to interrupt service or change the watering schedule remotely.
Make sure that your chosen system works with your specific smart phone OS, like Apple or Android.
How Accurate is the Weather Reporting?
One of the primary benefits with smart sprinkler controllers is the weather data is accurate and helps your smart controller irrigate your lawn based on needs. Especially in areas concerned by drought, your smart controller understanding the weather and rain patterns and irrigating accordingly will be the most important benefit of the system.
There are several brands to choose from, but here we've narrowed down the options to these two. By comparing and contrasting these systems according to your own needs, you'll be able make a smart investment in a smart sprinkler controller to enhance your life rather than complicate it.
The content & opinions in this article are the author's and do not necessarily represent the views of AgriTechTomorrow
---
Comments (1)
This is definitely a good list of things to look for when buying automated sprinkler systems and controllers. As a company that sells and installs irrigation systems that require preparation going into the winter, automated controllers will avert a lot of the problems you'll have in the long run. And good weather predictors can save customers on their water bills with little user effort. Reviewing these aspects of your irrigation system before buying can be a huge help in knowing whether the experience will be seamless or not. So, thanks for helping people get informed.
Post A Comment
You must be logged in before you can post a comment. Login now.
Featured Product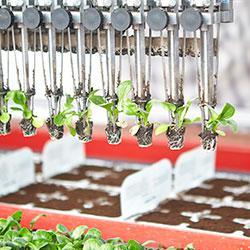 "Smart farming" is an important part of the answer to this existential question: Extremely high efficiency in food production through the targeted use of the latest technology, computer-supported and - where possible - fully automatic. Seeds are individually and precisely placed; fruits carefully picked by mechanical grippers; fertilizers and plant protection products applied in small doses and in a targeted manner. These operations require a large number of small electric motors that are both robust and powerful.