The low cost of our data acquisition, coupled with our ability to task our own satellites and process data on-board allow us to bring data to problems that are outside of the possibilities for current satellites, aerial imaging and drones
Satellite-based Data for Precision Farming Applications
Emiliano Kargieman | Satellogic
Tell us about Satellogic and what the company does.
We started out about seven years ago with a vision to deliver real-time analysis of what is happening on the planet - both high-level and low-level analysis that can be used to improve decision making for every industry, individual and government. We base our geo-analytics on data generated from our own micro satellite constellation. This constellation generates low-cost, high-frequency, high-resolution imagery.
What are Satellogic's geo-analytics solutions?
Today, we are focusing on complete solutions to real business challenges that face clients, using Satellogic's unique datasets, low data acquisition costs and including, as needed, data from other sources.
Clients need actionable info for decision making. This info can typically be classified into types: One type of solution is smart data layers - geographic information enhanced with space-based data and analytics, such as land cover, crop yield, change maps, etc. Another type is object identification and monitoring, including change detection. Lastly, we also focus on various geo-economic indicators
How is Satellogic's offerings different than other players?
Satellogic is generating a unique data set of high resolution, high frequency, low cost imagery. Data that has all these attributes is not available today. This data is used by our data science and solutions team to address business applications for which such data was not previously available.
We also have the highest commercially available resolution hyperspectral sensors. Hyperspectral data can be used for innovative applications, such as identifying chemical compositions and molecular processes, gathering insights into water and air quality, crop health, stocks of natural resources, environmental resiliency, and more.
Which agribusiness markets are you interested in pursuing?
Our data and solutions are global in nature. Our early agricultural customers are growers from South and North America. We plan to partner with regional value added service providers in the various agricultural markets globally to allow many farmers to benefit from our unique solutions and data. The low cost of our data acquisition, coupled with our ability to task our own satellites and process data on-board allow us to bring data to problems that are outside of the possibilities for current satellites, aerial imaging and drones, like precision data for extensive agriculture that is both affordable and scalable.
What kind of barriers to entry are you seeing and how do you overcome these?
The barriers for adoption of satellite-based data for decision making in agriculture are clear: the current high cost of data acquisition, the insufficient data acquisition frequency, and the expertise needed to turn images into actionable insights. We solve these problems by design. Our proprietary constellation of low-cost, high-resolution imaging satellites allows us to collect data at scale at the right price point, and feeding this data into our image analytic pipelines gives us the ability to turn this wealth of data into concrete, actionable information.
How is being vertically integrated an advantage for Satellogic?
Being vertically integrated allows us to be in control of the full lifecycle of data generation, processing and analysis. It allows us to optimize the use of our resources through distributed computing in-space, and on-earth. It allows us to minimize the cost of deploying a full-stack analytical solution. It also enables applications that are not economically viable otherwise.
How will the new satellites you just launched improve service offerings for agriculture?
Ada and Maryam, the two new satellites we recently launched (both named after renowned female pioneers in mathematics), allow us to increase our data capture capacity and its frequency, which we use for monitoring solutions we offer clients. Our plan is to launch more than 60 additional satellites by the end of 2019 and eventually create a constellation hundreds of satellites strong.
What do you feel is Satellogic's "secret sauce"?
One of our main advantages is our innovative satellite design which allows us to generate high quality high resolution data at a very low cost. This permits us to expand our constellation in a capital-effective manner and provide better solutions to our clients. Also, vertical integration ensures we optimize the use of every resource from data generation to analysis and solution delivery to our clients.
Agriculture is in the midst of a technology revolution, how do you see technology and companies like Satellogic helping to change farming in the next decade?
Farming is going through the "precision ag" revolution for some years now. With data and solutions like ours, we expect the level of accuracy and efficiency in farming to keep improving rapidly. Moreover, new scientific research uncovers novel ways of monitoring crops with new types of data like hyperspectral imagery. With our unique datasets and by partnering with agricultural groups around the world, we expect to be at the center of this process that is turning Farming into a data science.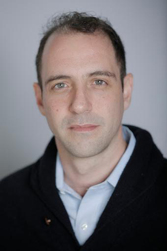 About Emiliano Kargieman
Emiliano Kargieman, known to his friends as 'EK', has spent the last 25 years building some of the industry's most successful technologies and technology companies. As a founder of Core Security Technologies, he developed the first automated penetration testing software, earning the loyalty of clients such as Apple®, Cisco®, Homeland Security, NSA, NASA, Lockheed Martin®, and DARPA.
As the co-founder and Managing Director of venture capital firm Aconcagua Ventures, EK focused on investing in high-tech startups in Latin America to develop them as global businesses. He was involved in several successful technology startups disrupting both finance and advertising. In the summer of 2010, after serendipitously spending some time at the NASA Ames campus in Mountain View, he started developing the concepts and business plan that would become Satellogic.
Emiliano is 43, studied Number Theory and Philosophy. He is married to Pola, a fiction author who shares his passion for technology. When not thinking about, or building technology, Emiliano enjoys reading, writing, playing chess and other random sports. He is learning to play the trumpet.
The content & opinions in this article are the author's and do not necessarily represent the views of AgriTechTomorrow
---
Comments (0)
This post does not have any comments. Be the first to leave a comment below.
---
Post A Comment
You must be logged in before you can post a comment. Login now.
Featured Product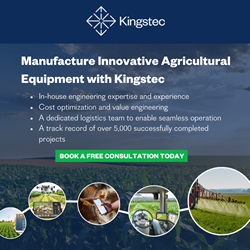 In the rapidly evolving agricultural landscape, leading AgriTech companies are increasingly leveraging the experience and expertise of strategic engineering and manufacturing partners to bring cutting-edge, cost-effective solutions to market. Kingstec is an all-in-one engineering, manufacturing, and logistics partner, with over 40 years of experience and 5,000 successfully completed projects. We can help you bring innovative, cost-optimized farm equipment, sensors, drones, components, and more to market quickly with in-house engineering and manufacturing expertise, a dedicated logistics team, and a network of world-class manufacturing and supply chain partners.