While there has been significant growth in the agricultural sensors industry, there is still a lot more to be done. As of now, sensors contribute to just a part of the precision farming industry.
Industry Focus: Sensors
Theresa Kern | agtech.careers
A report by the United Nations states that a quarter of all farmland is highly degraded. This report warns that farmers will need to produce 70% more food by 2050 to feed the predicted population of 9 billion. Due to issues like this looming food crisis, or water scarcity, several agriculture technologies have emerged. One of these technologies is agricultural sensors.
The emergence of these sensors has undoubtedly led to new career paths and job opportunities. These sensors enable farmers to maximize yield by monitoring factors such as soil properties, humidity, solar radiation, density of weeds, the presence of parasites and changing environmental conditions.
This type of agriculture that maximizes yield by proper use of resources and reduced use of hazardous material is known as precision agriculture.
Why are sensors important?
Sensors are very important as they can be used to perform a variety of agricultural functions. According to Deutsche Welle, sensors are used by researchers for phenotyping. Phenotyping involves identifying a plant's genetic characteristics, which are then compared to the growth patterns of the plant under different soil and climatic conditions.
Phenotyping is ideally supposed to help in coming up with plants that produce a high yield even under harsh conditions. Secondly, researchers also use light sensors to detect plant parasites at an early stage. This process enables them to come up with more resistant species of plants.
Additionally, according to GreenBiz, some center-pivot water systems come with infrared sensors which measure the temperature of the leaf canopy below them. They provide farmers with enough information to be able to apply water only when and where it's needed. This system enables farmers to save water.
Sensors have also been used to measure the amount of moisture in the soil for a long time. This advancement allows farmers to know the exact amount of water that needs to be added to the plants.
It is important to note that when sensors are properly used, they can give researchers and farmers a clear map out of when and where a resource is needed by a plant. This ultimately ensures high yield.
Which are the different types of sensors?
Agricultural sensors are grouped according to what they sense. Here are some of the groups of sensors as stated in CropWatch.
Electromagnetic sensors: These sensors are used to measure the capability of soil to conduct electric charge. Electromagnetic charges are usually dependent on factors such as soil moisture and salinity. These sensors have occasionally been applied to measure soil pH.
Mechanical sensors: These sensors measure the mechanical resistance of the soil. They do this by using a probe to penetrate the earth and measure the forces of resistance. A version of these sensors known as the tensiometer is used to measure the force used by roots to absorb water.
Electrochemical sensors: These sensors measure the concentration of some ions in the soil. They provide information on pH and nutrient levels.
Dielectric soil moisture sensors: These sensors measure moisture levels by measuring the dielectric constant which changes according to the moisture content.
Airflow sensors: These sensors measure the air permeability of soil.
How do sensors work with GPS (Global Positioning System)?
According to FarmNXT, GPS tools have experienced a great deal of advancement over the years. This has led to the improvement of precision farming. When sensors are used together with GPS, geo-mapping is made possible.
Consequently, it becomes easier to monitor field boundaries, roads, irrigation systems and problems such as weeds and crop disease.
Market research
According to Allied Market Research, the precision agriculture market is expected to be worth $7.8 billion by 2022. This growth represents a 14.9% CAGR between 2016 and 2022. It is driven by the need for optimum yield production using the available resources.
Another driving factor is the changing weather patterns that have led to the adoption of new technology. However, restraints to this market are affordability of the new technology and lack of awareness.
The market is divided into segments according to technology, component, and geography. On the basis of technology, the segments include GIS, GPS, VRT, telematics and remote sensing. The GPS segment dominates this market. This is due to its wide application in agriculture equipment.
On the basis of component, this market is divided into the hardware and software segments. The hardware includes GPS, ASS, radar, drones, and sensors. On the other hand, software includes financial management software, people management software, inventory management software, crop management software, weather tracking, forecast software and GIS.
The different segments according to geography include North America, Europe, Asia-Pacific and LAMEA (Latin America, Middle East, and Africa). The top factors affecting this market are the growing population, the increased use of smartphones and the increased use of cloud technology.
Companies in the industry
There are many companies in this fast-growing industry. Here are a few of them
Job opportunities in this industry
If you choose to pursue a career in this field, there are several job positions you could occupy. Here are a few of them.
Cross platform developer
This position requires you to have a bachelor's degree in software engineering and experience in C, C++, Java and Python programming languages. The job involves working with a UI or UX designer to code an application from top to bottom using QT cross-platform application framework.
Sales leader
This job requires a bachelor's degree in Business and some experience in sales. Tasks associated with this position include full utilization of CRM tools to maximize productivity.
Regional sales manager
The ideal candidate for this position should have over 3 years of experience in the agriculture industry and strong communication skills. This job entails managing the expense budget, generating proposals and making presentations.
University programs
As much as a company in this industry has employees from a variety of career fields, software engineers, and computer scientists dominate the industry. This is due to the fact that sensors, their software and the required platform can't be designed and manufactured without them.
To be successful in this career, the following university programs would prove useful.
Undergraduate programs
Kingston University London (UK): BSc in Software Engineering
Stanford University (US): BSc in Computer Science
The University of Manchester (UK): BSc in Software Engineering
University of Oxford (UK): BSc in Computer Science
Postgraduate programs
Newcastle University (UK): MSc in Computer Science
Harvard University (US): MSc in Software Engineering
Doctoral programs
University of Texas Dallas (US): Ph.D. in Computer Science
Conclusion
While there has been significant growth in the agricultural sensors industry, there is still a lot more to be done. As of now, sensors contribute to just a part of the precision farming industry.
The content & opinions in this article are the author's and do not necessarily represent the views of AgriTechTomorrow
---
Comments (0)
This post does not have any comments. Be the first to leave a comment below.
---
Post A Comment
You must be logged in before you can post a comment. Login now.
Featured Product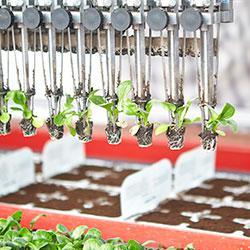 The FAULHABER Linear Actuator L series are designed to provide high performances in compact dimensions, these actuators can support large input speed, high output force and are suited for a wide range of applications like robotics, industrial machines and laboratory equipment.