Reverse osmosis systems have a downside. The water produced from the system eventually attacks everything made of metal in the greenhouse, such as stainless steel enclosures. Why? Because this water is attracted to the minerals in the metal.
Non-metallic Enclosures to Protect Critical Controls in a Corrosive Greenhouse Environment
Contributed By | Stahlin
THE CHALLENGE: Properly protect greenhouse controls from corrosion.
Micro Grow Greenhouse Systems, Inc., has been providing environmental computer controls for professional commercial growers and research greenhouses worldwide for more than 40 years. Through its network of global distributors, the company outfits both large and small businesses with off-the-shelf and custom systems to meet specific needs.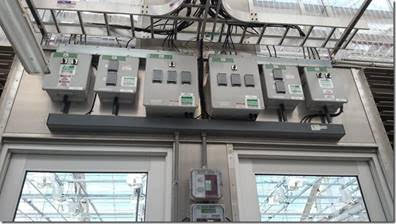 The Micro Grow team is focused on building systems that last. At times, this can be difficult task, because the greenhouse environment is notorious for corrosion. Corrosion in the greenhouse is most often caused by water, increased high humidity, and the use of reverse osmosis systems.
The use of reverse osmosis systems in greenhouse fog systems has dramatically increased in the past 10 years because of its reputation for increasing overall plant production. Yet, at the same time, reverse osmosis systems have a downside. The water produced from the system eventually attacks everything made of metal in the greenhouse, such as stainless steel enclosures. Why? Because this water is attracted to the minerals in the metal. So, greenhouse managers must have a corrosion prevention plan in place. Non-metallic materials are often used to prevent corrosion in this environment. This is why Micro Grow uses non-metallic enclosures to protect the company's controls.
When Mirco Grow first began building products 40 years ago, metal housings were used. However, the company found that metal housings needed to be replaced much sooner due to corrosion created in any greenhouse environment. Micro Grow's engineering team was eventually convinced by Glenn Adams, the local Rexel electrical distributor, to switch to non-metallic enclosures to help reduce the long-term cost of the system due. Micro Grow has used Stahlin Non-Metallic Enclosures ever since. "I always use a picture of one of our Stahlin Enclosure's next to a rusted out painted metal enclosure in my Power Point presentations. Nothing speaks more volumes than a pic."
"With the newly found medical Cannabis industry requiring controlled environment systems, the need for our type of product has sky rocketed lately".
THE ANSWER TO THE CHALLENGE: Stahlin Non-Metallic Enclosures DiamondShield®.
Micro Grow currently uses the DiamondShield® product line from Stahlin Non-Metallic Enclosures because it features a high-quality, cost-effective fiberglass material with a unique design concept. Every cubic inch of the DiamondShield® interior volume is available and completely protected. Furthermore, the "No Limits" Panel Management System™ of the product line allows any panel of any size to be mounted at any height or depth and hinged in any direction, even on the door. DiamondShield® meets or exceeds all applicable IEC, NEMA, UL and CSA rating to UL/NEMA 4X, IEC IP 66.
In addition, another value-added quality for Micro Grow is that all Stahlin enclosures include the most unique compounding formula available—SolarGuard®, a patented non-halogenated fiberglass system. SolarGuard® outperforms all other available SMC formulations by as much as 60 percent, in its ability to resist Ultra Violet (UV) damage and retain gloss and color. SolarGuard® meets a NFPA No. 101 Class A flame spread index. Fire retardancy meets UL 94 5V standards.
A KEY VALUE-ADD: Stahlin Non-Metallic Enclosures and a local Rexel distributor have provided Micro Grow with superior customer support for over 30 years.
"Personal attention does make a difference in my book. The team from Stahlin Non-Metallic Enclosures willingly makes regular visits to my company to keep up-to-date on our enclosure needs," stated Tom Piini, President, Micro Grow Greenhouse Systems, Inc. "We have also benefited from our local Rexel Distributor maintaining stock of Stahlin enclosures for our company. This stocking option makes it very easy for us to quickly meet our customers' demands. Quick turnaround is essential for many of our clients---- as is keeping the greenhouse running 24/7 is very critical for their bottom line.
"From the very first enclosure ever shipped to us, the associates at Stahlin and Rexel have always gone out of their way to solve problems and meet my needs, especially as we added new product lines, such as Weather Master and Weatherstat. Both systems protect greenhouses from high winds and rain damage, along with our brand new power back up system," Tom Piini continued: "Micro Grow could not have existed for over 40 years without value add partners like Stahlin and Rexel."
Additional Info
The content & opinions in this article are the author's and do not necessarily represent the views of AgriTechTomorrow
---
Comments (0)
This post does not have any comments. Be the first to leave a comment below.
---
Post A Comment
You must be logged in before you can post a comment. Login now.
Featured Product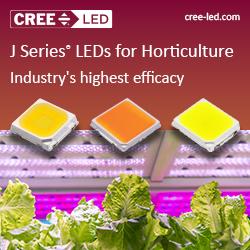 Horticulture and other forms of agricultural lighting require application-tuned ratios of spectral content, high efficacy and long lifetimes. Since these systems are designed to maximize yields for plants and animals, they require different metrics than lighting products designed around the human visual system. Cree LED delivers a wide range of spectral options and products optimized for these applications with leading efficiency and reliability.