Drones can be used in many different ways, but not all of them lead to a high ROI. Heres the story of Caribe Drones, a company which discovered the full potential of drones by using Agremo to help farmers gain more insights into their plants and crops.
This Drone Business Is a Flying Success. Find out Why.
Dragana Andrejic | Agremo
Reprinted with permission from the Agremo blog:
Drone enthusiasts are witnessing exciting times: both the technology and the possibilities of putting drones to work are skyrocketing. Construction sites, energy parks, and industry giants — the growing number of businesses that opt for drone-based solutions proves that drones can do a lot more than just capturing scenic landscapes.
A few years ago, a new field had emerged on the drone operating market, and it has been on the rise ever since: agricultural drone mapping — or in plain English: drone-collected images of field crops, vegetables, fruits and vineyards.
Within just a few years, drone technology has allowed countless farmers to obtain powerful insights into crop performance and elevate their agricultural efficiency to unknown heights. With drone technology, farmers get tangible and accurate data of every inch of their field.
Why Agriculture Is a Great and Profitable Field for Drone Operators
National Geographic listed agricultural drone mapping as one of the most exciting ways of using drones in the new millennium, right after hurricane hunting and wildlife protection. But unlike spying on storms and mapping nesting spots of animals, agricultural imaging is something that every drone operator can do — even if you have no agricultural knowledge.
Another great thing of working in and with agriculture is that agricultural mapping will allow you to grow a customer base with regular and recurring mapping jobs, as opposed to wedding photography or filming tourist resorts, where you usually jump from one client to another without having a steady income.
Farmers can do great things with data from drone-collected images. But be careful: farmers need drone data, not just drone images! Pictures of fields are nice to look at, but what's actually going to answer the farmer's questions and lead to peak performance is actionable data from drone images.
A simple drone data processing software can get you there. And today, such analyses can be performed in a few clicks, which is exactly what Puerto Rico-based aerial services provider Caribe Drones did and what helped them achieve terrific results.
Image Processing — the Key to Success for Drone Operators Working in Agriculture
The guys from Caribe Drones know that drone operators working in agriculture need to keep their eyes and ears open to the farmer's needs.
Farmers could ask for insights on their crop performance ratio, the plant's overall health, flowering levels or plant counts. And as a drone operator, you can help farmers with all of them.
To do so, Caribe Drones uses Agremo (formerly AgriSens), a web app that lets drone operators, farmers and ag consultants process drone-collected images and obtain powerful data.
Agremo User Caribe Drones: Flying the Extra Mile Is Paying Off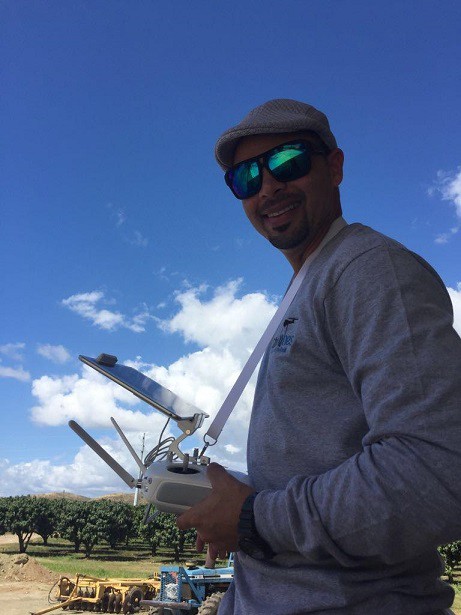 Caribe Drones is a team of passionate ad seasoned UAV experts who have been authorized by the FAA for aerial services in Puerto Rico and the Caribbean. Their mission is to help industry leaders gain better insights and improve their work with drone-collected data.
Today, Caribe Drones is one of the top drone service providers in Puerto Rico and the Caribbean for tropical fruits or vegetables. "The hard work is showing good results", says Ramon Pagan, the President of Caribe Drones.
Better Results with Powerful Crop Insights
The drone operators at Caribe Drones use two types of drones to shoot aerial footage: DJI's Phantom 4 Pro equipped with an RGB camera with a 20M resolution and a DJI's Inspire 1 V 2.0 with RGB and NDVI with a 12M resolution.
The initial settings are adjusted in the blink of an eye: after defining the mapping area, the remaining settings like overlap rate and flight path are adjusted. Alternatively, the system can generate the appropriate settings automatically.
These are some of the standard settings Caribe Drones recommends for getting high-resolution images that can easily be turned into valuable information.
After collecting drone images of a field, they go to the Agremo app, where they store and process their data for accurate results and a higher ROI.
Here is how quick and simple the entire process is:

Upload the images to DroneDeploy in order to generate a 2D map. After that, launch the Agremo app on the Agremo website and upload the map.
Agremo then lets you choose between 9 different reports, such as stand counts, weed or plant disease analyses.
Here's an example of a recent flowering report Caribe Drones received, where a seemingly fine looking mango field was analyzed: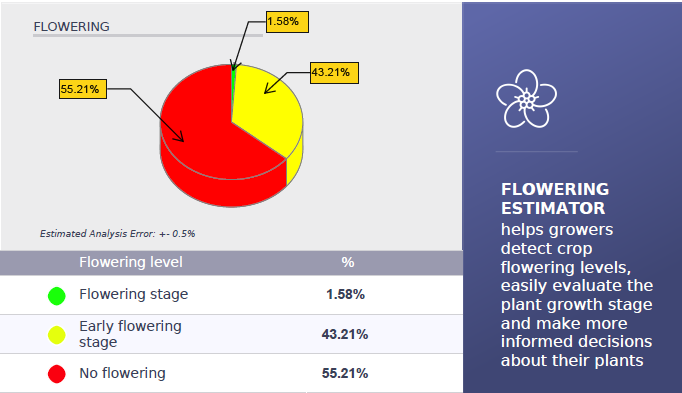 The analysis revealed that only 1.58% of this field's mangoes had actually started to flower, while more than half of the field's crop hadn't entered the flowering stage at all.
Armed with this data and the exact location of the problematic areas, the farmer was able to adjust his agricultural practices — no arduous legwork, no unnecessary pesticide application, no unpleasant surprises at the end of the growing season.
"After introducing mapping and crop analysis reports to farmers, they could see their field from another perspective. (..) Agremo is helping us bring essential information to farmers which was impossible to get until recently", says Ramon from Caribe Drones.
The result? Better crop performances, better customer relationships, and profit on both sides. No expert analytical skills or additional equipment needed!
Agremo took flight in 2015 as AgriSens and has been on the rise ever since.
In 2017, we changed our name into Agremo, but the vision remained the same: to make agriculture better and more in line with what today's technology has to offer. We want drone operators, agricultural consultants and producers, as well as insurance companies to achieve higher outputs by using high-end technologythat's easy to use, easy to grasp and easy to run.
To make this happen, we developed a data processing solution that will turn drone-collected images of agricultural sites into actionable and accurate data. Instead of scouting fields on foot and guessing what could be going on, you can now collect aerial footage and conduct one of the Agremo analysis reports, which will tell you exactly how your crop is progressing. You'll be able to see the whole picture – faster, more precise and more accurate than traditional methods.
The content & opinions in this article are the author's and do not necessarily represent the views of AgriTechTomorrow
---
Comments (0)
This post does not have any comments. Be the first to leave a comment below.
---
Post A Comment
You must be logged in before you can post a comment. Login now.
Featured Product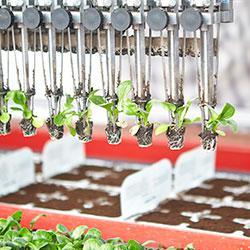 "Smart farming" is an important part of the answer to this existential question: Extremely high efficiency in food production through the targeted use of the latest technology, computer-supported and - where possible - fully automatic. Seeds are individually and precisely placed; fruits carefully picked by mechanical grippers; fertilizers and plant protection products applied in small doses and in a targeted manner. These operations require a large number of small electric motors that are both robust and powerful.