Drone-based stand establishment for clear-cut crop counting and assessing planting efficiency.

Dragana Andrejic | Agremo
What we learned from their answers is that over 75% of them have difficulties with plant loss due to inaccurate stand counts.
We further asked the farmers what they would do with data obtained from accurate stand counts and how this would benefit them.
Roughly 80% of these 75% said that they would be able to adjust their weed and pest control measures adequately and determine low germination rates in time.
The remaining 20% said that accurate stand counts would make it possible for them to verify how effective an externally performed replanting was.
Replanting or transplanting refers to the technique of moving plants from one location to another. Transplanting is sometimes performed by external parties, who have specific policies regarding the expected crop survival rate.
Some companies, for example, offer a guarantee that the crop loss rate would be less than 5%. And as crop loss affects important crop management decisions as well as your overall ROI, keeping track of these numbers is of vital importance.
The only thing is: Up until now, it has been difficult to proactively determine how successful a replanting procedure was and to quantify and verify the outcome.
Farmers would have to perform tests of the crop results based on what they see by walking through the field, which is far away from being accurate. What you see with your naked eye might be many hundreds or thousands of dollars away from what you could have achieved.
But luckily, there is help.
Today, this kind problem can be solved within just a few hours by using one of the greatest technological advancements of the past years: remote sensing and drone technology.
Here's what you need to know about using remote sensing for plant counts.
A Short Success Story of a Grower who Refused to Settle for Guesstimates
The traditional way of counting crops provides only low levels of accuracy. What's more, it's also terrifyingly time-consuming.
On top of this, the considerable amount of time and money growers invest just to obtain patchy information is still not extensive enough to prevent severe crop and profit loss.
These difficult circumstances convinced many farmers to try a different approach.
One of them is Toshiro Aoki, an agricultural consultant operating in Northern Carolina. Toshiro wanted to count the plants on a 74 acre tomato field, which had recently been transplanted by an external company.
The external planter calculated a possible loss of 5%, but Toshiro suspected that the losses were a lot bigger than that.
In order to prove this, Toshiro needed a way to count the plants on the field as accurately as possible. If the losses were bigger than 5%, Toshiro would be able to hold the planter who performed the transplanting accountable.
To do so, Toshiro turned to remote sensing. He needed a map of his 74 acre field, and a software solution which would analyze the images and count the plants.
So, the first thing he needed to do is to capture high-resolution images of his field. To fly the field, he used a DJI Matrice 100 drone. Toshiro chose to fly at an altitude of 290 ft. The whole job was done in just 30 minutes.
He then uploaded the pictures to DroneDeploy, an online stitching tool which generates powerful maps from individual pictures.
The map he received shortly after that then had to be run through an agricultural data processing software that would provide him with the answers he was looking for.
Since Toshiro needed accurate data on his stand establishment from a verified provider, he opted for the Agremo stand count report (former AgriSens), which he found on the DroneDeploy platform and which can also be accessed directly on Agremo's website.
Toshiro's stand count report came back the next day and revealed the real situation:
Instead of a 5% loss which the planter had claimed, there were in fact 26% fewer plants than Toshiro had paid for.
Armed with this kind of precise information, Toshiro was able to pay the planter a visit and discuss further actions. He now had tangible results and numbers, which allowed him to hold the planter accountable.
And if you dive into the numbers, you'll see how much such a 26% difference in terms of crop survival actually is: In Toshiro's case, 19 acres of his 74 acre field contained lost tomato plants.
The content & opinions in this article are the author's and do not necessarily represent the views of AgriTechTomorrow
---
Comments (0)
This post does not have any comments. Be the first to leave a comment below.
---
Post A Comment
You must be logged in before you can post a comment. Login now.
Featured Product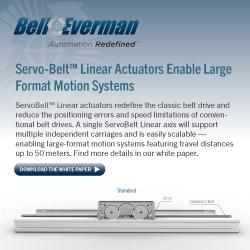 Manufacturing and packaging operations that still depend on manual material or parts handling operations can reap immediate benefits from a type of automation based on long-travel Cartesian robots with custom end-of-arm tooling (EOAT) and advanced sensing capabilities. These robots can support a variety of machines - performing otherwise manual tasks such as machine tending or transferring in-process parts - making long-travel Cartesian transfer robots a major upgrade to processes and operations. Download the White Paper from Bell-Everman