To meet consumer demands for authentic and fresh-tasting foods, some innovative packaging technologies are doing the job normally given to preservatives, enabling manufacturers to keep the ingredient list to a minimum.
Organic Food Packaging
Sean Hael | Mitsubishi Gas Chemical America
Brand owners of organic and natural foods face particular challenges in keeping their products from spoiling without preservatives and additives. Consumers who buy organic have the expectation of "clean" products that are also fresh and shelf-stable. That's a tall order for brands and for retailers alike, especially in an era of increased scrutiny towards reducing food waste. To meet consumer demands for authentic and fresh-tasting foods, some innovative packaging technologies are doing the job normally given to preservatives, enabling manufacturers to keep the ingredient list to a minimum.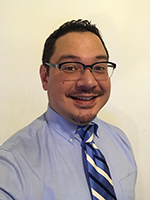 We spoke with Sean Hael, marketing and sales manager for Mitsubishi Gas Chemical America about packaging's role in reducing food waste and spoilage. Hael will be presenting an oxygen absorption technology at the Innovation Stage at PACK EXPO Las Vegas (Las Vegas Convention Center; Sept. 25-27) which promises to more than double the shelf life of some food products. The technology is particularly relevant for organic and natural food brands looking for shelf-life extension solutions, including in the baking and snack space.
Please describe the oxygen-absorption technology that you will be presenting at the PACK EXPO Las Vegas Innovation Stage.
Our technology comes in the form of a resin that can be layered into any barrier film to provide oxygen absorption. It reduces oxygen levels within a sealed container down to 0.1 percent or less, without the need for gas flushing or sachets. Up to now, Mitsubishi has only offered this technology as a fully formed film, but for the first time, we are making it available as a resin. This means that packaging converters can now incorporate the resin into innovative new formats. It is particularly well-suited for retort and heat-treated packaging as well.
How can this technology potentially double the shelf life of some products?
Reducing oxygen is key to extending shelf life because oxidation leads to molding, as well as to degradation in color, texture and taste. By reducing oxygen levels within a sealed package, you can dramatically improve the shelf life of baked snacks, sauces, soups, prepared meals, and other premium food products. There are significant benefits for natural and organic brands seeking to reduce preservatives in their products.
How is this technology beneficial for retort applications?
The retort process can be very harsh on foods because the intense heat in combination with the oxygen in the product and in the headspace dramatically alter a food's taste, color and texture, as well as its nutritional value. By absorbing oxygen during retort, you protect food from this degradation while dramatically improving shelf life. Essentially, the technology both protects and preserves food. Manufacturers often add extra flavorings, sodium and other ingredients to compensate for the effects of the retort process. That makes this technology a game changer because you can reduce or eliminate many of these additives, leaving the food's genuine, original flavor. There are all types of additives and preservatives that are used to stop the effects of oxidation; Mitsubishi offers a free assessment for food brands to discuss their specific oxygen absorption requirements.
What specific benefits does this offer the organics market in particular?
This technology is well-suited to the organics market because it meets the specific demands of consumers, brand managers and retailers. Consumers of organics want fresh-tasting, wholesome food with as few added ingredients as possible. In addition to meeting these customer needs, brand managers and retailers want shelf stability to save on costs and minimize waste. By putting oxygen absorbing technology within the package, you can satisfy all of these multiple demands: a clean label, great-tasting food, and extended shelf life and reduced waste.
How does this technology compare to other oxygen absorbing products?
Other products on the market function more like a super barrier rather than an oxygen absorber, which makes our technology unique. Other technologies require some type of activation, which this technology does not. In addition to films, this resin can be incorporated into rigid containers. It offers a new option for food brands that didn't exist before.
Sean Hael's presentation, "A Food-Safe Technology Can Double Shelf Life of Organics and other Foods without Preservatives," takes place on Tuesday, Sept. 26, from 10:00 a.m. to 10:30 a.m. at Innovation Stage Booth C-1045 at the Las Vegas Convention Center.
The Innovation Stage offers free, 30-minute seminars presented by PACK EXPO Las Vegas exhibitors covering technological breakthroughs. Sessions start on the hour on Monday and Tuesday from 10 a.m. to 3:30 p.m. and Wednesday from 10 a.m. to 11:30 a.m. (start to end times).
PACK EXPO Las Vegas is co-located with Healthcare Packaging EXPO. Together the shows will serve as North America's largest packaging event in 2017, bringing together 30,000 attendees and 2,000 exhibitors. To learn more about the event and register, visit packexpolasvegas.com.
About PMMI
PMMI, The Association for Packaging and Processing Technologies, represents the voice of more than 750 North American manufacturers of equipment, components and materials for processing and packaging. We work to advance a variety of industries by connecting consumer goods companies with manufacturing solutions through the world-class PACK EXPO portfolio of trade shows, leading trade media and a wide range of resources to empower our members. The PACK EXPO trade shows unite the world of processing and packaging to advance the industries they serve: PACK EXPO International, PACK EXPO Las Vegas, Pharma EXPO, PACK EXPO East, EXPO PACK México, EXPO PACK Guadalajara and ProFood Tech, launching in April 2017. PMMI Media Group connects manufacturers to the latest solutions, trends and innovations in processing and packaging year-round through brands including Packaging World, Automation World, Healthcare Packaging, Contract Packaging, ProFood World and Packaging + Processing OEM. PMMI Business Drivers assist members in pursuing operational excellence through workforce development initiatives, deliver actionable business intelligence on economic, market and industry trends to support members' growth strategies, and actively connect the supply chain throughout the year.
The content & opinions in this article are the author's and do not necessarily represent the views of AgriTechTomorrow
---
Comments (0)
This post does not have any comments. Be the first to leave a comment below.
---
Post A Comment
You must be logged in before you can post a comment. Login now.
Featured Product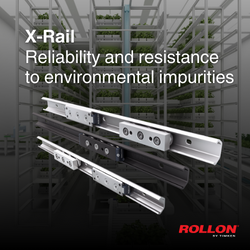 Rollon's X-Rail linear rails are a reliable solution in environments susceptible to impurities. Equipped with rolling elements with shaped and flat raceways, they are available in several versions: galvanized, nitrided or stainless-steel sheet metal. The latter version ensures total corrosion resistance, which is critical for hostile environments such as those found in vertical farming. Particularly innovative is the T + U configuration of the X-Rail linear rails, which can compensate for the parallelism errors of mounting surfaces. This simplifies installation and reduces costs.