Transaction Reflects DuPonts Commitment to Shaping the Agtech Market; Granulars CEO Sid Gorham to Lead Digital Agriculture for DuPont

| Dupont
DuPont announced that it has signed a definitive agreement to acquire San Francisco-based Granular, Inc., a leading provider of software and analytics tools that help farms improve efficiency, profitability and sustainability. Granular also operates AcreValue.com, the leading digital marketplace for farmland real estate. Sid Gorham, Granular's co-founder and CEO, will continue to lead Granular and will lead Digital Agriculture for DuPont, which includes responsibility for Encirca® services, DuPont's agronomic software business.
"This acquisition is an important component of our commitment to leading and shaping the agtech market," said DuPont Executive Vice President James C. Collins, with responsibility for DuPont's Agriculture segment. "We believe DuPont's agronomy expertise, deep customer relationships and market reach will accelerate Granular's business growth and help us deliver more value to growers around the world."
With its focus on developing innovative solutions to help growers build strong, sustainable businesses, DuPont is creating a digital agriculture ecosystem to support information sharing, services and commerce. This acquisition will enable the business to connect growers, analytics and public and private data to advance our vision for a digitally connected, more sustainable agriculture industry.
"We started Granular to make a big impact on the business of farming," said Gorham. "I am confident that as part of DuPont we will make a bigger impact even faster. DuPont shares our vision for using technology to help farms improve their dollar yield, not just their bushel yield. We are excited to pursue that vision together."
Granular was founded in 2014 with the mission of helping farmers operate more efficient and profitable businesses. The company serves many of the farms in the industry across the United States, Canada and Australia. Granular's leading position has enabled it to generate tremendous value for growers farming nearly 2 million acres of commodity and specialty crops.
"Granular's products – both AcreValue and Farm Management Software – have become indispensable tools for me as the leader of a farm business," said Trey Hill, CEO of Harborview Farms, Rock Hall, Maryland. "We also rely on Encirca® services to make critical agronomy decisions on the farm, so I am excited to see how this combination of leading products, teams and technologies will shape the future of digital agriculture."
"We are excited to welcome the Granular team to DuPont and we look forward to working with them to bring a clear advantage to our grower customers," Collins continued. "Granular is recognized as a clear market leader, as evidenced by its rapidly growing customer base and its existing partnerships with agriculture industry leaders, such as the recently announced integration of Granular into John Deere's Operation Center. We look forward to building on this strong momentum."
Closing of the acquisition is subject to customary closing conditions and is expected in the third quarter. Terms of the agreement were not disclosed. Following the close, Granular will continue to maintain its offices in San Francisco, California, and Champaign-Urbana, Illinois.
DuPont (NYSE: DD) has been bringing world-class science and engineering to the global marketplace in the form of innovative products, materials and services since 1802. The company believes that by collaborating with customers, governments, NGOs and thought leaders, we can help find solutions to such global challenges as providing enough healthy food for people everywhere, decreasing dependence on fossil fuels, and protecting life and the environment. For additional information about DuPont and its commitment to inclusive innovation, please visit http://www.dupont.com.
---
Merger of Equals
On August 4, 2017, DuPont and The Dow Chemical Company ("Dow") announced that all required regulatory approvals and clearances had been received in connection with the proposed merger of equals pursuant to the Agreement and Plan of Merger, as amended on March 31, 2017, (the "Merger Agreement") under which the companies will combine in an all-stock merger (the "Merger Transaction.") Dow and DuPont have agreed in writing that the closing conditions have been satisfied and that the Merger Transaction will close on August 31, 2017.
Certain regulatory approvals and clearances were granted based on the companies fulfilling their commitments to divest certain assets, among other conditions, (the "Conditional Commitments"). In connection with the Conditional Commitments, DuPont entered into a definitive agreement (the "FMC Transaction Agreement") with FMC Corporation (FMC). Under the FMC Transaction Agreement subject to the closing of the Merger Transaction in addition to customary closing conditions, including regulatory approval, FMC will acquire certain Crop Protection business and R&D assets from DuPont and DuPont has agreed to acquire certain assets relating to FMC's Health and Nutrition segment, (collectively, the "FMC Transactions"). DuPont and Dow intend, following consummation of the Merger Transaction, that the combined company, DowDuPont Inc., will pursue, subject to the receipt of approval by the board of directors of DowDuPont, the separation of the combined company's agriculture business, specialty products business, and materials science business through a series of tax-efficient transactions (collectively, the "Intended Business Separations"). For more information, please see DuPont's latest annual, quarterly and current reports on Forms 10-K, 10-Q and 8-K, as well as the joint proxy/prospectus included in the DowDuPont Registration Statement on Form S-4 filed in connection with the Merger Transaction.
Forward-Looking Statements
This document contains forward-looking statements which may be identified by their use of words like "plans," "expects," "will," "believes," "intends," "estimates," "anticipates" or other words of similar meaning. All statements that address expectations or projections about the future, including statements about the company's strategy for growth, product development, regulatory approval, market position, anticipated benefits of recent acquisitions, timing of anticipated benefits from restructuring actions, outcome of contingencies, such as litigation and environmental matters, expenditures, financial results and timing of, as well as expected benefits, including synergies, from the Merger Transaction and the Intended Business Separations, are forward-looking statements. These and other forward-looking statements, including the failure to consummate the Merger Transaction, the Intended Business Separations, the FMC Transactions or the Conditional Commitments, to make or take any filing or other action required to consummate such transactions in a timely manner or at all, are not guarantees of future results and are subject to risks, uncertainties and assumptions that could cause actual results to differ materially from those expressed in any forward-looking statements. Forward-looking statements are not guarantees of future performance and are based on certain assumptions and expectations of future events which may not be realized. Forward-looking statements also involve risks and uncertainties, many of which are beyond the company's control. Some of the important factors that could cause the company's actual results to differ materially from those projected in any such forward-looking statements are: fluctuations in energy and raw material prices; failure to develop and market new products and optimally manage product life cycles; ability to respond to market acceptance, rules, regulations and policies affecting products based on biotechnology and, in general, for products for the agriculture industry; outcome of significant litigation and environmental matters, including realization of associated indemnification assets, if any; failure to appropriately manage process safety and product stewardship issues; changes in laws and regulations or political conditions; global economic and capital markets conditions, such as inflation, interest and currency exchange rates; business or supply disruptions; security threats, such as acts of sabotage, terrorism or war, natural disasters and weather events and patterns which could affect demand as well as availability of products for the agriculture industry; ability to protect and enforce the company's intellectual property rights; successful integration of acquired businesses and separation of underperforming or non-strategic assets or businesses; and risks related to the Merger Transaction, the Intended Business Separations, the FMC Transactions and the Conditional Commitments. These risks, as well as other risks associated with the Merger Transaction, the Intended Business Separations, the FMC Transactions and the Conditional Commitments, are or will be more fully discussed in (1) DuPont's most recently filed Form 10-K, 10-Q and 8-K reports, (2) DuPont's subsequently filed Form 10-K and 10-Q reports and (3) the joint proxy statement/prospectus included in the Registration Statement filed with the SEC about the Merger Transaction. Unlisted factors may present significant additional obstacles to the realization of forward-looking statements. Consequences of material differences in results as compared with those anticipated in the forward-looking statements could include, among other things, business disruption, operational problems, monetary loss, legal liability to third parties and similar risks, any of which could have a material adverse effect on DuPont's consolidated financial condition, results of operations, credit rating or liquidity. The company assumes no obligation to publicly provide revisions or updates to any forward-looking statements, whether because of new information, future developments or otherwise, should circumstances change, except as otherwise required by securities and other applicable laws.
# # #
8/9/17
DuPont™ and all products, unless otherwise noted, denoted with ™, â" or ® are trademarks or registered trademarks of E.I. du Pont de Nemours and Company or its affiliates.
The content & opinions in this article are the author's and do not necessarily represent the views of AgriTechTomorrow
---
Comments (0)
This post does not have any comments. Be the first to leave a comment below.
---
Post A Comment
You must be logged in before you can post a comment. Login now.
Featured Product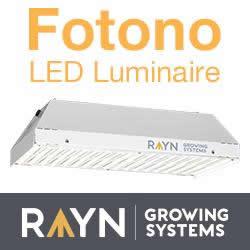 Fotono is a full spectrum LED horticultural luminaire designed to directly replace HPS lights in greenhouses. At 12 pounds, 20 inches long, and 5 inches high, Fotono's compact size makes installation simple while minimizing structural burden on greenhouses. This compact fixture packs energy-saving and yield-improving features, such as a high output, stepless dimming, advanced spectral capabilities, and more.