Straus goal is to demonstrate to the farming community and public that farmers can implement and teach others practical solutions to climate change.
Organic Dairy Farmer Albert Straus Announces the First Full-Scale Electric Truck Powered by Cow Poop
Christine Pulmano | Straus Family Creamery
California dairy farmer Albert Straus, a pioneer in organic dairy and sustainable agriculture, announces the launch of the first full-scale electric truck — powered by cow poop.
Straus, along with a local mechanic, spent eight years developing a 33,000 lb International Harvester truck to use as a feed truck on his farm. The truck measures, mixes and hauls feed before dropping it into the trough for his nearly 300 organic dairy cows. Its motor is charged from electrical power generated from methane gas produced by the cows' own waste, making it an environmentally-friendly alternative to diesel-fueled trucks. Ultimately, Straus is working towards getting his farm off fossil fuels entirely.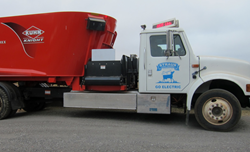 "What I've tried to do is create a sustainable organic farming model that is good for the earth, the soil, the animals, and the people working on these farms, and helps revitalize rural communities," said Albert Straus, CEO and founder of Straus Family Creamery. "My electric feed truck is not only a practical tool for my organic farm. It is also a symbol of the resourcefulness we need to fight climate change, which threatens our business and the future of American farming."
Dairy farmers from California – the nation's leading agricultural state – are facing pressure to lower methane emissions under the state's ambitious new greenhouse gas reduction laws, which include methane emission reduction targets of 40 percent below 2013 levels by 2030. The state's Air Resources Board says that much of the reduction should come from converting methane from cow manure into energy. Dairy manure accounts for about a quarter of the state's methane emissions.
This new full-scale-electric feed truck is the next step in Straus' quest to show that his organic dairy farm can be carbon positive, using agriculture as a solution to reversing climate change. Straus' methane digester has been powering his farm since 2004, fueling his all-electric Toyota RAV4 and Nissan Leaf plus smaller farm vehicles and machinery. Working with the Marin Carbon Project, his 500-acre organic farm is California's first dairy to develop a 20-year carbon farming plan to sequester 2,000 metric tons of carbon every year.
Straus' goal is to demonstrate to the farming community and public that farmers can implement and teach others practical solutions to climate change.
Straus Organic Dairy Farm and Straus Family Creamery's Pioneering First Steps:
In 1994, Straus Organic Dairy Farm became the first certified organic dairy west of the Mississippi River.
In 1994, Straus Family Creamery became the first 100% certified organic creamery in the United Sates.
In 2010, Straus Family Creamery became the first creamery in the nation to certify its products with the non-GMO Verified Seal.
In 2013, Straus Organic Dairy Farm became the first organic dairy to develop a 20-year carbon farming plan in California.
Next, Straus plans to unveil an all-electric Farmers' Market truck to transport his company's organic milk, cream, yogurt, ice cream and butter to local markets in San Francisco Bay Area.
About Straus Family Creamery
Based in Marshall, CA, Straus Family Creamery has a longstanding commitment to sustaining family farming. When Albert Straus converted his family's dairy to organic production in 1994, becoming the first certified organic dairy west of the Mississippi River, he pioneered a model that reflects the true costs of milk production and promotes sustainable land stewardship. Founding the Creamery, the same year, Straus sought to create a market for local, organic milk, and develop a community of organic dairy farmers in the region. Today, nearly 90 percent of the dairy farms in Marin and Sonoma Counties in Northern California are certified organic. Straus Family Creamery continues to make business decisions based on its mission to help sustain family farms, revitalize rural communities, and protect the environment. Learn more about Straus Family Creamery's mission and its high-quality, minimally-processed certified organic products: milk, cream, yogurt, butter, sour cream, ice cream, and a variety of wholesale and specialty dairy products at http://www.strausfamilycreamery.com
The content & opinions in this article are the author's and do not necessarily represent the views of AgriTechTomorrow
---
Comments (0)
This post does not have any comments. Be the first to leave a comment below.
---
Post A Comment
You must be logged in before you can post a comment. Login now.
Featured Product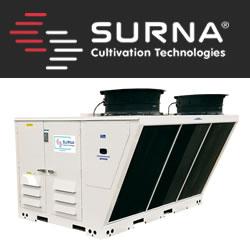 The EnviroPro Packaged DX HVACD Unit utilizes hot gas reheat to provide both cooling AND dehumidification all in one central unit. Its variable speed components allow it to make more nuanced adjustments, saving energy and avoiding temperature swings that can come from single-stage equipment. Due to its affordability, versatility, and industry-leading warranty, the EnviroPro Packaged unit is one of Surna's most popular HVAC offerings.