Farming industry can reap benefits from clean wind power and energy incentive programs.
Northern Power Wind Turbines Generate Significant Energy Savings for New York Dairy Farm
Contributed by | Northern Power Systems
Northern Power Systems an innovator in wind turbine technology for over 40 years, has seen a surge of interest in wind power in distributed energy (behind-the-meter, on-site power generation) applications in the United States, as the performance and financial benefits of field installations surpass user expectations.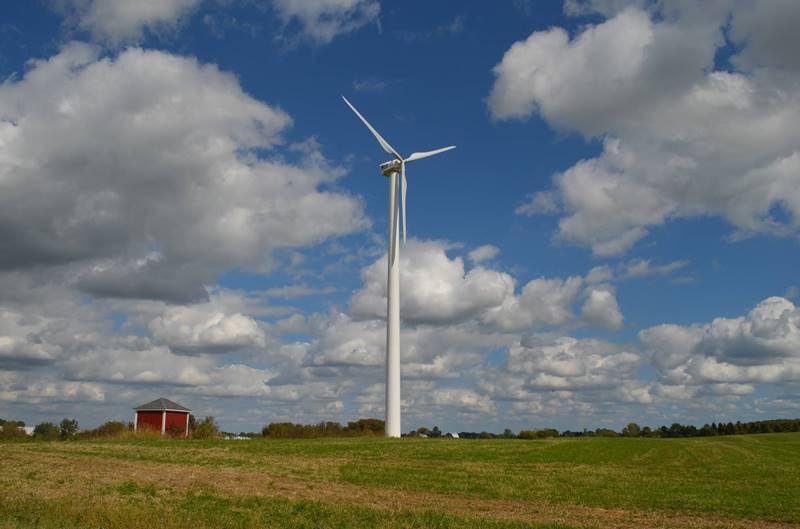 Miller Sonshine Acres Farm has two Northern Power Systems 100-kilowatt wind turbines in operation in Corfu, New York.
Recently, the advantages of wind power have become evident in dairy and farming operations, which are energy-intensive and can often leverage significant on-site wind resources. Northern Power's 100-kilowatt (kW) wind turbines are right-sized for most farming operations, and they have become more accessible thanks to lower installation costs and improved productivity.
"With more financing options than ever before, it is now easy and affordable for organizations that use significant amounts of energy to generate their own electricity from the wind, support operations, take control of their energy future, and directly benefit the bottom line," said Ciel Caldwell, President of Northern Power Systems.
For example, Dan Miller, owner of Corfu, New York-based Miller Sonshine Acres Farm, took advantage of incentives to install two Northern Power 100 kW turbines on his farm. When Miller's first turbine began running, the farm was a bustling dairy operation with over 2,800 milking cows in five different locations. Thanks to remote net metering in New York, project developer Niagara Wind and Solar (NWS) was able to site a turbine in the windiest part of Miller's farm and power all meters remotely. Following this first installation in December 2014, Miller's monthly electric bills dropped by 65%. Those impressive results spurred him to install a second turbine, which has been operational since December 2016.
Within the first six months of 2017, Miller's two turbines produced over 180,000 kilowatt-hours of energy. "I'm concerned about climate change and see the value in renewable energy," said Miller, "but the bottom line is, I thought I could save some money -- and this has proven to be a great way to do that."
The Small Wind Turbine program offered by the New York State Energy Research and Development Authority (NYSERDA) was crucial in supporting the use of renewable energy at Miller Sonshine Acres farm. Alicia Barton, NYSERDA President and CEO, said, "Wind and other renewable energy resources are vital to New York achieving Governor Cuomo's nation-leading energy goals. We commend Miller Sonshine Acres Farm and all of its partners for taking a leadership role in showing how farms and other local organizations can use renewable energy to help lower operating costs and create a cleaner and healthier environment for the local community."
The USDA's Rural Energy for America Program (REAP) also supported Miller Farm's wind power installations. "REAP helps farm operators and rural small businesses make long-term investments in renewable energy systems, including farm-scale wind turbines," said Scott Collins, Acting State Director for USDA Rural Development in New York. "We are pleased to assist the Miller family's efforts to reduce and stabilize their electricity costs for many years to come."
Open Turbine Day in New York - July 21, 2017
To highlight the advantages of wind power for farms, Northern Power will host an "Open Turbine Day" event at Miller Sonshine Acres Farm in Corfu on July 21, in conjunction with Buffalo Renewables, Inc. (formerly NWS). The event will showcase the successful operation of the two turbines, provide attendees with an up-close look and opportunity to ask questions, and highlight the significant energy cost savings and other benefits. Register for the event before July 17 by visiting northernpower.com/rsvp; emailing info@northernpower.com; or calling 877.906.6784, ext 6070.
About Northern Power
Northern Power Systems designs, manufactures, and sells distributed power generation and energy storage solutions with its advanced wind turbines, inverters, controls, and integration services. With over 16 million run-time hours across its global fleet, Northern Power wind turbines provide customers with clean, cost-effective, reliable renewable energy. NPS turbines utilize patented permanent magnet direct drive (PMDD) technology, which uses fewer moving parts, delivers higher energy capture, and provides increased reliability thanks to reduced maintenance and downtime. Northern Power also develops Energy Storage Solutions (ESS) based on the FlexPhase™ power converter platform, which features patented converter architecture and controls technology for advanced grid support and generation applications.
About Buffalo Renewables
Buffalo Renewables, Inc (BRI) based in Niagara Falls, NY, develops wind- and solar-based distributed generation systems across New York State. Their team of experts supports renewable energy generation projects with services such as resource assessment, system evaluation and best-in-class fit, project permitting, grant writing, and financial analysis. BRI also specializes in building unique foundations, installing solar and wind systems of all sizes, and managing grid interconnection.
The content & opinions in this article are the author's and do not necessarily represent the views of AgriTechTomorrow
---
Comments (0)
This post does not have any comments. Be the first to leave a comment below.
---
Post A Comment
You must be logged in before you can post a comment. Login now.
Featured Product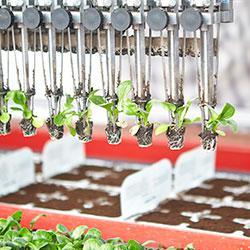 "Smart farming" is an important part of the answer to this existential question: Extremely high efficiency in food production through the targeted use of the latest technology, computer-supported and - where possible - fully automatic. Seeds are individually and precisely placed; fruits carefully picked by mechanical grippers; fertilizers and plant protection products applied in small doses and in a targeted manner. These operations require a large number of small electric motors that are both robust and powerful.