This year attendees can expect to see a lot of Ag focused drone systems and also enjoy interfacing with the people making them but that is not all. Our focus this year is on the "Drones, Data, Droids and Dirt."
Precision Farming Expo 2015
The Duke Joseph Agency for | Precision Farming Expo 2015
Tell us about the Precision Farming Expo, where and when it is and what it will cover.
The Precision Farming Expo (PFE) got its start in December 2013 as a one day aerial robots (drones) and farming forum. Now it it's second year as a larger two day event, PFE as we call it has the simple mission of delivering clarity to farmers on latest innovations in data, robotics, automation, remote sensing and getting intelligence into action.
While this mission will be well covered by exhibitors, panelists and speakers, there is no denying that this years expo is "drone heavy". With Yamaha's entire RMAX Ag UAV team coming and bringing an actual RMAX with them, we have enhanced the Agri-­UAS program with speakers like Dr. Ken Giles, UC Davis and Dr. Sylvia Rondon of Oregon State reporting on their most recent agricultural drone research collaborations with Yamaha and Boeing respectively. Another highlight for those interested in agri-­‐robotics will be presentations by Dr. Jan Bontsema who leads a nine country harvest robotics team for the EU out of Wageningen University and Research Centre in Holland.
Other subjects such as farm vehicle automation will also be covered by both leading researchers from WSU and commercial innovators like Autonomous Solutions, Inc.
How are unmanned systems changing the way we farm?
Farm automation technologies are already being deployed in large-‐scale field farming and livestock operations such as dairies as well harvest processing systems. As traditional farm labor becomes more scarce and the demands of sustainability and regulatory compliance eat into a farmers time, the smallest growers can see real benefits from unmanned systems.
Replacing the most costly, repetitive and dangerous Ag related jobs has been happening for some time already. A new field that mobile/cloud based computing has opened up is the growing demand for a constant stream of plant, soil and environmental data. This data when properly delivered in real or near real time is what farmers really want. Unmanned systems when coupled with consumer like mobile applications, can gather complex data, simplify it and ultimately deliver actionable intelligence once it is combined with existing agronomic knowledge.
Armed with such prescriptions, farmers can gain valuable insight that can head solve ongoing issues with disease or pests and eventually predict end of crop season yields. All of these outcome are important and can effect both profit and resource sustainability.
Why is it so important for people and companies in the agriculture industry to embrace robotics and unmanned systems?
There are many ways to answer this question. Focusing on the western hemisphere, there are three main issues facing growers that I think are important.
1. Generational change and land ownership.
The average age of a farmer in both North and South America is about sixty years old. This generation is leaving farming and with them as they depart goes a generation that had a far different work ethic and ethos. The inheritors of these hundreds of millions of acres of farm land have far different expectations. Gone are the days of a farmer pulling a bandanna over there nose and mouth and driving hard seat, open cab tractor around a dusty, fertilizer laden field for 14 hours.
New farmers are of the computer generation and have a far higher desire to utilize technology to "work smart". As less people go into farming as a profession and farms consolidate, the demands for individual farm managers to produce more with less help and in less actual man hours means technology must fill the gap.
2. Sustainability and regulatory compliance.
Environmental protection requirements quite simply are driving the need for lowering chemical inputs to farms while a simultaneous demand for annual increases in crop harvest volumes are driving the tech need.
Simply put, the world wants more food delivered to the table but with less impact on the planet.
This is a tough task that will require a huge upgrade in farming technology. Precison Farming is a global movement that is analogous to the digitization of medicine only bigger.
3. Labor
For centuries if not thousands of years, organized agriculture has required inexpensive labor. Whether the farm worker was an empires conquered former foe, a medieval serf or disadvantaged migrant the calculus was the same; farming ran on cheap labour. Just as the industrial revolution replaced millions of traditional workers for the sake of profits and human dignity, the nascent digital revolution in agriculture is being driven by similar forces.
Human rights and cultural expectations are radially changing the amount of available farm workers. The only relief in sight for farmers and the transnational food products complex they serve is robotics and automation.
Give us a glimpse into some of the new innovations we might see at the Precision Farming Expo.
With the confluence of cloud computing, micro electronics and advanced controls, big tasks are getting solved by solutions that come in pretty small solutions. This year attendees can expect to see a lot of Ag focused drone systems and also enjoy interfacing with the people making them but that is not all. Our focus this year is on the "Drones, Data, Droids and Dirt."
The Precision Farming Expo is designed to be intimate. It is two full days of learning, networking and collaborating in a comfortable and casual atmosphere. The audience is a combination of growers, innovators, researchers and policy makers/legislators. It is an unusual mix of people purposefully curated to drive the innovation and adoption of agri‐tech solutions to the problems facing all of us.
How much does it cost to attend and how can our readers register?
The expo is very affordable at $120.00 per person for two days. This cost includes light breakfasts, full lunches and a hosted social event as well as discounted hotel rates. It is a very good deal, designed to attract a wide audience. People interested in attending can visit PrecisionFarmingExpo.com to get tickets and see the entire program.
The content & opinions in this article are the author's and do not necessarily represent the views of AgriTechTomorrow
---
Comments (0)
This post does not have any comments. Be the first to leave a comment below.
---
Post A Comment
You must be logged in before you can post a comment. Login now.
Featured Product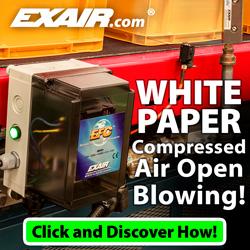 Compressed air is a limited resource that is generated in-house for the benefit of many operations within the manufacturing environment. Learn how to ensure all point of use applications are using your compressed air in the most effective and efficient way possible. Learn how much it costs to produce that compressed air and how Engineered Nozzles can help you use your air more effectively and efficiently.