FlexFarming Tackles Industry Challenges With Its Indoor Vertical Farm To Grow Strawberries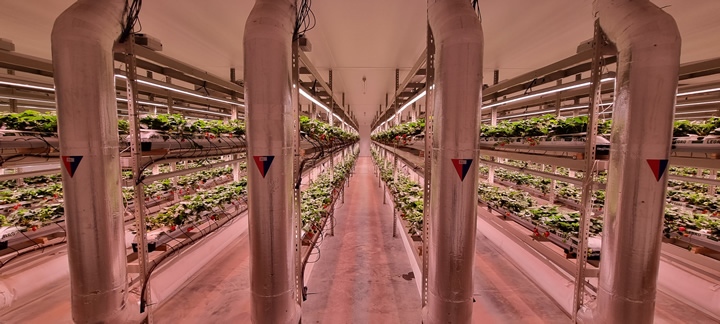 Somerset-based indoor vertical farm FlexFarming is redefining the future of fresh food production with its 500sqm, 10-tonne strawberry production facility, which is recognised as one of Europe's largest Controlled Environment Agriculture (CEA) vertical farms. The facility has produced its first crop of Class 1 strawberries, with the quality being verified by their customer, a large UK supermarket. It is setting out to grow and supply quality British strawberries to the mainstream UK market all year round using sustainable growing methods and CEA.
Strawberries currently dominate the UK berry growing market, but outside of British summertime, the majority of produce available to consumers is imported from abroad. FlexFarming is leading the way by offering a totally controlled concept that nurtures conditions to create the ideal growing environment in which strawberries can thrive. With CEA, the constraints of conventional farming can be avoided thanks to a technology-based approach that can achieve a higher yield and quality of produce 365 days a year.
The company was established in 2021 following successful early-stage trials and £2.5 million in funding from Innovate UK to build the vertical farm and prove its concept. The team is headed up by smart energy entrepreneur, Ahmad Mohseni, CEO of Brits Energy.
Ahmad Mohseni, FlexFarming CEO comments on the industry challenges: "At FlexFarming, we understand the challenges associated with the current supply methods, which is why we're working on a solution which addresses the supply issues. With CEA, we can decouple the production from the season and shorten the supply chain. Our FAB solution works to integrate the farm operation with the energy system to tap into the unused available capacity and consequently reduce clean energy costs. Our work marks the way forward for the farming sector by providing sustainable solutions that the entire industry can learn from."
Whilst vertical farming is a sustainable method in itself, using 90% less land and 95% less water than traditional farming, there is still more work to be done to make a significant impact on what is the biggest challenge: energy consumption.
After studying different energy procurement mechanisms, the team formed its Farm as a Battery (FAB) concept. The solution identifies flexible energy demand opportunities and uses them to enhance the resource efficiency of onsite energy systems by understanding the flexibility the strawberry crop has in its growth cycle.
FlexFarming has built a business model that puts sustainability at the forefront and seeks to tackle the high CapEx and OpEx costs associated with indoor farming. With this, it can work towards achieving a highly efficient net zero strawberry production system to reduce its environmental impact. The team is currently reducing carbon emissions by using renewable energy sources and exploring additional ways to offset its carbon footprint going forward.
With the food security crisis and increasing demands to feed a growing global population in mind, FlexFarming aims to remain carbon neutral whilst contributing toward a new and sustainable future for food production. The company has plans to scale up in the pipeline, commercialising the solution to yield 500 tonnes in 2025 and position itself as a leader in the field.
About FlexFarming:
FlexFarming was founded in 2021 with a mission to converge CleanTech and AgriTech solutions to transform industry pain points into opportunities. The company is working towards becoming the UK's first net zero strawberry grower and supplier to the mainstream market within its 10-tonne production facility in Somerset, UK. Using vertical farming as its method of cultivation and Controlled Environment Agriculture processes to maximise growth, FlexFarming offers its innovative Farm as a Battery solution to access clean and affordable electricity without burdening the grid. With its flexible approach to food production, FlexFarming is working toward developing a highly efficient net zero strawberry production system that can be applied to other fresh produce in the future.
Comments (0)
This post does not have any comments. Be the first to leave a comment below.
---
Post A Comment
You must be logged in before you can post a comment. Login now.
Featured Product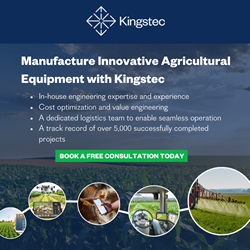 In the rapidly evolving agricultural landscape, leading AgriTech companies are increasingly leveraging the experience and expertise of strategic engineering and manufacturing partners to bring cutting-edge, cost-effective solutions to market. Kingstec is an all-in-one engineering, manufacturing, and logistics partner, with over 40 years of experience and 5,000 successfully completed projects. We can help you bring innovative, cost-optimized farm equipment, sensors, drones, components, and more to market quickly with in-house engineering and manufacturing expertise, a dedicated logistics team, and a network of world-class manufacturing and supply chain partners.