Falcon Structures Assists Indoor Farming Leader Square Roots with New Farm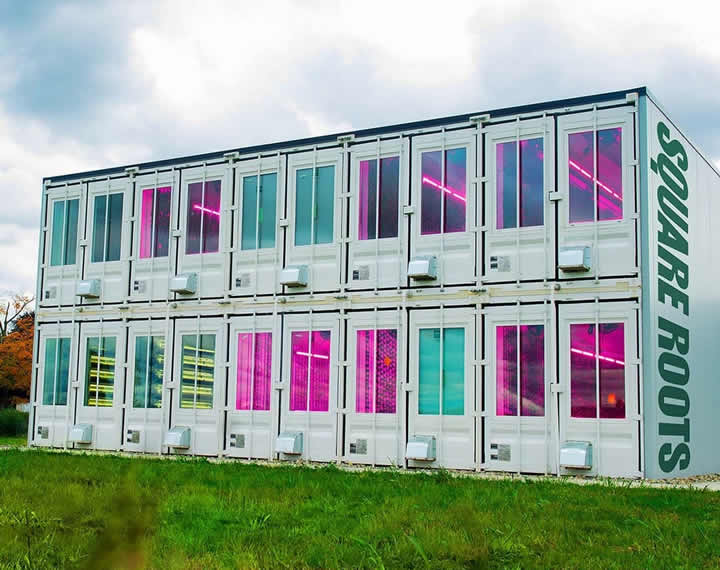 Falcon Structures, a Central Texas-based modular manufacturer, provided modified shipping containers for Square Roots' newly operational farm in Kenosha, Wisconsin. Square Roots is a technology leader in indoor farming with a mission to responsibly bring its locally grown food to people in cities around the world, all year round.
To create its fourth and largest farm to date, Square Roots utilized refurbished upcycled shipping containers that are stacked vertically to reduce the company's impact on the land. Inside each of the 20 modified shipping containers Square Roots houses its proprietary smart-farm technology platform and software-controlled hydroponic growing systems to produce more food with fewer resources. This technology allows Square Roots to grow produce year-round while using 95% less water than conventional field farming.
"It was a pleasure to work with Square Roots to create such a positively impactful project. This is just one example of how modified containers have the potential to build a better world," said Stephen Shang, CEO and Co-Founder of Falcon Structures.
The Square Roots team designed the farm zones and technology for the containers and trusted Falcon Structures to modify the shipping containers according to precise specifications that best suited Square Roots' requirements for the farm. After the modifications, the containers were shipped to Square Roots' farm site in Kenosha, Wisconsin, where the indoor farm's deployment team quickly and easily constructed the farm. Now, the Kenosha farm has the capacity to produce more than 2.4 million packages of herbs and leafy greens annually, free of pesticides and GMOs, with an extended shelf life of at least 14 days.
About Falcon Structures
Falcon Structures is a market leader in modular, shipping container-based building. Since its founding in 2003, Falcon has committed to building a better world by pioneering the use of container-based structures. Falcon holds an ICC-ESR certification to repurpose AC462 compliant shipping containers into durable, mobile, and secure structures. Falcon products include climate-controlled storage, offices, living quarters, training facilities, industrial shelters, and code compliant modules for container buildings. Falcon has manufactured container buildings of all sizes that can travel, adapt, and grow with projects regardless of industry, including the largest shipping container structure in the United States to date, the 122-container stadium, Fortress Obetz. For more information on Falcon and modified containers, please visit http://www.falconstructures.com.
About Square Roots
Square Roots is the technology leader in indoor farming with a mission to responsibly bring its locally grown food to people in cities around the world, all year round. Square Roots is setting new standards for transparency and responsibility, while training a new generation of leaders in agriculture to create a more sustainable food system. Founded by serial entrepreneurs, Kimbal Musk and Tobias Peggs, its range of fresh produce is available in more than 250 retail locations around the country including Gordon Food Service Stores, Whole Foods Market, SpartanNash corporate stores, Fresh Thyme Market, Meijer's market format stores, Busch's Fresh Food Market, FreshDirect, and Morton Williams. Square Roots' strategic partnership with Gordon Food Service reinforces a larger shared ambition to build commercial-scale, climate-controlled indoor farms together across the continent - enabling local food at a global scale, year round. For more information, please visit http://www.squarerootsgrow.com.
Comments (0)
This post does not have any comments. Be the first to leave a comment below.
---
Post A Comment
You must be logged in before you can post a comment. Login now.
Featured Product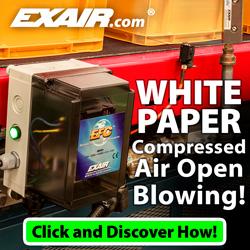 Compressed air is a limited resource that is generated in-house for the benefit of many operations within the manufacturing environment. Learn how to ensure all point of use applications are using your compressed air in the most effective and efficient way possible. Learn how much it costs to produce that compressed air and how Engineered Nozzles can help you use your air more effectively and efficiently.