ZAYNDU SEED CLEANING ACCELERATES SALAD LEAF GROWING CYCLE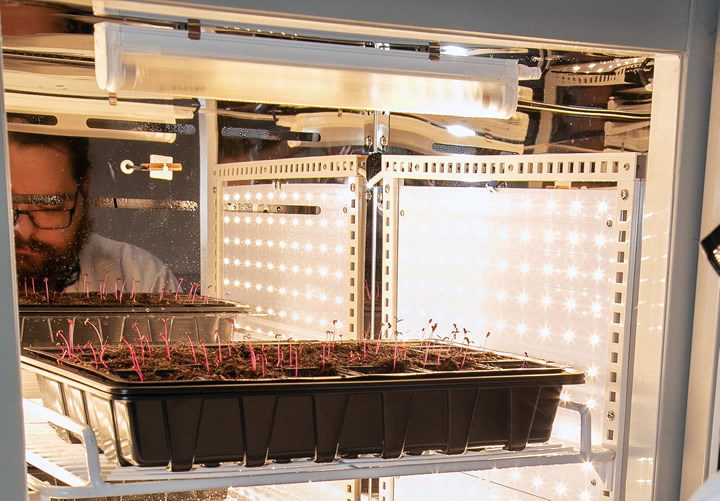 "We've seen some amazing results, particularly for crops such as Amaranth, where treated seeds have resulted in significant reductions in infections, improved germination rates, higher yield and reduced losses," says Dr Katie Wilkins, Senior Plant Scientist at Vertical Future, about Zayndu's 'activated air' seed cleaning technology. Trials have shown baby leaf salad crops germinate a day faster following treatment and Zayndu is to announce its findings at the Global Vertical Farming Expo (GVFE) 2021 on 1-2 December 2021.

Ralph Weir is CEO of Zayndu, a spinout from Loughborough University. He explains that its technology uses a 'cold plasma' generated when an electrical current moves through air, splitting the oxygen and nitrogen molecules and creating a powerful disinfectant with no residues.

"Our initial focus was removing fungal spores from seeds, and this has been successful," he says. "We then observed that treated seed was germinating faster and had a higher germination success rate. For crops such as microgreens, where there is a 10-day cycle, 1- or 2-days faster germination will have a massive impact on productivity.

"Cleaning seed with activated air has the potential to increase productivity by 10% or more and reduce the risk of fungal disease, without the need for chemicals or hot water."

The company is collaborating with Vertical Futures and NIAB on CHOPS (CEA Heirloom Optimisation and Pathogen Control of Seed), an Innovate UK funded project to create a quality-marked, high health status seed system.

Vertical farms are closed systems, so are vulnerable to rapidly spreading fungal diseases. To prevent this the highest levels of hygiene are required, including cleaning seeds to remove fungal spores, the options for which are currently limited.

Katie continues: "We are very excited to be working with Zayndu and NIAB on this project and using this technology in our vertical farms. Increasing yield has a significant impact on the productivity and sustainability of this industry."

Dr Jane Thomas, senior pathologist at NIAB, comments: "A non-chemical approach is really advantageous for vertical farms. Zayndu's cold plasma treatment is a good technology and one of the few options available for vertical farming.

"The alternatives are hot water treatment, which can knock back germination of viable seed, or possibly UV lighting, which has the potential to damage the seed.

"The accelerated germination rates are very interesting. It could be that the treatment is 'priming' the seed by physically altering its coating which is encouraging rapid germination. Salad leaves are a short-lived crop, so reducing the cycle by a day will have a big benefit for productivity, allowing more harvests within a fixed period and space."

Zayndu's activated air technology is completely dry and chemical free. The company launched its small mobile unit Aurora Z10 earlier this year to allow small batches of seeds to be disinfected by growers as they are required. For the first time, it enables many high value seeds such as tomato or fast-growing seeds like rocket to be disinfected.

Ralph says the technology may also allow more species to be grown undercover.

"Our technology removes fungal spores from seeds, which can be a godsend – for example, we remove 100% of fungus from peas, which are notorious for carrying high fungal loads.

"Infected pea shoots become slimy, smell horrible, and lead to the crop being destroyed – and they may infect other crops within a tightly-packed vertical farm. Removing the fungi would make it easier to grow high value pea shoots in a controlled environment."

Zayndu is offering a new batch testing service; breeders and growers keen to see the results for themselves should contact Zayndu via seedhealth@zayndu.com, or via the website: zayndu.com.
About Zayndu
Zayndu is a high-tech start-up bringing state-of-the-art plasma disinfection to the seeds industry – simultaneously killing pathogens while boosting germination rates without the need for hot water or chemicals. A spin-out from Loughborough University, Zayndu benefits from decades of experience in plasma and biology engineering – enabling an organic, eco-friendly seed treatment at a time when the industry needs it most. Zayndu is working with large seed producers and a network of test houses, breeders and specialists to establish plasma as the safe, environmentally friendly approach to seed disinfection.

Comments (0)
This post does not have any comments. Be the first to leave a comment below.
---
Post A Comment
You must be logged in before you can post a comment. Login now.
Featured Product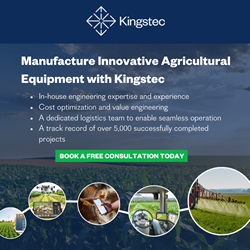 In the rapidly evolving agricultural landscape, leading AgriTech companies are increasingly leveraging the experience and expertise of strategic engineering and manufacturing partners to bring cutting-edge, cost-effective solutions to market. Kingstec is an all-in-one engineering, manufacturing, and logistics partner, with over 40 years of experience and 5,000 successfully completed projects. We can help you bring innovative, cost-optimized farm equipment, sensors, drones, components, and more to market quickly with in-house engineering and manufacturing expertise, a dedicated logistics team, and a network of world-class manufacturing and supply chain partners.