Crop One Holdings Announces Launch of Vertical Farm Opportunity Fund in Major Farm-to-Table Initiative
Crop One Holdings (Crop One) a leading vertical farm operator through its FreshBox Farms brand, today announced that it will sponsor its first "qualified opportunity fund (QOF)" in an Opportunity Zone.
The Vertical Farm Opportunity Fund #1 (the Fund) will invest in building and operating a new vertical farm in Texas (the Farm), to be located in a qualified Opportunity Zone in the Austin-San Antonio corridor. The Farm will primarily serve Austin (the #11 largest city in the U.S.), and will have easy access to San Antonio (#7), Houston (#4) and the Dallas-Fort Worth Metroplex (#9).
Vertical farming produces crops indoors, and ensures pesticide-free, optimal growing conditions. Crop One anticipates locating many of its future farms in Opportunity Zones that have potential for farm-to-table distribution, in locations that may range from rural to urban settings. These farms require that temperature, humidity, light, water and plant nutrients be provided in a controlled environment.
Crop One's track record and its investment team's more than 40 years of combined investing experience make it uniquely qualified to manage the building and operation of the Farm through the Fund. Its produce is already sold in over 35 grocery stores in the Northeast U.S through its FreshBox Farms brand. In 2018, Crop One entered into a JV with Emirates Flight Catering to build the world's largest vertical farm in Dubai, which will begin production early 2020.
For this project, Crop One will be raising capital under a Regulation D 506(c) offering for the development of the Farm's facilities and to fund business operations.
"With this Opportunity Zone Fund, we are bringing scalable, vertical farming technology to Texas," said Sonia Lo, Chief Executive Officer of Crop One Holdings. "The new farm will be environmentally conscious and produce fresh, locally-grown food that is healthy and affordable. Our expert staff of farmers, resource conservation specialists, and ag-tech leaders are changing the way we grow and enjoy food, and we are looking forward to providing great, fresh produce to the Austin-San Antonio area."
"With the creation of at least 75 new jobs in its initial phase, the Farm will have a positive economic impact on the local economy," added Deane Falcone, Crop One Chief Science Officer. "As with all of our farms, the Farm is expected to use 99 percent less water compared to conventional farming. Our products are pesticide-free, non-GMO, nutritious, and delicious, and because our produce can reach more than 17 million people within a 3.5-hour radius, we will be able to reduce food miles and food waste."
Enacted as part of the 2017 Tax Cuts and Jobs Act, Opportunity Zones were created by Congress to encourage social advancement and private investment in low-income communities to aid job creation and new business formation.
Investors in QOFs such as the Fund are eligible for a range of tax benefits, including deferral of current capital gains, a tax reduction of up to 15 percent on current gains and no capital gains taxes on appreciation of the QOF interest if the interest is held for 10 years or more.
Through the Fund, investors will partner with Crop One and participate in the rapidly emerging vertical farming sector while being eligible for these generous tax benefits.
Qualified accredited investors seeking investment information related to this offering and Vertical Farm Opportunity Fund #1, are asked to contact Crop One at cropone.ag/investors or email investors@cropone.ag for more information.
About Crop One Holdings
California-based Crop One Holdings is a technology-driven vertical farming company that produces fresh, organic, produce in a sustainable manner for its customers. It operates two subsidiaries: FreshBox Farms in Millis, Mass., and a joint venture with Emirates Flight Catering in Dubai South, United Arab Emirates. Crop One has been in continuous commercial production longer than any other vertical farmer in North America. The company's proprietary technology and plant science put it ahead of its competitors, producing crop yields among the highest of the industry, but at 25% to 50% of the capital cost of other vertical farming companies.
Comments (0)
This post does not have any comments. Be the first to leave a comment below.
---
Post A Comment
You must be logged in before you can post a comment. Login now.
Featured Product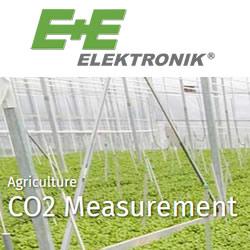 Lowering of energy costs, acceleration of growth and extension of the possible storekeeping duration can be optimised by the precise measurement of humidity, CO2-content and temperature. Optimum basic conditions for animals and plants ensure best agricultural products. As different applications demand various adopted solutions for optimization of agricultural processes, E+E Elektronik provides a broad portfolio of agricultural monitoring products