iUNU, The Award-Winning Agricultural AI And Computer Vision Platform, Closes An Additional $7.5MM, Transforming The Greenhouse Industry
The computer vision and SaaS-based company iUNU [www.iunu.com] has raised an additional $7.5 million from BootstrapLabs and NCT Ventures, among others, to bring a severely practical and a critical commercial application of AI and machine learning to fundamentally change the agricultural industry. iUNU has grown significantly with over 800 percent increase in square footage since the first quarter of 2018, with operations now in Canada and the US, bringing the 4th industrial revolution to an industry that benefits most: specialty crops and floriculture. "With the greenhouse industry growing at a rate of 20 percent year over year, owners are scrambling to find solutions to manage and maintain their growing operations effectively," said iUNU CEO, Adam Greenberg. "iUNU's solution turns growing operations into data-driven manufacturing facilities."
Greenhouses are heavily constrained by a lack of predictability in their data and operations. Typically, greenhouse facilities suffer from manual data collection leading to inconsistencies and poor visibility, resulting in 10 to 25 percent crop loss. These result from a multitude of issues including inaccurate data, human error, and inefficient facility management. With new technological advancements, pioneered by iUNU's team of engineers, the industry now has a quantifiable and data-driven process that takes the guesswork out of growing.
Both business and government leaders are equally interested in bringing immediate change to the industry. CEO and Founder of BootstrapLabs, Nicolai Wadstrom says that, "Agriculture is about to experience another industrial revolution, where Artificial Intelligence will drive game-changing efficiencies and sustainability improvements across the entire industry supply chain. With the United Nations predicting 9Bn inhabitants (worldwide) by 2050, and a need for global production to increase by 70%, the world needs solutions like iUNU today."
iUNU is transforming the way growers do business by harnessing the power of computer vision through its comprehensive greenhouse management platform, LUNA. By removing the friction between production and sales. LUNA delivers a system of mobile and fixed cameras, with high definition imaging and environmental sensors, that measure and record everything from automated inventory tracking and readiness alerts to growth rates and readiness forecasting.
The collected data is analyzed and presented in a simple, easy to use decision support tool that gives growers actionable insights and granular production management capabilities.
Since its launch, LUNA has been successful at delivering actionable data to leaders in the horticulture and produce industries like Proving Grounds. "I know that having a tool like Luna gives us the feasibility to have more accountability with the staff, the plants, and the environment," said John Allen, Director of Strategic Operations of Proving Grounds.
The executive team brings decades of significant experience from Amazon, Boeing, Intel, HP, E*Trade. The team combines entrepreneurship, innovation, large-scale software, manufacturing, financing, and commercial greenhouse expertise. The Board of Directors includes senior industry leaders in agriculture, technology, and large-scale enterprises.
"We are so excited to be an investor and part of iUNU's journey. We have seen them grow from an idea into a full-service computer vision platform that is changing the whole industry," said Nicolai Wadstrom, BootstrapLabs Founder and CEO.
Comments (0)
This post does not have any comments. Be the first to leave a comment below.
---
Post A Comment
You must be logged in before you can post a comment. Login now.
Featured Product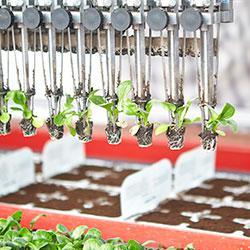 "Smart farming" is an important part of the answer to this existential question: Extremely high efficiency in food production through the targeted use of the latest technology, computer-supported and - where possible - fully automatic. Seeds are individually and precisely placed; fruits carefully picked by mechanical grippers; fertilizers and plant protection products applied in small doses and in a targeted manner. These operations require a large number of small electric motors that are both robust and powerful.