Growers Take Center Stage at Bayer 2018 Farm Progress Show Exhibit
Growers and the agronomic and financial experts they depend on will share real-world experience and tips with their fellow farmers during three interactive panels at Bayer's exhibit space #1126 during this year's Farm Progress Show in Boone, Iowa, Aug. 28-30.
The three "Advancing Farming, Advancing Life," panel discussions, each with plenty of time for audience Q&A, will focus on agronomic and financial decisions that help growers manage tight margins, including optimizing inputs and knowing the difference between spending cuts that help and those that don't. Panelists will also explore the ROI of sustainable farming practices, and preparing the next generation to take over the farm and keep the industry as a whole thriving.
"Growers want access to tools and information to help them succeed," said Darren Wallis, Vice President of North American Communications, Bayer. "Despite how technologically-driven farming has become, one thing that hasn't changed is the value of learning from other growers and agriculturalists person-to-person," he said. "We're honored to host at this year's Farm Progress Show some of the most innovative growers and professionals in the business, who enjoy sharing what they know and learning from others, too."
Panel 1: Smart Agronomic Decisions to Help Manage Your Margins; Tuesday, Aug. 28, 11:00 a.m. CT

This moderated kickoff panel will explore the agronomic decisions that can help boost yields and profit in challenging economic times. Experts, including growers, will share their advice on the agronomic decisions that will pay off. Scheduled panelists include:
Kyle Meece, Illinois farmer, United Prairie Sales Agronomist
Todd Golly, Minnesota farmer, co-founder of the crop scouting and monitoring tool Aker
Mike Weber, Principal Scientist, Bayer
Panel 2: How Sustainable Farming Can Boost Your Bottom Line; Tuesday, Aug. 28, 2:00 p.m. CT

This interactive discussion will review how sustainable practices like cover crops and conservation tillage can help boost yields and profits. Scheduled panelists include Bayer's first ForwardFarmer in North America and other innovative growers with insight to share about their own sustainable farming strategies:
Trey Hill, fourth-generation farmer of Harborview Farms in the Chesapeake Bay (Maryland) area and the first Bayer ForwardFarmer in North America
Jamie Walter, owner/operator of a solar-powered farm and distillery in DeKalb, Illinois
Dave Nelson, cover crop and reduced tillage farmer in Fort Dodge, Iowa, and owner of precision ag tool retailer Brokaw Supply Group
Panel 3: Preparing for the Next Generation of Ag—On and Off the Farm; Wednesday, Aug. 29, 11:00 a.m. CT

The average American farmer is older than 58, so eventually replacing that knowledge and wisdom will be a challenge. At the same time, as few people go into agriculture as a career, how will the industry keep growing? Get perspectives on the next generation of ag – both on and off the farm – from farmers, an ag banker and 4-H representatives. Scheduled panelists are:
Jeff Waller, grower from Janesville, Wisconsin
Bob Arndt, grower from Janesville, Wisconsin
Greg Nickrent, ag financial advisor/planner and Senior Relationship Manager, BMO Harris Bank
Jim Bramble, Senior Vice President and Chief Resource Development Officer, National 4-H Council
Serena Woodward, 4-H member, 2018 Youth in Action Agricultural Pillar Award winner and high school senior from Eufaula, Oklahoma
In addition to the interactive panel discussions, one of the main Bayer exhibits, booth #1126, at the Farm Progress Show will include:
A visual representation of how many seeds just five waterhemp and Palmer amaranth plants can produce and information about Corvus® and DiFlexx® DUO used in a two-pass herbicide program;
Scratch-off tickets to win Science Matters prizes;
Demonstration of seed treatment equipment;
An opportunity to show support for AgVocating, and to have Bayer donate $1 to an Iowa charity on your behalf;
Raffle drawings every hour each day of the show for prizes, including an air compressor, impact wrench and a pressure washer.
More details on the "Advancing Farming, Advancing Life" panel discussions will be available in Bayer tent #1126 at the Farm Progress Show.
Bayer is committed to bringing new technology and solutions for agriculture and non-agricultural uses. For questions concerning the availability and use of products, contact a local Bayer representative, or visit Crop Science, a division of Bayer, online at www.cropscience.bayer.us.
Visit the Bayer Connect - Social Hub for social media, recent news, blog posts, videos and more from Crop Science, a division of Bayer.
About Bayer

Bayer is a global enterprise with core competencies in the Life Science fields of health care and agriculture. Its products and services are designed to benefit people and improve their quality of life. At the same time, the Group aims to create value through innovation, growth and high earning power. Bayer is committed to the principles of sustainable development and to its social and ethical responsibilities as a corporate citizen. In fiscal 2017, the Group employed around 99,800 people and had sales of EUR 35.0 billion. Capital expenditures amounted to EUR 2.4 billion, R&D expenses to EUR 4.5 billion. For more information, go to www.bayer.us.
Comments (0)
This post does not have any comments. Be the first to leave a comment below.
---
Post A Comment
You must be logged in before you can post a comment. Login now.
Featured Product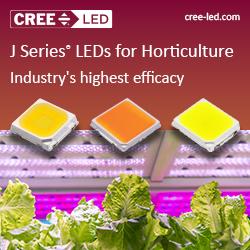 Horticulture and other forms of agricultural lighting require application-tuned ratios of spectral content, high efficacy and long lifetimes. Since these systems are designed to maximize yields for plants and animals, they require different metrics than lighting products designed around the human visual system. Cree LED delivers a wide range of spectral options and products optimized for these applications with leading efficiency and reliability.